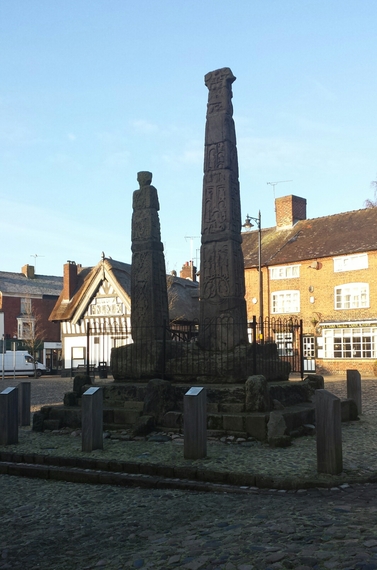 Photograph: Laura Krippner
Sandbach is an ancient market town. It has Saxon crosses, a cobbled square, thatched pubs and even the only Grade 1 listed pub in the country. George Gilbert Scott, the architect, designed some of our buildings which adds a little Gothic Revival flair to the town. There's a deli which has a cheese selection to rival Selfridges, and another which sells every malt whisky produced and gorgeous home-made and imported food (it wouldn't be out of place in that London). We even have our own rugby and cricket clubs. This little country town is conveniently located next to the M6. The only blight on the landscape are out of control housing estates which are resulting in hundreds of McHouses without the requisite infrastructure investment for our roads, medical facilities and schools.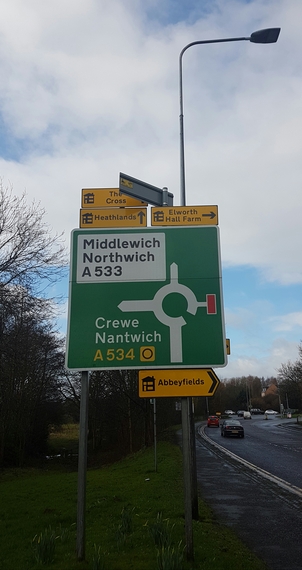 Photograph: Laura Krippner
Speaking of schools, this week thousands of Year 6 pupils found out their fate regarding their continuing education. Even though they may have been accepted into an Ofsted designated 'Outstanding' school, have they considered the impact of the government's proposal for changing how schools are funded? Sandbach is part of Cheshire East, which is currently one of the worst funded districts (145th out of 150) in the country. It's not unreasonable to assume that the National Fair Funding consultation would take one of the worst funded areas and attempt to level the playing field. Unfortunately, the new strategy actually takes this area to one of the lowest in the country (£4,122/child). For the purposes of comparison, the national average/secondary school child is £4,732. Our local MP, Fiona Bruce (Con), has taken up the cause in Parliament, although perhaps she should also be asking why Cheshire East has historically been so poorly funded. Despite the lack of money in our state system, we're very fortunate to have some excellent schools.
There's Holmes Chapel Comprehensive which was featured in Tatler's State Schools Guide 2016 (they didn't manage to make it that far North this year...). Then we have Sandbach High which is always included in The Guardian's and The Times' 'best schools' lists. It's a non-selective all-girls comprehensive school. This is the kind of school that would dramatically increase property prices if it were in the South East. In addition to the good grades that the girls achieve, they also over achieve across the board. For example, the school is one of six secondary schools to be selected as a National Finalist for Young Engineers School of the Year. The commitment from teachers is unquestionable, they consistently support the students to stretch beyond their expectations. This is true of drama, art and slightly more unusually they also race in F1 for schools. Yes, you read that right, they recently won 8 out of a possible ten categories in the North West Regional Finals with one team going on to the National Finals at Silverstone. This is exactly the kind of school that you would think that Justine Greening would be championing given her own academic career, and current role of Minister for Women and Equalities.
If we look at sporting achievements the U14 football team was in the quarter-finals for the English Schools Cup, and the U15 team will be in the semi-final next term. The school is consistently in the county finals for sports across the board including volleyball, athletics, cross-country. Pupils are also in the national England teams for Karate and Judo.
The school breeds a culture of excellence with individual teachers like Ms Maile (Religious Education) who have been recognised nationally for her work as an Inspirational Teacher of Social Action. Last year the UN invited people from all over the world to submit questions for the next secretary general of the United Nations, one of those questions came from Katie Busby, then in Year 7 at Sandbach High. Unlike the vast majority of other high schools this one also runs a monthly restaurant which is staffed entirely by the students! How's that for building some serious life-skills? A recent menu from the fully licensed Common Room Restaurant included Korean Roast Belly Pork, and Sweet Potato Katsu curry, it costs £12.50/head for three courses and can be found on Trip Advisor. Jamie Oliver aka Mr-School-Meals should check it out.
This school attracts pupils from outside of the catchment area, it attracts students (like my daughter) who would otherwise be in a fee-paying school. Our children, and our girls are not worth less than others in England. If the National Fair funding proposal goes ahead, there's the possibility that Cheshire East schools must move to a four-day week, or cut all non-essential subjects leaving us with the bare minimum E-baccalaureate. It could mean goodbye to school sports, theatre, art, technology... all the subjects which provide a rounded education. What could our pupils and teachers achieve if they did receive 'fair' funding? All children deserve the opportunities that a school like Sandbach High offers.