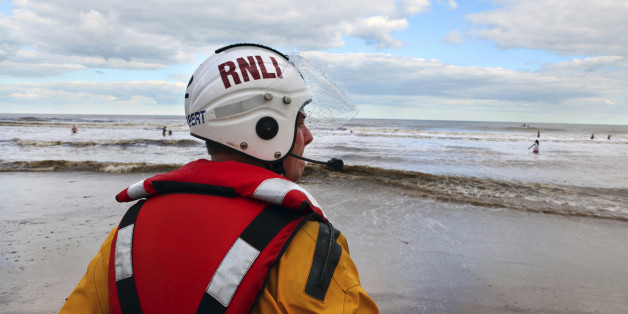 Tony C French via Getty Images
I'm a photographer specialising in culture and travel. In the last few years I've photographed people like Rod Stewart and Dame Shirley Bassey and have travelled for work, to places like Japan, New York and Paris. My working life can be a lot of fun and I'm lucky to do a job I enjoy.
I first heard about the RNLI's Tower Lifeboat Station a few years ago when a friend of mine told me he was volunteering there. I've always loved boats, and the water, and sailed a lot when I was younger. Based on the banks of the Thames near Waterloo Bridge, Tower is the busiest RNLI lifeboat station in the whole of the UK. I did two trial shifts to make sure I could deal with the demands -from day one I was on rescue jobs.
When the alert comes in, there are so many things rushing through your mind - we have to launch the lifeboat in 90 seconds so there is a lot to take in. I always just try to think about how I can be the best I can in that situation. On my very first day we rescued a woman who had jumped into the river. Although I had been thoroughly briefed, you can never fully prepare yourself for what might happen.
As we approached the scene, I could see it was serious, with crowds of people gathering around. When we reached her, I went into auto-pilot. She was the same age as me - and it hit home that these were life or death situations for real people that I would be involved in.
Sadly, not all callouts end in a life saved, and inevitably we see many sad and tragic things. A few months ago, I was working on a day shift and we were launched after a report of a person in the water. Unfortunately, the man had been in the water for days, and it was our job to help recover the body and hand him over to the police for formal identification. It was my first experience of death while volunteering, but I'd been well prepped by my colleagues on the crew so I knew what to expect. It's sad that we have to recover bodies, but I try and see it as being part of a process that helps the families and friends of the deceased.
Volunteering at the RNLI is such a positive and inspiring part of my life and I see it as a perspective checker. We're all guilty of going about our daily lives in a little bubble, but volunteering at Tower Lifeboat Station has helped me realise not to take anything for granted.
I love working outdoors on the river, I enjoy all the training and learning, and I get to work alongside all kinds of great people. Volunteers come from all walks of life - at Tower we are a real mix from police officers and musicians to students and pilots. There's always a good amount of tea-drinking and joke sharing between shouts - and there is a strong bond between all of us. People say it's selfless to volunteer for the RNLI but I don't agree, because selfishly, I get so much out of it.
I'm so proud to be part of such a fantastic charity - but there are other ways to show support. Mayday is the charity's national annual fundraising campaign encouraging the public to raise funds for vital RNLI crew kit for the charity's lifeboat volunteers.
From sponsored bike rides and welly walks, to running a bake sale, there are all sorts of ways to raise money for the RNLI this Mayday. I'd encourage everyone to visit RNLI.org/Mayday to see how they can do their bit to fund our kit.
The Coca-Cola London Eye was lit up bright yellow this May Bank Holiday Monday, as a badge of support for Mayday, the RNLI's annual national fundraiser.