Last month, I ran to Walmer Castle to celebrate the Duke of Wellington's victory over Napoleon at Waterloo. I started out from Apsley House in London (the Duke's home) and arrived at Walmer Castle (his coastal residence) on 18 June, the 200 year anniversary. Given that, up until October 17th 2014, running has never been something I've done or even wanted to do, this plan was ambitious to say the least.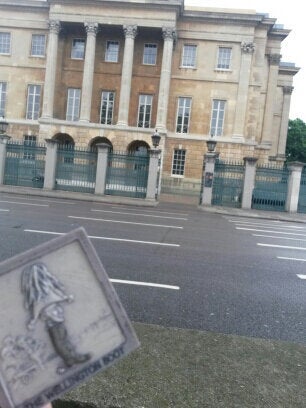 My Wellington mascot (fridge magnet) at Apsley House, the starting point
I've always had a lingering feeling, that I imagine many others have had too, that I would do something spectacular during my life, something on a grand scale, something it is hard to ignore. Because of this, when I get involved with something, I tend to imagine it at it's most spectacular (within reason) and aim for that. When I cycled a lot, for example, my parents arranged a family holiday in the Cotswolds and as I was a student, money was tight, so I cycled there. Obviously. In my 'everything-on-a-grand-scale' brain, this made total sense. Over 100 miles of hills and fields and non-bike-friendly pathways, I slogged away and made it - because I had told myself I would.
The same happened with running. I went to Project Awesome and, not content with doing two or three sessions a week, I started running in my own time. Once I got past the feelings of exhaustion and started enjoying it, my normal thought process kicked in and I scaled it up, inventing the Wellington Run. It was 90 miles of chugging away through the beautiful Kent countryside on a journey to the coast. I learned a lot about myself on that run, things that are only becoming apparent with the distance of time, and here they are.
1. Your legs will usually always do what you tell them to. Subconsciously you have told them to expect a 25 mile day today so they will do it. In the meantime, your conscious mind is weighing up the pros and cons of quitting, wondering why you never packed more chocolate-based snacks and looking around for a bench to sit down on. All the while, regardless of your thought process, your legs are moving you forwards. If you can trust this forward motion, you will start to find comfort in the knowledge of their abilities.
2. Singing and/or inventing songs will fill many a long hour on the road. My biggest 'hit' from the trip goes as follows, "I'm heading for Doddington, it's the next on my right." I'll admit, it's not terribly inspired but it does get straight to the point. I was heading for Doddington and it was the next on my right. It's as honest as song lyrics have ever been.
3. You will have to get used to being more unattractive than you ever thought you could be. When you're running under the blazing sun with barely any tree cover, you should be ready for sunburn and excessive sweating. If you are also running in the countryside, there are going to be nettle stings. There will likely be rashes in awkward places and possibly some bruising from your bag, if you choose to do it unsupported and carry everything on your back. Sometimes you will need to hurry into thick foresty undergrowth and strip off your sweat-soaked clothes because a bug has decided to nestle in an awkward spot. It all becomes par for the course.
4. Although you feel mentally weak and overwhelmed on some days, the fact that you made it to your end destination will mean more in the end. You will know that you are still strong even when you are weak.
5. There's something about journeys like this, that is bigger than fun and which it is important to recognise and treasure. It's hard to vocalise what it is exactly but I think it echoes back to that 'spectacular' thing I mentioned earlier.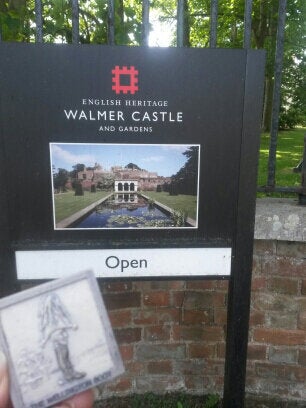 Wellington mascot at Walmer. We made it!