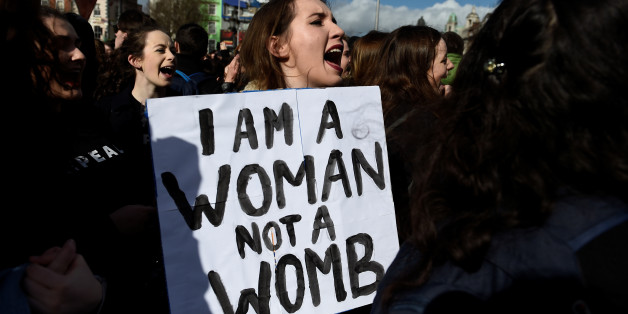 Clodagh Kilcoyne / Reuters
In a landmark decision for women's rights, the government have announced that they will be taking a significant step to correct a historic injustice by agreeing to fund abortion services for women travelling from Northern Ireland.
Ahead of an amendment tabled by Labour MP Stella Creasy, that had been signed by over 100 members from all sides of the House, in a letter to all MPs, Women and Equalities Minister Justine Greening said that "at present women from Northern Ireland are asked for payment, and from now on it is our proposal that this will no longer happen."
Before this decision, despite being UK citizens and taxpayers contributing to the cost of the Health Service, women from Northern Ireland accessing abortion services in England and Wales were charged for the cost of a private procedure, a cost that could reach up to thousands of pounds.
This situation clearly made it far more difficult for women without means to access abortion than those in financially stable situations. This reality was recently highlighted during a Supreme Court case challenging the Government's refusal to provide NHS-funded abortion care in England for women resident in Northern Ireland, which narrowly failed. The case was brought by A and B, a young women who travelled from Northern Ireland to England to access an abortion and her mother at a cost of £900. They fell short of the total cost and were supported through a grant from the charity Abortion Support Network.
This is a situation we see at FPA through our counselling service. Having to raise urgent funds means that women are forced to disclose their decision, because of their need to raise money. This small, but significant change will make a real difference to those women who may otherwise have been unable to support the cost.
However, there is still a real need to keep up the pressure for abortion law reform within Northern Ireland. Today, the Court of Appeal in Belfast made a deeply disappointing decision, which ruled that it is up for the Northern Ireland Assembly to decide on abortion law reform. Northern Ireland's Attorney General and Department of Justice won their appeal against a judgement from the High Court in Belfast in 2015, which found that abortion law in Northern Ireland breached the European Convention on Human Rights, as it does not allow for abortion even in cases of sexual crime or when there is a fatal foetal abnormality.
Yesterday's decision by the Government is a positive step, made possible by all those organisations and individuals who campaigned hard to change a truly damaging policy. Nevertheless, as Justine Greening clearly stated in her letter, it does not change abortion policy in Northern Ireland. Women unable to travel even without the cost of private care are left with a choice between taking illegal abortion pills online and risking prosecution, or carrying an unplanned or crisis pregnancy to term.
Politicians now need to seize the opportunity and bring Northern Ireland's abortion law into the 21st century.