Arriving at The Standard Hotel in downtown LA, late on a Friday night is like being transposed into a scene from Grand Theft Auto. Drunk with jet lag and a kip in the taxi from the airport, I stagger into the crowd. The melee of laughing, shouting youths mill around outside the hotel for no apparent reason - maybe they are smoking. Music competes with police sirens, and I feel groggy and disorientated as I try to wade towards the entrance. As usual I'm wearing my hat which draws comments and jeers. I never leave the house without one and careful consideration has been put into the most suitable for this trip. I've opted for a black Stetson, but somehow its authentic US credentials don't allow me to blend in as I'd hoped. It's a baseball cap or nothing round here. I feel vulnerable, possibly all the more so because my in-house trip advisor Mark, who know everything about everything, has told me that under no circumstances am I allowed to wander through downtown LA at night.
I'm stubbornly resistant to obeying rules and would normally have ignored the advice but the next thing I know I'm waking up flat on my face, seeing stars. Having run the gauntlet to reception, checked in and been 'lifted' up to my room on the umpteenth floor, I can't find a light switch. The place is so damn minimalist they are hidden, I stagger through the dark and in the over designed nonsense of a room I trip over a raised platform around my bed. Shit! What is this place? I lie on the floor considering my options; 1) pull the duvet off the bed and just go to sleep on the spot (tempting and quite possible), 2) cry and enjoy a little self-pity or 3) pull myself together swear at the stupid bed, hotel, city (maybe kick the ridiculous booby trap platform), then get on with life. Of course being a sensible gal I opt for the latter. Welcome to LA Laura, I hiss through gritted teeth and head to the bathroom to wash my smalls, a regular chore for the hand luggage only traveller (and nothing to do with knocking myself out I hasten to add).
The next morning I get up early and do head out downtown to discover what this city is all about. Yet again, and on a much greater scale than ever before, I'm horrified by the number of homeless. There must be a reason for the concentration down here but they are everywhere - literally, it almost feels like the central station in Mumbai only many of these guys are obese. This is a crazy country - how can this be the case? I can't fathom it, so back to business.
Our Reps in the USA tend to have their showrooms in the garment areas of the cities, usually in what they call Marts. These are huge concentrations of trade showrooms, where the retailers can come and see various brands under one roof. Soho used to be where our British garment industry had their showrooms, or in the East End. The LA Mart is quite impressive with a stunning modern sculpture in the entrance. Cathe has picked me up from the hotel and as we walk through the corridors I notice that many of the showrooms are closed and I'm told they only open up for market week - which happens every 8 weeks or so and starts the following morning. We are busy and since I am in town, the showroom has opened up a day early. There are clients there when we arrive and I take off my jacket and start working the collection without even a cup of coffee.
This is why I'm here. We don't draw breath till 7pm - ten hours of straight selling. The retailers have come in to town, in some cases from a fair distance and a plane ride away to make their seasonal buy. Cathe represents the best global maternity brands and a visit to her showroom is all you need to stock your maternity wear boutique. It's incredibly well organised with a little booth per designer, really a mini trade fair all in one spot. Yet again I'm delighted that we have found such a knowledgeable local representative to work with.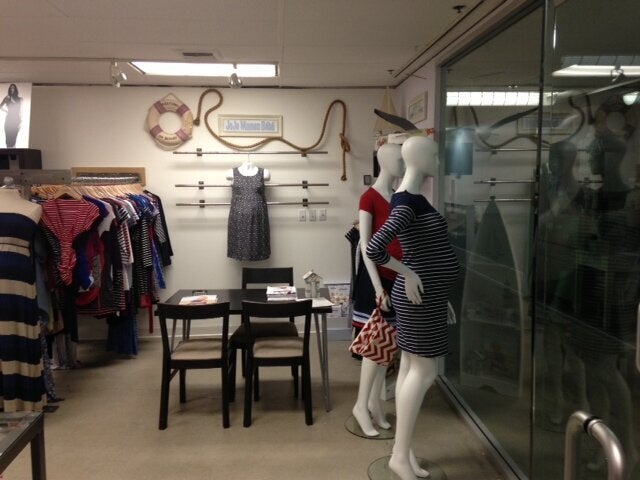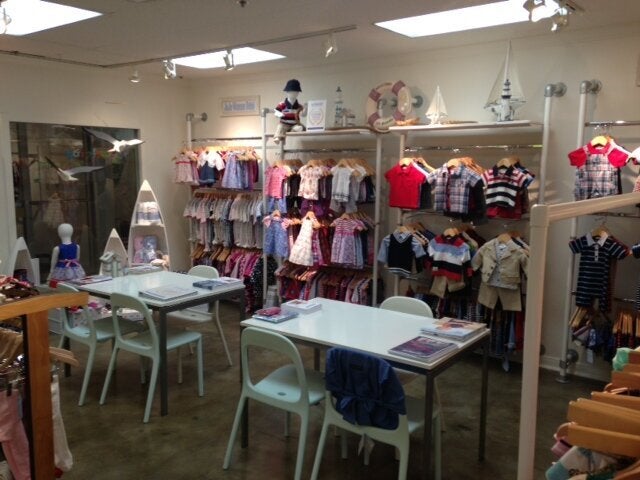 As I demonstrate the collection (often putting a style on myself - with a little maternity bump in place to model how it fits) I get to know the retailers who will stock the brand. I'm absorbing what they need, how they work, what we can do to help them sell the lines. The stores vary as do their owners. I've not seen it but I'm already in love with 'Heroine' in San Francisco, the brainchild of Angela - a stunning incredibly young looking mother. I can imagine the store - quite funky and as edgy as maternity wear can be with lovely personal service. She's brave to call the store that name - but like JoJo Maman Bébé, once heard you don't forget it. In her case I hope you remember how to spell it though!
Another of my clients has a store in a mall (or shopping centre to us) in Seattle. I wonder how, as a niche market retailer she can afford the cost of occupation which must be sizeable. She has had the problems we all face with rising costs and rents but seems to be doing well despite the difficult trading conditions. I discuss the need for a good team as I go through the collection. She admits that in the past she has been in denial about what a difference a good sales force can make. In my experience having the right store manager in your boutique can increase (or decrease) your turnover by up to 30%. However, it is tricky to find reliable employees and we are all tempted to turn a blind eye to poor customer service or sales techniques in individuals who are flexible and reliably turn up to work. In the UK it is virtually impossible to ever get rid of the wrong type of sales advisors - here it seems to be a matter of sacking them on the spot. Contracts are less onerous for the employer but less secure for the employee, unless you belong to a union which of course most don't.
Yet again, I'm amazed how small-town and personal this country is at our level of business. It's really homely and feels nostalgically honest. Cathe takes me and her lovely assistant to dinner in the Art Deco station - complete with a lavish Caribbean American wedding party going on in the booking hall. Our flustered waitress tells us a 'bum' has just nicked the whole setting off one of her outdoor dinner tables, complete with cloth, silver, condiments, flowers and glasses. It's obviously irritating for her but I can't help smiling at the thought of a little dinner party for four being laid out under one of the motorway bridges; foraged bin food followed by packed up and donated restaurant left overs, all served on bone china placed on a white damask cloth topped cardboard box. If only?
Minimalist to an unnecessary degree, its edginess just means it lacks comfort. Downtown has little excitement, it just offers noise. Don't go.
Alternative: I'm told Little Tokyo is a nice area and the Omni Hotel is great.
Two hours to spare in LA:
Wander through the Mexican market to Union Station Restaurant and enjoy a very good meal. I loved the place. Others might want to tick off the home of the stars on a bus tour, but actually I quite enjoyed wandering around downtown and seeing some quite impressive architecture.