"That's weird," David, my husband, says as I sink into our gorgeously soft bed. A day of dolphins and stingrays had sapped all my energy, and all I wanted to do was have a shower and relax with a cocktail.
"What's weird?" I replied, snuggling into the duvet.
"Your mum's contacted my dad saying we need to call her urgently." I knew mum was a notorious worrier. She'd probably seen my tweet about needing to visit the resort doctor and had it in her head I'd fallen off a motorbike. Again.
We were on honeymoon in Jamaica. Ok, so it had rained pretty much every day since arriving. But a honeymoon it was, and a honeymoon we would enjoy. Despite the storms.
I grabbed my phone from the desk and headed onto the balcony. It had no signal, but I used the resort's patchy wi-fi to try and call her anyway. I looked at the clock. It would be 11pm back in the UK. The sun was just starting to set over the Caribbean sea as it changed the pale blue sky to a fire-red glow.
"Laura?" She answered after a few rings.
"Mum? Are you ok?" I sat down, crouching in the corner to hear her over the crashing waves.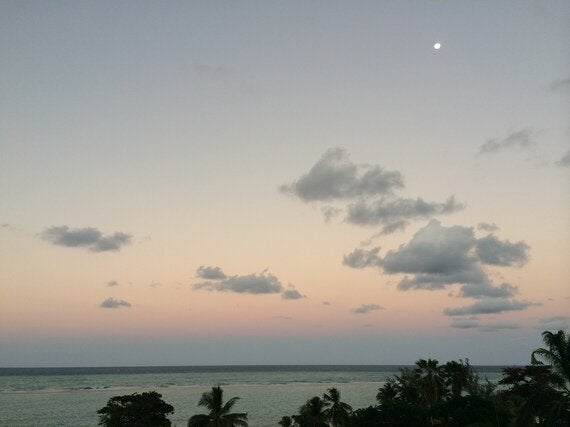 "No, not really. Dad had an accident." At this point, I prayed so hard her next words weren't what I feared they would be. "Dad's died." I screamed, making a noise that had never come out of my body before. David was sitting on the bed. I ran through the balcony doors and told him dad was dead.
I wish I could remember what happened next, but I can't. The more I try and recall the memories, the more my brain resists. I'm pretty sure it's a coping mechanism. 'No Laura,' it's saying. 'Let's just forget it. Let's not remember that day, yeah?'
I spoke to my sister Louisa and asked her how mum would cope without him. Dad was mum's world. I'd admired them so much after my own failed marriage two years earlier had sapped every essence of my being. Where dad was weak, mum was his strength. Where mum fell down, dad would pick her up. They'd been married 30 years. He was only 51, and no one knew why he'd died. "We need you home," Lou kept repeating.
But how? How do you get home, halfway through a trip on the other side of the world? London to Jamaica was 10 hours direct, and we were five days from our return flight. The flights alone were £1,500.
Thankfully, I'd bought travel insurance before we left. But their emergency assistance team was unreliable. Sometimes the line would ring out. Sometimes no one answered. We just needed some help. "I don't care if it wipes out my savings and I fly First Class," I whispered to David. "I'm getting a flight tomorrow."
After calling on family back home to help, we found a flight. It meant flying from Montego Bay to Atlanta, Georgia, and then direct to London, getting back to the UK the next morning. Thankfully David had the sense to bring his credit card - I'd told him not to bother before we left.
After a sleepless night we left the resort, flying away from Jamaica and leaving the storms behind.
Landing in Atlanta, it took hours to clear security. My blood started to boil. "Why are they so proud? What makes Americans so paranoid and arrogant they need you to bend over and spread your cheeks just so they deign to allow you onto their soil for a few hours?" I vowed to never visit America ever again.
Finally, we boarded the flight. I ran to the back of the plane and burst into tears when I asked the cabin crew if there was somewhere quiet I could sit. After explaining what had happened Jo, a senior member of the crew, helped me to a seat in the galley. The rest of the team gathered round and tried to cheer me up, offering me a cup of tea. They were wonderful. Just hearing the familiarity of an English voice began to calm my nerves.
Before the flight departed, Jo came and kneeled by me in my seat. "Laura, if you and your husband want to, you can sit in Upper Class. You'll have a lie-flat bed so you can sleep the journey. It'll make the time pass by so quickly."
We gratefully accepted, and I fell into a fitful slumber only waking to quietly cry into the pillow. Grief is hard. It leaves you feeling powerless, helpless. Grief at 50,000 feet feels worse.
Before I knew it we were in London. It was 6am. I was home.
Some people have said mum made a mistake telling me. For those of you who read this, who might be in mum's situation one day, she didn't make a mistake.
For those of you who worry about being abroad and the same happening - travellers, expats, tourists - know that if it happens to you, you will endure it. You'll find strength beyond what you believe you have and you'll deal with whatever situation arises in the right way for you. Even better if you have someone as supportive as David has been.
Dad won't come back now. He's gone. Sleeping. We still don't really know why he died. I don't believe in fate, that it was 'his time'. I don't believe in cruel notion that God selfishly 'took' my dad to be with him in heaven. All we have are memories of the man he was, and the legacy he left behind.
I find most days hard to deal with. Waking up is painful, and my interests, such as six out of ten, my lifestyle blog, have taken a hit. I don't really want to travel long haul again. But knowing I can cope in such extreme circumstances has given me the impetus to live my life in the best way I can, and make my dad proud.