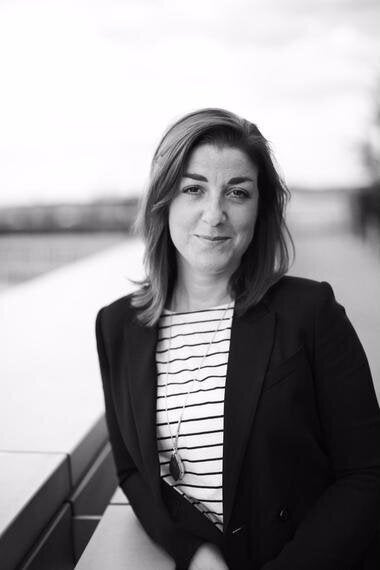 Liana Dinghile is the Group Strategy Director, EMEA, Brand Development at Siegel + Gale. Before joining Siegel+Gale, Liana was head of consulting at Dragon Rouge. Among her high-profile global assignments was working with Dubai-based real estate developer Nakheel to launch Palm Jumeirah, the artificial archipelago shaped in the form of a palm tree. She also helped launch SkyLink the first and largest 3G mobile brand in Russia. Prior to Dragon Rouge, Liana held senior client-side brand management positions at Visit London, British Airways and TUI Travel.
How has your life experience made you the leader you are today?
I come from a Sicilian and Scottish background. Quite a fusion of cultures yes but in many ways has shaped my approach to life and work. My family is humble but not small and this dynamic has influenced me to respect the importance of relationships and to appreciate opportunities when I'm faced with them. I'm actually surprised I avoided a career in politics given the lively debate I've been exposed to over the years but for the career I have now, it certainly helps to build an argument and embrace new ideas!
My passion for navigating new discoveries - the connection for my career choices - led me into the travel industry to begin with and the biggest learning was the importance of keeping brands so true and compelling that people are drawn to them. This connection between people and brands has continued to fascinate me and to keep brands true and consistently compelling is what I urge clients, with our help, to continually strive for.
With respect to leadership, my family has a great work ethic and this keeps me respectful of hard graft and meaningful achievement. For example, every one in my team is different but we share a common respect for great people and great work. An important part of my role is to create the conditions for each of them to thrive and this is a lesson that life has taught me well.
How has your previous employment experience aided your position at Siegel+Gale?
Perhaps the biggest help or influence has been my client side experience. I mean to be honest, I'm not a huge believer in the notion of 'sides' but more to say that to walk in the shoes of your client as much as they seek to walk in the shoes of their customers is invaluable.
There are some obvious benefits to this but perhaps empathy with the sorts of challenges they grapple with every day, particularly the complexities of managing different stakeholders, is the biggest. I guess it also means that I get attached and invested in the brands I consult on, like any brand owner would. This can be a good or a bad thing of course.
I have also been fortunate to work in great teams before and including Siegel+Gale. Some of the most inspirational people in my life have been my bosses and mentors along the way and I thank them each equally. Many of them are women and although I don't draw a distinction (if you're talented you are regardless of gender), this has always inspired me. Perhaps more subconsciously before being asked this question.
What have the highlights and challenges been during your tenure at Siegel+Gale?
Playing an active role in reinvigorating the firm's London office, team and profile. Not only was this a career challenge for me, it has been a learning curve to encourage talented people to come with you on the journey and to believe you can do great things together. As a result of this belief internally as well as from our clients we have transformed our client base in the last 4 years to include some of the most admired and flagship brands in the UK, Europe and the Middle East. We've also helped some of the silent heroes of their industries punch above their weight and category and that makes us all proud.
What advice can you offer to women who want a career in your industry?
Go for it. And when you do, always keep your eyes, ears and minds open. I wouldn't limit my advice to just women and I wouldn't pretend that my advice will work for everyone either but be sure to feed your passion and channel your voice whenever you have the opportunity. If you want to be a brand strategist, and you want to enjoy this career then learn to love complexity too. It's a canvas to be creative and without it we would all have jobs and not careers.
Also, and most crucially, follow your own path and respect your peers as you do so. Ambition is one thing but the respect and creative generosity of those around you is what will always keep you inspired and fulfilled.
How do you maintain a work/life balance?
In my role it's genuinely hard to draw the distinction. The nature of the work we do blurs into our every day by virtue of that fact that we live and breathe some of the brands we work with. We also draw from stimulus at any given moment and that doesn't always fall into the working day. I'm a firm believer that you can't schedule great ideas. They appear in the shower, on the commute, when queuing for a drink at the bar. All of that said, it's important to feed the soul too. I do this through making time for the people in my life and for me. Never as much as I'd like of course but I have an amazing network of friends and over time we've supported each other in work and in life. And I can't finish without mentioning travel. Having started my career in this industry, I was fortunate to experience different places and cultures and I will always thank my lucky stars to have started my career in such a rewarding industry.
What do you think is the biggest issue for women in the workplace?
I believe that in the right workplace women don't experience a difference in the way they are treated, regarded or compensated. However, it's unfortunately clear that this isn't the case for everyone. In some countries and industries women still have to fight to be heard and valued and that's a dilemma that's widely documented. If I look at my company and team however I'm heartened to see such a strong team of women making their mark.
How has mentorship made a difference in your professional and personal life?
I mentioned before that I'm so grateful for the mentors in my life. Some official and some entirely unexpected but each of them have helped me find perspective when I really needed it. A good mentor needs to be honest, you need to be able to trust implicitly that their guidance is thoughtful and without bias. As a mentor myself, what I'm learning is the importance of making sure that people come to their own decisions and make their own judgments. Much like my role as a consultant, to listen and ask the right questions is often more important than answering them.
Which other female leaders do you admire and why?
I admire many in my own life but they are far too modest to want to be named. More publicly known, I would certainly say that I have come to admire Hilary Clinton for her strength and command. Closer to my own industry and inspiration, I greatly admire the architect Zaha Hadid for continuing to bring such beauty and simplicity to the world.
What do you want Siegel+Gale to accomplish in the next year?
I would like Siegel+Gale to keep growing. I mean that more in terms of how we continue to evolve how we guide brands, as well as how we attract even more talented individuals to join our movement for Simplicity. We are 45 years old but keep learning and that's the key to a successful and respected business. In my opinion of course, there are many out there!