In 2014, I boldly did what most grooms should not dare to attempt - I photographed my own wedding. In fact, I did it twice! Let's just say the pressure was immense given that I needed to please my bride and our families in getting great photos of our special day!
Let me back up a bit. In 2014, I asked my then girlfriend Jessica to marry me after a day of hiking at Point Reyes National Seashore in California. I captured the moment right after the engagement with my camera using a tripod. This would foreshadow what was to become a bit of a pattern in our lives.
Jessica and I decided we wanted to do something a bit symbolic for our wedding. Given that I'm from the UK and she's from the USA, we thought that a wedding roughly halfway between the two might be a nice way to tie the knot. Inconveniently, this spot lies in the middle of the Atlantic Ocean.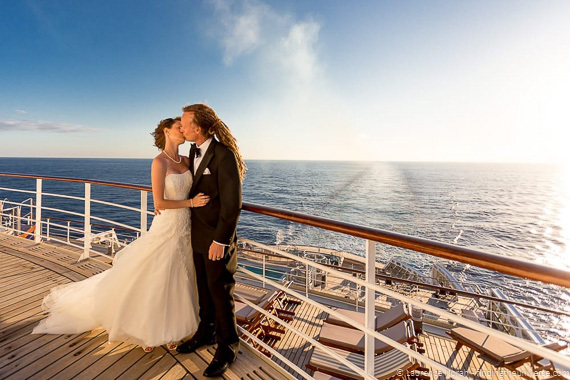 We don't own a boat, but luckily there are transatlantic cruises that offer wedding at sea packages so we planned a wedding aboard the Cunard Queen Mary 2 ocean liner. They offer full wedding services and made the planning simple.
However, there was one small problem - the question of wedding photos. Now, Cunard does have ship-based photographers, but to be honest, I'm kind of picky when it comes to photos. Not being able to meet and see the work of someone I'm hiring beforehand seemed too risky, especially for an event like a wedding. Also the cost of the wedding photography packages seemed high, especially if we had no real assurance on the quality of the photographs.
Then a thought presented itself: I'd photograph my own wedding!
Ok, so this probably sounds a bit nuts. How do you go about shooting your own wedding to a standard where you'd be happy to share the photos with friends and family? People are going to want to be able to print them out and put them in frames and albums.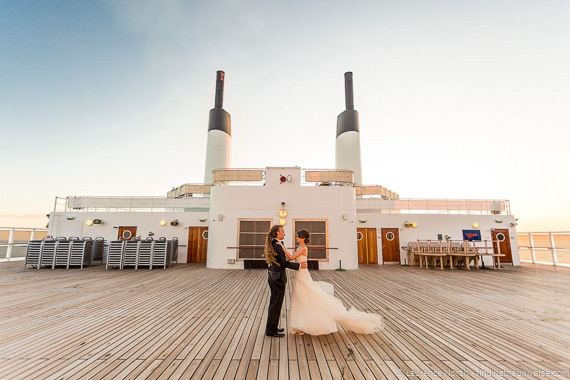 Well, it turns out I am not completely nuts; I do have a background in photography. I'm a professional travel photographer and blogger who has also done some event work, including travel conferences and music festivals, including SXSW. I run my own travel photography blog, and am the instructor of an online travel photography course.
However, I have never worked as a wedding photographer and don't have that much experience taking portraits. Mountains, cityscapes, and landscapes are my primary focus - things that don't move and don't complain that they "look fat" in photos. I have specifically avoided doing wedding photography as it can be incredibly stressful.
So experience wise, I was fairly confident I had the skillset and equipment; however, I was still nervous that things would not quite go off as I hoped. It was going to be a pretty important day in our lives and there was a lot of pressure. What if I didn't get any good shots of the ceremony? What is my new wife hated the shots and decided to divorce me right away? How was I going to get great photos of us together?
I made a plan and here's how I did it.
The biggest challenge was getting the shots of us together, particularly during the actual ceremony. The answer? A selfie stick!
Ok. Definitely not a selfie stick.
The real answer was a tripod, or, in our case, two tripods. I was able to set these up for the ceremony in the angles we wanted, and then configure them to keep taking photos on a timer, as well as one to video the ceremony.
This worked pretty well. Admittedly, key ceremonial moments like the first kiss, the ring placement, and the signing of the registry were never going to work out well with my timer system. But we already knew that was likely the case and had decided we were OK with that beforehand.
After the ceremony ended, it was just a question of finding some fun and scenic locations. Shooting a beautiful bride on a gorgeous ship in the middle of the ocean didn't present much of a challenge. We came out of the day with lots of great memories - not to mention a lot of good photos. Mission completed!
The first time went so well that I decided to do it again! This time in Venice.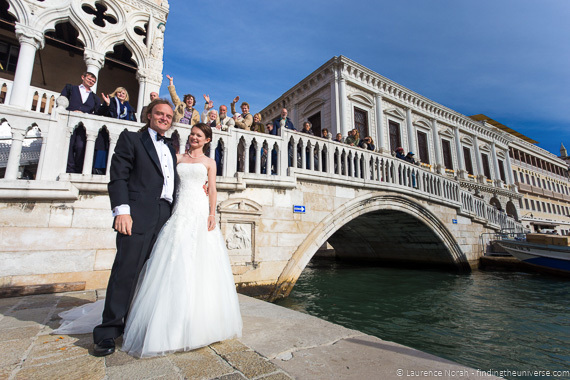 A few months later, we held a second ceremony in Venice for friends and family. We shot that one ourselves too, but we also handed out our cameras to guests so they could take shots during the ceremony and afterwards if they wanted. Since we already had the photos from our first wedding, there was a lot less pressure this time, and we could really enjoy ourselves with our friends and family.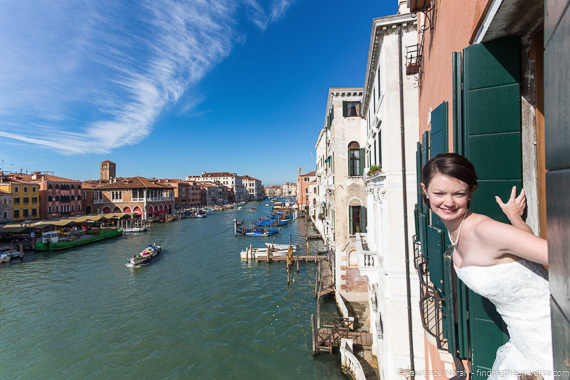 We ended up with loads of photos taken by ourselves, our guests, and even random well-wishers. A crowd sourced wedding shoot!
And yes, we loved those shots as well. And yes my wife is still married to me!
So, would I recommend this approach? Hell no! Sure, we were really happy with all the photos we got from both the weddings, but it was stressful and a lot of work.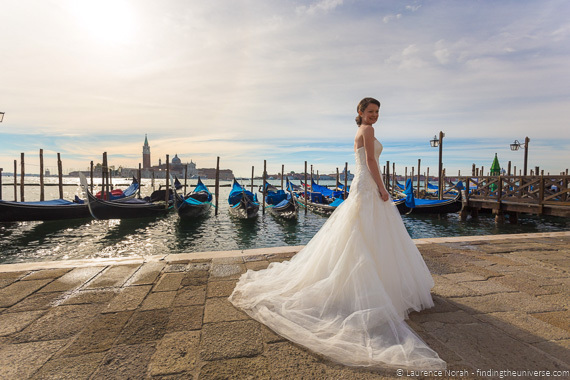 If you are planning your own wedding, I'd definitely recommend hiring one so you can focus on the day and your guests. Getting great photos of a wedding day isn't optional for most couples, and hiring someone to take care of all of that for you is a cost well worth paying.
You can follow Laurence Norah's adventures and see his travel photography on his travel blog Finding the Universe, and read his lovely wife Jessica Norah's savvy travel advice at her couples travel blog Independent Travel Cats. Even if you are not crazy enough to photograph your own wedding, you might still want to check out Laurence's photography course.