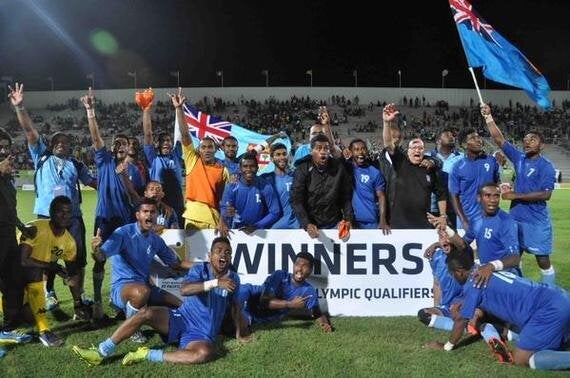 Above Fiji qualify for the 2016 Olympics - Photo credit: OFC
Back in May Great Britain's separate FA's pulled the plug on Team GB and therefore our Olympic football dream. In short England, Scotland and Wales could not hold it together. In men's and women's football Great Britain will be unrepresented in Brazil. I'm gutted - there's a thousand reasons why we should be there and a thousand benefits for our nation's football development, but it's not going to happen and I'm not going to moan about it any more. Let's look up...It's just as well really as England's U-21 men's team didn't make the semi-finals of the Euro-U21 championships so Team GB wouldn't have qualified regardless.
The weight of doom England fans carried when gearing up for the World Cup was heavy and the media wrote about nothing more than the impending disappointment we are so used to facing. So this time it's easier and a hell of a lot less painful - we're not even there! Perhaps now we can enjoy the football.
Here Are My Top 5 Reasons to Watch Olympic Football:
I'm still not over the thrill of the World Cup and I'm pretty sure I'm not alone. Brazil is the single most perfect place to hold a football tournament and the fact that we get another football competition there is nothing short of awesome. Our TV screens will, yet again, feature the bikini clad beauties of Copacabana beach and the infectious rhythms of a nation obsessed with the game. The Olympic football competition will be celebrated like a mini-World Cup - don't try and tell me that the Brasileiros are more interested in the results of the high jump.
2. Messi, Zlatan, Ronaldo & Neymar
The Olympic tournament is unique because it combines each nation's best U-23 players with 3 overage players. With the teams that have now qualified for the competition the first port of call is to look at the superstars that could come with them. Speculation is rife and players are keen to demonstrate their enthusiasm. Zlatan has openly expressed his desire to play for Sweden in the Games and we could be seeing the likes of Messi, Ronaldo, Zlatan and Neymar battling each other for gold.
Alongside the big names we get to watch the hottest prospects prove themselves. We've already seen William Carvalho and Bernardo Silva dominate at the Euro U21 competition, now it's time to see them step up and join forces with their elite teammates. It's a real opportunity for these young players to make an impression on world football and an opportunity for us to watch the next generation of footballing superstars be born.
Fiji currently sit in 199th position in the FIFA World Rankings. Recently one of their players turned professional for the first time in their history. These are men who have full time jobs such as firefighters and shop assistants. Having never before qualified for the Olympics there is now a very real chance that a Fijian firefighter will be playing in Brazil...against Messi. Watching these men fulfil dreams and inspire their home nation will be an incredible feeling. I don't expect them to win a medal but I sure do expect to watch them having the time of their lives.
Brasil suffered an embarrassing end to the World Cup and that's an understatement. The entire nation is looking forward to the opportunity of playing Germany again and they deserve a chance to heal the wounds. Despite the standing ovation Germany received from the Brazilians as they bowed put of the World Cup they are angry and desperate for revenge. If they face each other it will be a nail-biter and God damn I'm look forward to watching it.
Popular in the Community