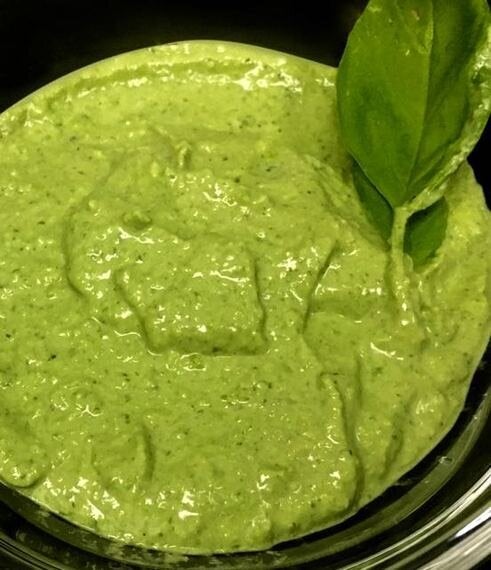 Tofu can be prepared in so many inventive ways to create different flavors and textures, from sweet to savory and from smooth to crispy, it's one of the most versatile and healthful foods!
For creamy recipes and desserts, I like to use silken tofu for its custardy texture.
Tofu is a complete protein and contains nine essential amino acids.
Tofu is naturally gluten-free, cholesterol-free and low in calories.
Tofu is an excellent source of protein, iron, and calcium.
Tofu contains isoflavones, which when consumed regularly has been linked to a lower risk of heart disease, breast and prostate cancer, type 2 diabetes, osteoporosis and age-related mental disorders.
Tofu contains phytoestrogens and may be helpful for women in perimenopause when estrogen production slows down.
Choose organic tofu and other soy foods that have undergone minimal amounts of processing.
Layne's Creamy Tofu Pesto Sauce
Choose organic ingredients when available:
1/2 cup frozen peas, thawed
1 1/2 cups packed baby spinach
10 fresh basil leaves
1/4 c walnuts, chopped
3 tablespoons freshly grated Parmesan cheese
1 clove garlic
2 tablespoons fresh lemon juice
1 cup silken tofu, firm
Freshly ground black pepper and sea salt to taste
Combine all ingredients in a food processor or high-speed blender such as a Vitamixer. Process until the texture is smooth. Taste and adjust seasoning as needed.
Serve this over whole-wheat pasta with sliced cherry tomatoes. You can also use this as a sauce for risotto, as a dip or as a spread on toast.
Nutrition Facts per serving (without added salt): 130 calories, 9 grams fat, 6 grams carbohydrate, 89 milligrams sodium, 9 grams protein, 2 grams dietary fiber, 2 grams sugar.