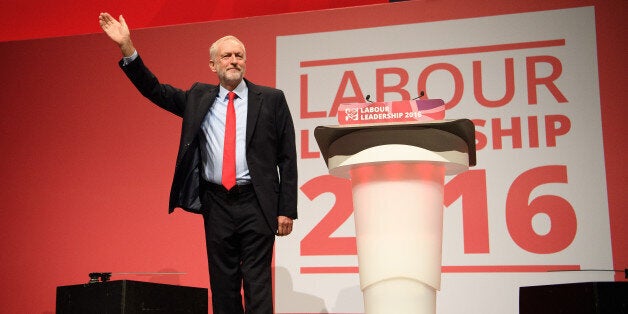 Back on the 23rd June Britain held a referendum to decide whether as a nation we should remain or leave the European Union. I fervently wanted a Remain vote in that referendum but it was not to be. The week after the referendum I wrote that whilst it wasn't my choice Leave was the democratic decision and that we should all move towards delivering it.
It would be grossly hypocritical for me to change my tune just because the result of the Labour Leadership election didn't go my way either.
Since he became Leader of the Labour Party just over a year ago I have strongly held the view that Jeremy Corbyn is not just wrong for Labour but very, very wrong for Britain. This summer's Labour Leadership election has done nothing to alter my opinion.
But having Jeremy as the Leader of Labour is not just once, but twice, the democratic choice of party members. He has earned, clearly and decisively, the right to put his agenda to the British public without further internal griping or back stabbing.
There is a fundamental difference between the referendum and the Labour leadership election though.
No one has to remain a member of Labour, should you disagree with the path the party is taking any member has the right to stop their support. Many decent Labour members did just that under Tony Blair, many others will take the same decision now.
The time, for me at least, to stop supporting the party has come with the re-election of Jeremy Corbyn.
I've never disliked Jeremy Corbyn, and although I deeply dislike some of the company that he keeps he seems a personable guy, but I firmly do not agree with the direction that he has taken Labour.
I don't like Jeremy's approach to public services where dogma seems far more important than solutions, I don't like his approach to defence or Britain's position in the world, I don't for one second believe he understands what motivates ordinary, hardworking people in communities like mine.
I can't ever see Jeremy as a Prime Minister leading our country in tough negotiations or at times of threat.
Although because of work commitments I only joined Labour during the period of the last Labour Government I've voted for this party all of my adult life, I have been proud to do so. I voted partly because of my family's working class past but also because people like me and my family for the most part fared well under a centrist Labour administration.
I don't believe that could ever happen under Jeremy Corbyn, in fact I believe my family and many more like it would be comprehensively less well off and less secure.
There are some amazing people in the Labour Party, as there are across the political spectrum, but unarguably Labour has changed significantly and fundamentally from the party that I joined.
There's no bitterness for me at least in that change but rather that change isn't for me.
Sadly I've therefore made the hugely difficult decision to resign from the Labour Party.
I honestly don't believe that my views have changed significantly and that it is Labour itself who has taken a new direction. There is nothing wrong with that in and of itself but it is for that reason alone that I will continue as an independent councillor until my term of office comes to an end.
My Labour County Council colleagues are amazing and with whom it has been a privilege to work. I'm sure some might share my views whilst others either entirely honourably support Jeremy wholeheartedly or believe that working inside the party for unity is preferable. I completely respect them for whatever decision they choose to take, an approach I am sure they will reciprocate.
It also saddens me to stand down as Chairman of Children and Families Overview and Scrutiny at Leicestershire County Council. During my three and a half years steering that committee I honestly believe members of all parties have worked tirelessly to put party politics to one side in favour of searching for the best outcomes for our children. My sincere thanks go to all members of my committee and the officers who have served it.
Britain needs an effective opposition who people can envisage as an alternative government. I don't believe that is possible under Jeremy Corbyn's Labour. I very much hope that at some point in the future Labour can once again become that viable alternative.
Related