As sure as night following day, as sure as Momentum defending Ken, you could see it coming.
As soon as Leicester City were confirmed as 5,000 to 1 Premier League Champions on Monday night the comparisons with Jeremy Corbyn's surprise Labour leadership victory last year, and an inference that all the party needed to do to turn a longshot into reality at the next General Election is 'believe', were inevitable.
John McDonnell was the first to get the metaphorical ball rolling...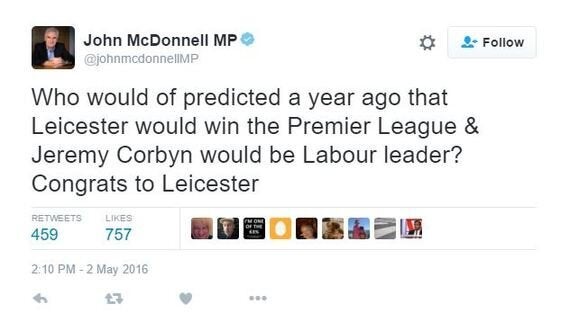 ...but plenty of others followed.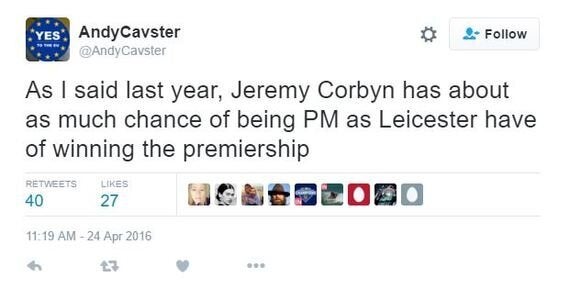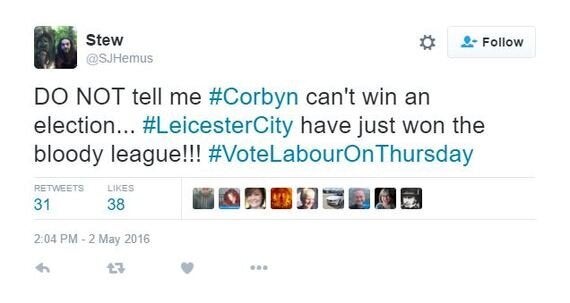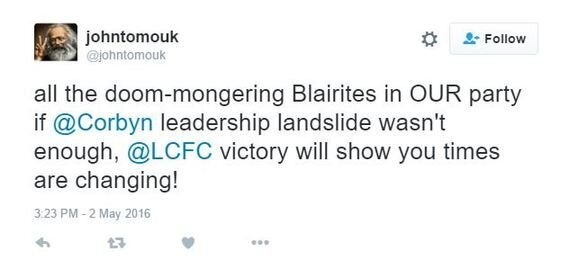 I have news for anyone thinking that Jeremy is the new Claudio, that Labour is the new Leicester. He, we unhesitatingly, profoundly are not.
Labour have a pedigree of winning the biggest prize, in our case a General Election, in Leicester's the Premiership. If fact we've won 9 since 1945, for Leicester this is their first. Labour should have the winning expectations of a Celtic or Rangers, not a rank outsider.
But lets look deeper. One thing you can say about Leicester without any hesitation whatsoever is that as a team they are united, just look at the photographs from Jamie Vardy's home on Monday night. Can we really say that about the modern Labour party? As headlines appear talking of stalking horse coup attempts Labour looks more like the footballing equivalent of David Batty and Graeme Le Saux.
Let's be honest if Leicester are anything they are a team where everyone is massively pulling their weight. Sure, Vardy and Mahrez are stars but their is no totemic leader backed up by a cult of personality. There is no room in the Foxes for Momentum style groups just supporting one of our players.
Leicester are not immune from controversy, they've even had their problems with racism. Last summer it cost several players and ultimately their then manager his job. Leicester learned their lessons and when another incident was reported, concerning Jamie Vardy, they acted swiftly and decisively to resolve the matter. When it comes to tackling tough decisions Labour's pedigree is, shall we say, more John Terry and Chelsea circa 2012?
If you've had a chance to watch Leicester this year you will know the Foxes have been completely different champions to those who have gone before. Leicester haven't been able to rely on the majority of possession, in fact statistics say they have had the ball just 42.4% of the time. It's like they've had to battle inherent factors that football and reality determines. For Leicester they have played week after week against teams with technically better players, Labour has a similar challenges in having to navigate an overwhelmingly hostile media.
The difference between the two is that Leicester have been clinical in taking the few chances they get. How many games have been won 1 -0? When you see Jeremy at Prime Ministers Questions the only possible comparison is Ronny Rosenthal. If you watch football no further words are needed, if you don't Google it.
The truth is that I was a Leicester City season ticket holder long before I was a member of Labour, although a combination of the demands of a young family and being fed up with eternal relegation battles meant I allowed my LCFC membership to lapse several years ago.
Corbyn supporters are using the club as a model for Labour to emulate but with some authority and to paraphrase those immortal words of Senator Lloyd Bentsen "Mr Corbyn, you're no Claudio Ranieri".
Popular in the Community