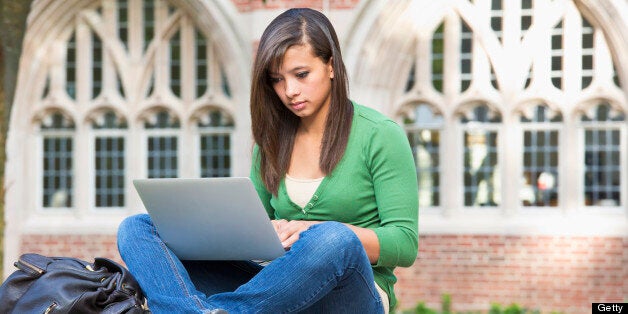 In June 2013 I donned a Hogwarts style cape and joined the supposedly 'real world' - yes that's right, I graduated. I finished four years of university where I completed a humanities degree. Graduating is much like finishing school when you are a pupil - you know it's coming but it feels like an eternity away. So after clunking the glasses of cheap sparkling wine so kindly provided by the university and crawling home after the obligatory final night out with my fellow students, I knew it was time to start looking for something to do with all this new spare time.
As students you are strongly encouraged to use the careers service offered by many colleges and universities. However I know in the case of my university, this service was very much underused. Even when I was in my final year, my technique (or something) was to occasionally look at jobs websites and hope that something I wanted would come up. There was no grand five-year plan, but my various unpaid internships and part time jobs turned out to be useful - and not just to pay my bar bill. They gave me experience of such joys as commuting and setting my alarm for 6am.
For the majority of us, the high priorities are meeting deadlines, making friends and avoiding missing too many classes after nights out - wait, I mean 'long study sessions in the library'. The job market situation is something largely ignored and sometimes featured as filler in the student newspaper.
I found it far too easy to forget the reason I was at university and I feel this applies to many other students too.
Of course I am not suggesting that all students should know exactly what they want to do when they leave the university gates for the final time, but planning ahead is something that needs to be ingrained within the student experience. Personally, I panicked at the idea of not having university in my life anymore and I am sure I'm not the only one to have this experience. At the age of 21 the idea of fending for myself was a daunting prospect. But it's not something to fear - it should be something to embrace.
Like many graduates I had to make the transition back to home life -no longer was ordering a kebab as a replacement for a Sunday dinner acceptable. My parents had to make the adjustment to know they were no longer living with a teenager but a young adult. It was at that moment I found myself in a rat race with thousands of other graduates who were scrambling around looking for jobs. I didn't know what I was going to do with myself.
Fortunately I was successful in getting an internship at a youth organisation in Brussels for six months, but this was only because of my previous experience that I had gained outside of university - as so many graduates have learned, a degree alone would only get me so far. I intend to use this time in the land of beer and waffles to properly work out where I want to go in my life.
So to all the all new students fleeing the nest for the next few years, I would pass on this advice: start to give your future some serious thought. Although you will probably think that an argument over who gets the biggest cupboard in your new university digs is important - keep focused on the bigger stuff. Oh, and don't just go for the free pizza at the freshers fair - those people at the careers service might just know a thing or two that could last longer than a Dominos coupon.