Odai is a healthy, happy baby boy, with chubby cheeks and big sparkling brown eyes. He chuckles when I tickle him and shows me a new trick - blowing kisses - as he is passed into my arms. At just 18 months old, Odai has never seen the world outside of Za'atari refugee camp. His life began here in this sprawling, dusty, desert shelter, just eight miles from the Jordanian border with war-torn Syria. Za'atari started out as a huddle of hastily erected tents in the heat of summer 2012, long before Odai was born. Today, as the conflict approaches its sixth year, the camp has grown to accommodate tens of thousands of mothers and fathers, fleeing the violence with their children. When the wind blows in this direction, you can still hear the barrel bombs falling, as they continue to rain down on civilians trapped inside Syria.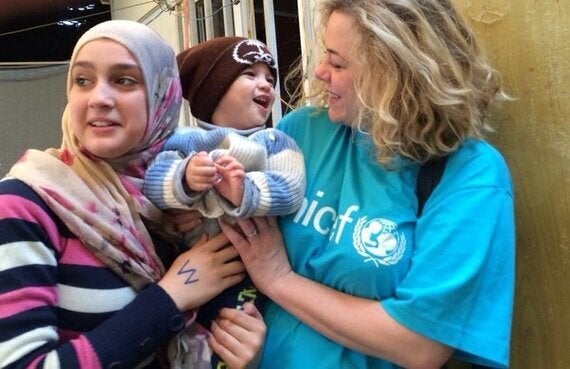 Odai smiles with Marwa and Lily
Agencies such as Unicef, UNHCR and the World Food Programme are here, alongside charities and Jordanian government workers, supporting over 80,000 refugees. The basics of life - food, water, medicine and protection from violence are being provided, but crucially I'm here to see how my organisation, Unicef, is helping children reclaim their childhoods, get back to education in makeshift schools and providing desperately needed psycho-social support to traumatised children who don't know if their shattered lives will ever be normal again.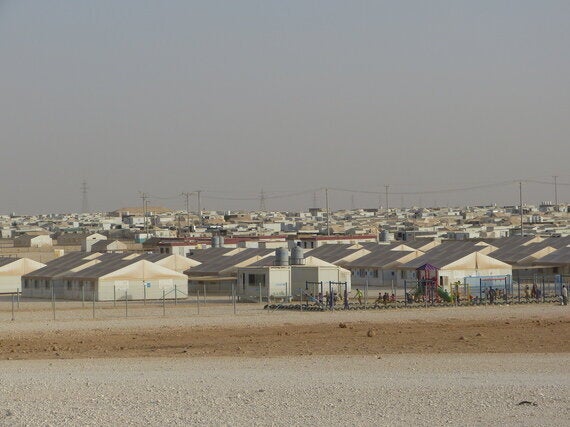 I meet baby Odai and his doting aunts, 12 year old Aya and 13 year old Marwa at their container home, crafted from corrugated metal and plastic sheeting, just off the colourful market street dubbed 'Champs Élysées' in the older 'district 1' section of Za'atari camp.
We are a little late arriving, as we have spent the previous hour hiding out in a cabin to shelter from a sudden, violent sand storm that whips up thick clouds of red dust that scratch my throat and sting my eyes. Now bursts of rain clear the air, and on arrival I see 13 year old Marwa scraping a thick layer of wet sandy sludge from a make-do kitchen area. It's only now that I begin to understand just how vulnerable these children are - exposed to the elements - and I start to imagine just what life will be like in this place when the wind and rain is replaced by freezing winter snow and ice in a few weeks.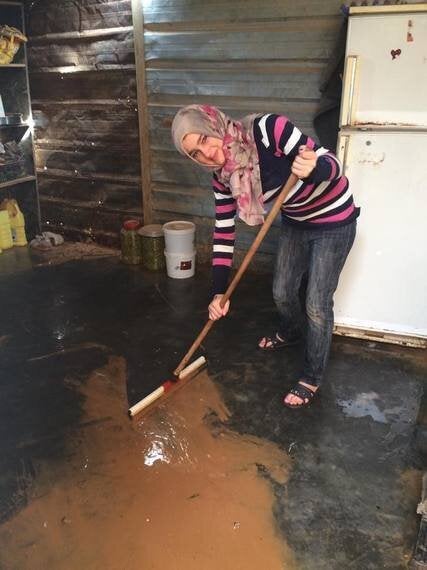 Marwa sweeps wet sand from the family's container home
Marwa's younger sister Aya shows me into the small living space of the container, where the family sleep, eat, study, rest and where her little brother plays - a humble but welcoming space where we sit together cross-legged on the floor. Here the two sisters show me their school books, and talk of their commitment to education. Both lost a year of school when they fled heavy fighting in their village - leaving behind another sister who is still unable to escape. Marwa and Aya are determined to pass their exams. Marwa wants to be an engineer. She dreams of a time when peace comes and she and her generation can help rebuild her peoples' nation. Maintaining this hope and belief in a better future, getting an education, receiving psychological support and being kept safe from abuse, seems to be as essential to these children as the clothes on their back. For children in Za'atari, Unicef is delivering not just preservation of life right now, but the chance for a safe, healthy and happy life in the future. These children, just like my own, have a right not only to life left in limbo, but to a life truly worth living.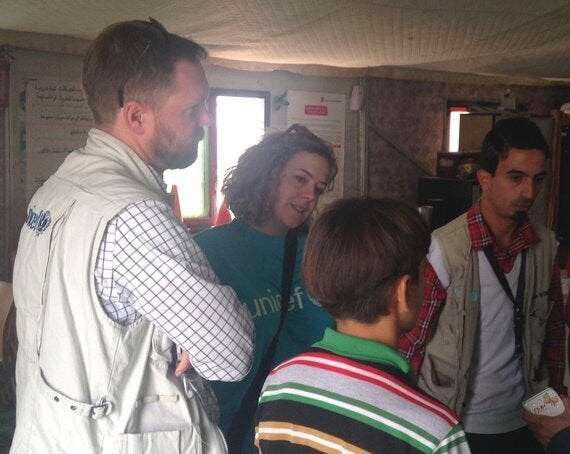 Speaking with Unicef colleagues at the Markhani centre
I visit a classroom packed with sixty eager school-girls who are testament to the value of this work. Each and every one tells me how much they want to learn. For some of the boys I meet in the nearby Makhani centre - a safe drop in for children who can't manage at school - the damage done to their young lives is clear. Some are angry, others withdrawn, all are suffering and rely on the support of specialist workers giving psychological and social support. One young boy I meet tells me about doing some labouring work, and is vague about his reasons for not being at school. He struggles to make eye contact and seems distracted. It's boys like this that mustn't be left to slip through the cracks - I am so very glad he is here.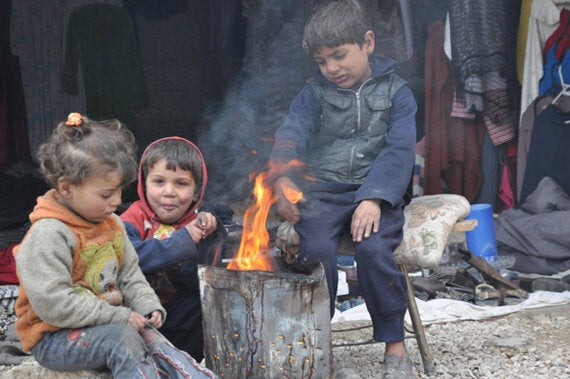 Children keep warm in the beseiged East Ghouta, Syria (Unicef /Syria 2015)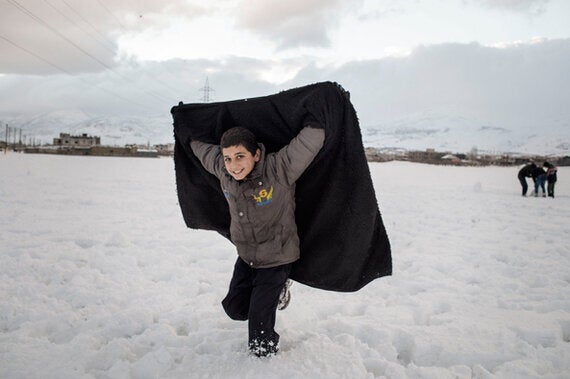 A young boy plays in the snow in his camp in Lebanon (Unicef/2015/Romenzi)
Each day, new lives are arriving here in the substitute maternity unit in Za'atari, while hundreds more are being killed every day eight miles away in Syria. We alone can't give the children of Syria what they need the most - ceasefire and peace - but we can protect their lives, their bodies and their minds from further harm and help them survive yet another bitter winter here in the Jordanian desert. I'm delighted that the UK government has committed to match pound for pound every donation to Unicef for Syrian refugees this winter, doubling the support we can get to these vulnerable children when they need it the most. I hope one day, baby Odai will smile and chuckle in his family home in Syria, where his generation can pick up the pieces of their lives and build a better future. Until then, they need my help, and they need yours.
The UK Government will match pound for pound all donations made to Unicef's work for the children of Syria.
Popular in the Community