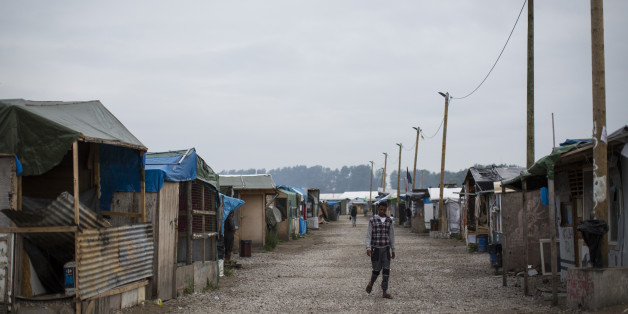 Jack Taylor via Getty Images
A boy rests his head on his hands while waiting to board the train in Macedonia to the border with Serbia, from where he can continue his journey through Europe UNICEF/Georgiev/2016
Hariwan, 17, was playing football with his friends at a pitch 30 minutes from his home in a village near Sinjar in Northern Iraq when Isil attacked. In the chaos and destruction that followed he fled with some other people from his village towards the Turkish border and Mersin refugee camp without knowing where his mother was, how to contact her, or what to do next.
He told us, "I remembered my uncle and I knew he lived in Europe. After staying in Istanbul for two weeks, a people smuggler agreed to help me. I was able to reach Hungary by going through Bulgaria and Serbia. But I was arrested and held for 67 days by the Hungarian authorities. They hit us every day. They banged my head against the walls. I haven't been well since then. I've lost my memory and I get dizzy spells".
After being released from the detention centre in Hungary, Hariwan made his way to the Grande-Synthe refugee camp, in Dunkirk, France. From there he has been constantly struggling to reach his uncle in the UK and despite entering into the legal process to be reunited, has yet to hear back about his case.
Hariwan's story is just one of many from children who have fled conflict back home to Europe and have ended up in the refugee camps of Northern France. In our latest study, Family Reunification and Failing Protection in Dunkirk, we interviewed 13 of these boys. All living in the Dunkirk camp before it was devastated by a fire last week, all are going through the legal process to be reunited with family in the UK.
Coming from Kurdish Iraq and Afghanistan, all of these boys had fled conflict back home and told us horrific stories, like Hariwan's, about their journey's to and through Europe.
The shocking thing about these stories, alongside the descriptions of violence, abuse and exploitation, is that these boys should not be having to make these journeys in the first place. With family members in the UK, under the Dublin family reunification laws, they have a legal right to be reunited with relatives when they reach Europe.
Instead, they are having to pay smugglers to try and reach them, or being picked up by traffickers, risk being beaten in detention centres and living in fear of gangs. As these boys told us, even when they are now being supported through the legal process to be reunited with their families by organisations like Safe Passage, they are losing faith in the authorities due to it taking so long. When the legal process doesn't work, the temptation to try to reach, family and loved ones by jumping on the back of lorries and trains is strong.
After the fire this week in the camp in Dunkirk, the UK Government must take action to ensure that those children with a valid legal claim to family reunion in the UK can be brought to safety. Their family reunion cases must be facilitated to continue and the bureaucratic delays holding them up must be overcome.
We must learn from what happened in Calais, when the UK showed it could do what it takes to get children to safety in a crisis. Similar support must be given to children in Dunkirk currently facing an uncertain future, to prevent these children disappearing and falling into the hands of traffickers looking to exploit them.
Six months on from our 2016 study, Neither Safe Nor Sound, which similarly looked at conditions for children in refugee camps in northern France, it is alarming to see that the situation on the ground has become no less dangerous for children. As Can, 16, from Afghanistan told us:
"The Kurdish gangs are very dangerous. They have weapons. Every third evening there are gunshots. The police don't want to get involved. I know in any case that they are not there to protect us".
This is why today, at Unicef UK, we are calling on the UK Government to work with its European counterparts in the best interest of these children; to ensure that they have the information about their rights in a language that they understand; to provide the necessary resources to support prompt and more efficient identification of children in Europe with the right to family reunion and support them through the legal processes; to strengthen child protection systems and to amend the immigration rules to ensure that children living in conflict-affected regions can reunite safely and legally with their family members in the UK by applying from their places of residence, rather than having to risk their lives on dangerous journeys to Europe
Please join us in doing the same.