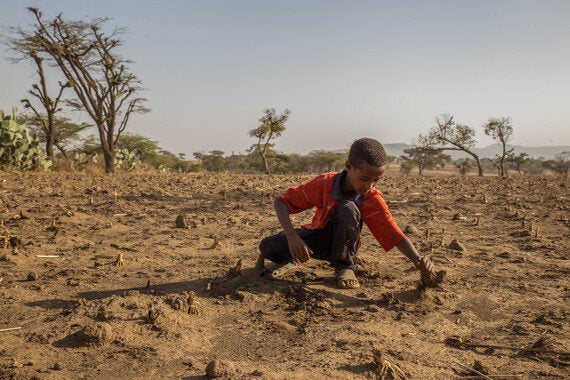 The UK government will match every penny raised through Soccer Aid, meaning Unicef will be able to provide even more children like those in Ethiopia with the support they so urgently need. Images © UNICEF/Ayene
This Sunday, celebrities and football legends will come together to play one of the most exciting matches of the year at Old Trafford to raise money for Unicef. Everyone from Michael Sheen to Sir AP McCoy, and one half of the One Direction boys will be lacing up their boots to play in the 10th anniversary of Soccer Aid, alongside legends like Ronaldinho, Sol Campbell and Jamie Carragher.
While the event will attract thousands of fans to the stadium and millions of viewers at home, the star-studded match is so much more than just that. It's an opportunity for us to come together to help build a safer world for children. Children like those I met on a recent visit to Ethiopia; a country facing one of its worst droughts in decades.
If we rewind to 1984, the devastating drought in Ethiopia captured the world's attention, with images of starving children whose chances of survival looked hopeless. The effects of the famine were both lasting and far-reaching, with consequences unimaginable to those of us living a continent away.
Now, a little over thirty years later, the country has once again been hit by drought, wreaking havoc on millions of lives. During my trip I met mothers and babies whose lives are a daily battle for the basics; clean water and healthy food are scarce. I visited rural clinics where health workers measured the tiny arms of babies and diagnosed severe acute malnutrition.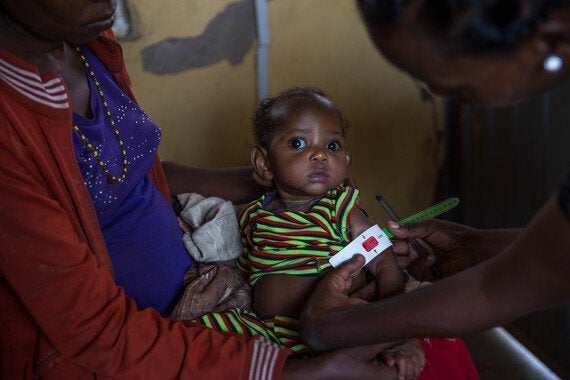 Mothers bring their babies and young children to be screened for malnutrition at the community health post.
Yet the difference between that last major drought and the situation now is that today, the country is far better equipped to handle a crisis of this scale. This time around, although millions are affected, help is reaching them. I saw clean water being trucked to remote villages and local people distributing it. I saw babies' lives being saved by trained health workers who have basic medicines and infant feeding supplies, thanks to donations to Unicef. This incredible progress is in part because aid to developing countries like Ethiopia helps them to build up their infrastructure and systems so that they are better able to cope with a crisis like this.
Thanks to aid from the UK government and the precious donations individuals make to Unicef, we are able to work with the Ethiopian Government to supply medical centres, run educational programmes and support mobile health clinics to get life-saving help to where it is needed most.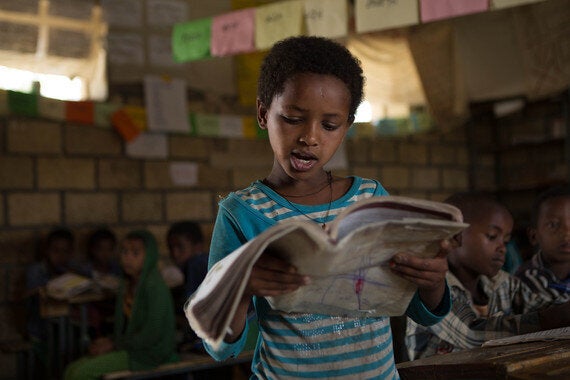 Unicef is supporting children in Ethiopia with medical and educational supplies.
That support is paying off more than ever now that nearly six million Ethiopian children are facing hunger, disease and a lack of water. But more needs to be done in a crisis of this scale, and we now have the chance to help once again.
Events like Soccer Aid are not a new concept - we've seen that bringing stars and people with extraordinary talents together gives us a unique platform to talk about children in danger around the world- and importantly, what we can do to help.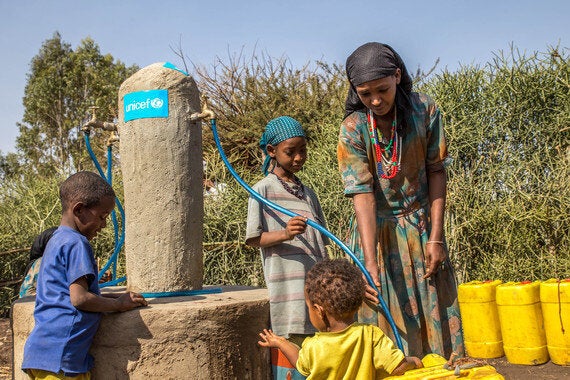 A mother and daughter fill their jerry cans at a Unicef-supported water pump.
Over the years Soccer Aid has raised over £17million for Unicef's work for children in danger. This year, the UK government will match every penny raised through the event, meaning we'll be able to provide even more children like those in Ethiopia suffering from malnutrition with the support they so urgently need.
That's why this Soccer Aid will be so much more than a legendary football match. It will be a chance for us to rally together like we did in 1984, and make sure that we reach every child in danger - today, and in many years to come.
Soccer Aid will be shown live on ITV from 6pm on Sunday 5th June. For tickets or to donate to Unicef visit itv.com/socceraid. Every pound you donate to our Soccer Aid appeal until 29 July 2016 will be matched by the UK Government.
Popular in the Community