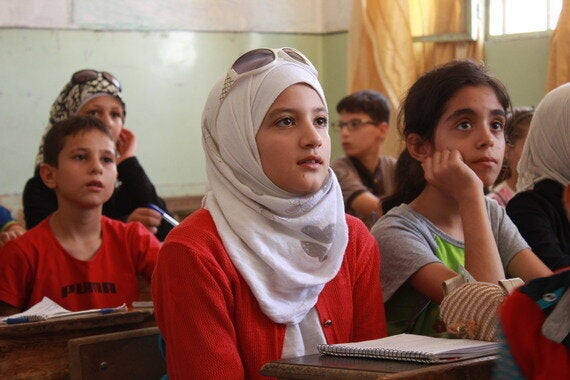 Children attend school in Aleppo, Syria. Copyright Unicef/Al-Issa
The children of Syria have lived through five years of devastating war. For many, violence and loss is all they have ever known. Syria is one of the most dangerous places in the world to grow up and sadly its children continue to see their hopes for the future fade with every passing day of conflict.
I visited Za'atari refugee camp and met children who have fled Syria for their lives. I heard the same tales of losing homes, their schools and their friends. And stories of unimaginable violence and danger. These children should be going to school and playing with their friends, dreaming of what they want to be when they grow up. These children are the future of Syria and they urgently need protection and the chance of an education before a whole generation is lost to the conflict.
Today world leaders will come together to commit to helping more Syrian children. The Supporting Syria and the Region conference, in London, will set crucial and ambitious goals on education and economic opportunities to transform the lives of refugees caught up in the Syrian conflict and to support the countries hosting them.
The conference is an opportunity for world leaders, including the UK Government, to address the dangers facing Syrian children and commit to raising new funding to meet both their immediate and longer term needs.
Education must play a critical role so that Syrian children can continue to learn and develop. Without an education what hope can they have for their futures? How will they be able to help rebuild their country once the conflict is over? Without education and growth, an entire generation of potential could be lost.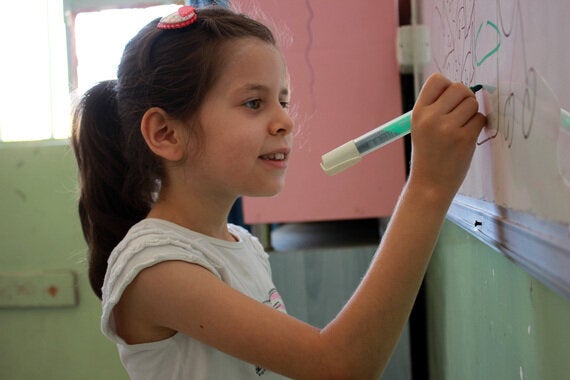 A Syrian girl writes on the whiteboard. Copyright Unicef/Al-Issa
Unicef is a founding partner of the No Lost Generation initiative, which brings together the UN, NGOs and international donors with the aim to get children back into learning, expand learning space and provide a protective environment for children and young people, whether in Syria or in neighbouring countries. In total, £966 million is needed for each of the next five school years for Syrian children.
The No Lost Generation initiative aims to provide opportunities for children and young people affected by the crisis to come to terms with their experiences, learn and develop. It aims to improve the quality of formal and non-formal learning opportunities for Syrian children. For the2.8 million children out of school right now this is vital.
As well as urgent funding for Syrian children Unicef is calling for unhindered access for humanitarian organisations to reach families in desperate need inside Syria. We need official ceasefires so that life-saving relief can be delivered and children can return to school. And we urge that attacks on civilian infrastructure cease immediately, as under international law, so that schools, hospitals and water supplies are kept safe.
Syria is the world's biggest and most urgent humanitarian crisis and the international community has a responsibility to help. This conference is the chance to do more to support the children of Syria and world leaders must act now to ensure there is No Lost Generation.
Seven year-old Malak is one of eight million children whose lives have been torn apart because of the Syrian conflict. She tells the story of her terrifying journey across the Mediterranean to safety https://youtu.be/TEMrc3jlBIg
Find out more about Unicef's work www.unicef.org.uk/syria
Popular in the Community