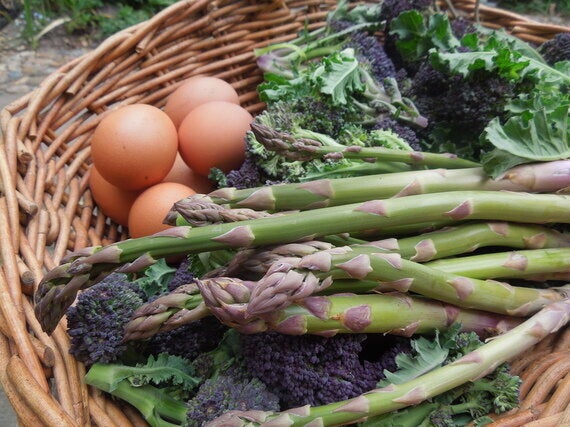 This was my haul from the vegetable garden the other day (the hens live there too). Asparagus, purple spouting broccoli and eggs, all freshly picked or newly laid. It would have been madness to eat anything else that night.
This is such a simple recipe it's hardly deserving of the name but it's so good I'm going to share it with you anyway. It makes a lovely lunch or light supper.
Asparagus, Purple Sprouting and Poached Eggs with Parmesan (serves 2)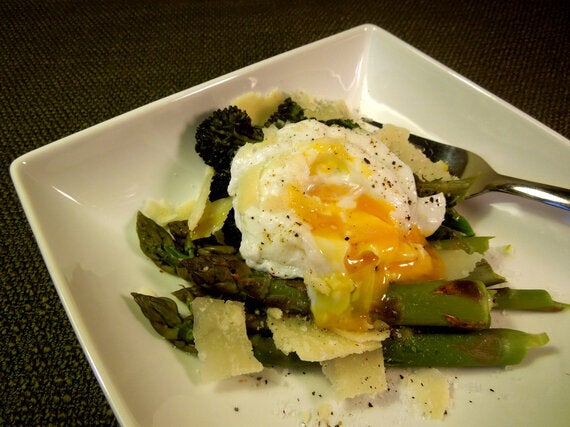 A roughly equal quantity of purple sprouting broccoli
Parmesan cheese, to taste, shaved with a vegetable peeler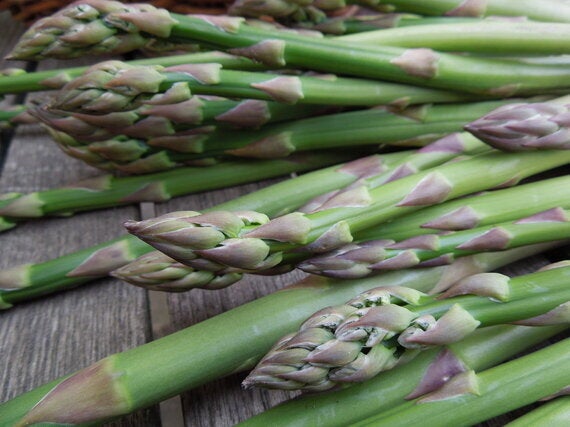 Trim the asparagus by snapping off the woody ends. Cut the broccoli so each piece is of more of less the same length, slitting the stems of thicker pieces so they'll cook at the same speed as thinner ones.
Steam the vegetables until tender, drain and keep warm. Meanwhile bring a pan of water to a gentle simmer, break the eggs into cups and carefully slip them into the water. THERE IS NO NEED TO ADD VINEGAR! Not unless you actively enjoy vinegared eggs, anyway. Cook gently until the whites are set but the yolks still runny.
Put the vegetables onto warmed plates and dab them with a little butter. Top with the drained poached eggs and add a few shavings of parmesan. Season to taste and serve immediately.
Related