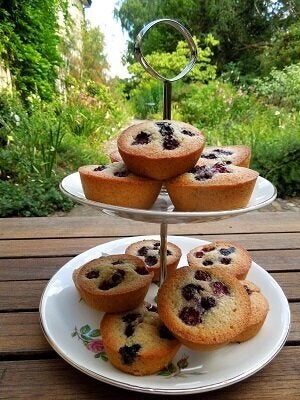 We've got lots of berries ripening in the garden - fat, juicy blackberries, late raspberries and blueberries on a bush given to us by friends visiting from the United States. The blueberry is still young so doesn't have a lot of fruit on it yet. Rather than have the handful of berries vanish into a crumble (it's too hot for crumbles anyway) I decided to make friands.
The berries added to these moist, almondy little cakes give you a sharp, fruity burst when you bite into them. Friands work equally well with a cup of tea or, served with fresh berries and a dab of crème fraîche, as a dessert.
You can ring the changes on the ingredients, substituting raspberries for the blueberries and blackberries, and swapping the ground almonds for hazelnuts. Apart from all that, what gives friands their unique taste is the beurre noisette, the nut butter, which tastes (well, duh) nutty.
Traditionally they're oval-shaped but as few of us have special friand tins, small bun tins work perfectly well. The cakes are very quick and easy to make and although they're best eaten on the day they're made, they freeze well.
Black and Blueberry Friands (makes 12)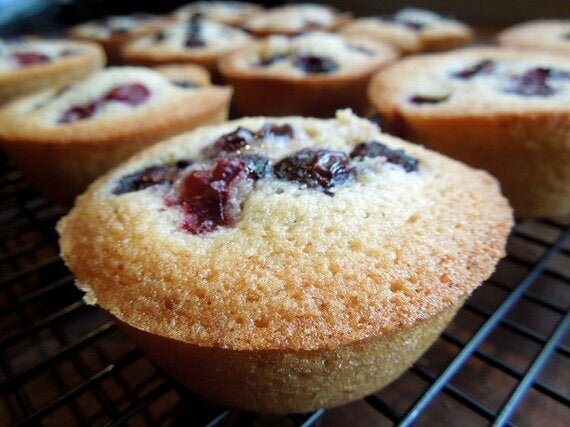 100g blueberries and blackberries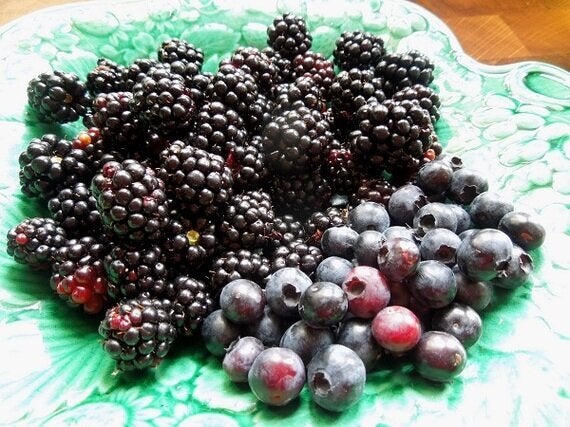 Preheat the oven to 200C/400F/Gas Mark 6. Lightly butter a 12-hole bun tin.
Melt the butter in a small pan over a moderate heat until it is a deep, golden nut-brown but watch it carefully so it doesn't burn. Set aside to cool slightly.
Mix the flour, sugar and ground almonds in a large bowl and stir through the lemon zest. Beat the eggs whites until they're soft and fluffy but not standing in peaks. If your blackberries are the big domestic ones, cut them into halves.
Stir the egg whites gently into the dry mix then pour in the nut butter and combine thoroughly, but without knocking all the air out of the mix.
Spoon into the bun tins and drop a few pieces of fruit into each puddle of batter.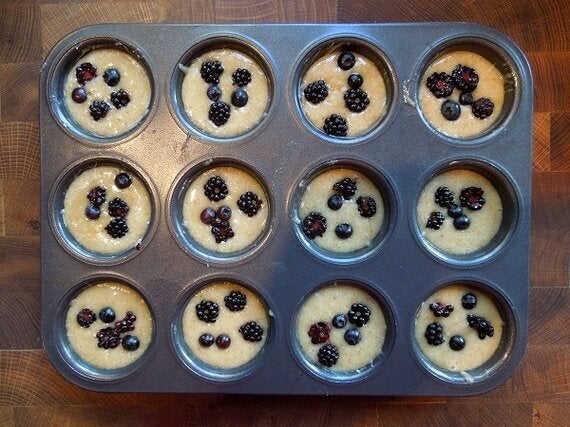 Bake for 10-15 minutes until just golden. Allow to cool slightly before gently removing them onto a cooling rack.