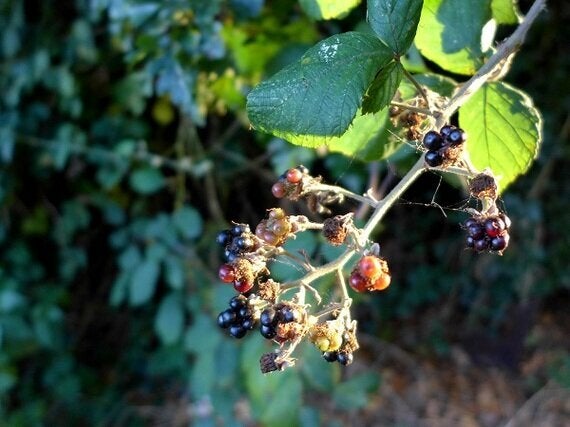 Sorry, I picked all the good ones
This is a cheat's version of crème brûlée, made with Greek yoghurt rather than a rich eggy custard. It's a no-bake, quick-to-make recipe, which means you can use the spare time to knock up the hazelnut twists (also very speedy) and have a classy-looking dessert on the table in next to no time. It's a little looser in texture than a classic crème brûlée, lighter and a bit tangier.
If you don't have blackberries, raspberries also work well here, as do almost any berry fruits. Indeed, a friend of mine made this on a larger scale with peeled and sliced kiwi fruit many years ago and it was delicious. The original recipe for the twists comes from Michel Roux Jr, who uses almonds. You could also try chopped pistachios - whatever goes best with the fruit of your choice.
You can finish this under a hot grill, although a blow torch comes in handy. Top tip: buy a small blow torch from a DIY store, more efficient than many of those sold in kitchen shops.
Yoghurt and Blackberry Crème Brûlée with Hazelnut Twists (serves 4)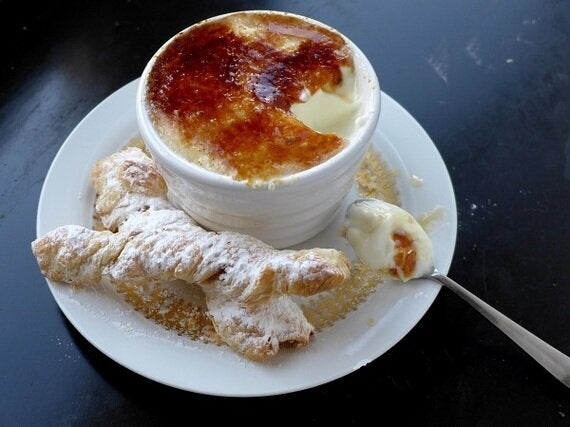 Ingredients for the crème brûlée:
200g blackberries, hulled
100 g granulated sugar + more for the top
1 tspn of pure vanilla extract (or 1/2 tspn more, to taste)
Ingredients for the twists:
About 1/3 of a sheet of ready-rolled puff pastry
About 50g chopped toasted hazelnuts
Put the blackberries in a saucepan with a small splash of water and cook on a medium heat for about three minutes, until just softened. Remove from the heat, drain and stir in a teaspoon or two of sugar, to taste. Put a layer of the blackberries in each of four ramekins.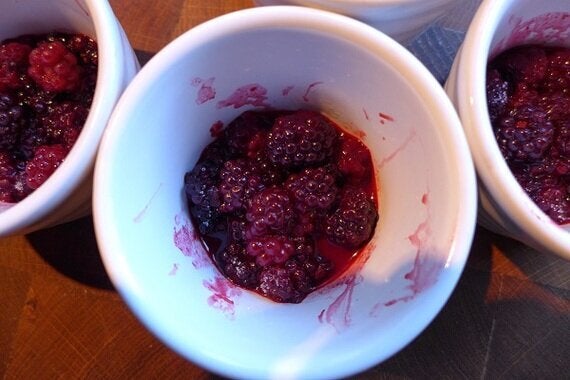 In a bowl, stir the yoghurt with 100g of sugar and the vanilla extract until blended. Spoon over the blackberries, filling the ramekins to the top. Smooth the surface and place in the fridge until just before you want to eat.
To make the hazelnut twists, heat the oven to 200C/400F/Gas Mark 6. Lightly grease a baking sheet.
Brush one side of the pastry with beaten egg and sprinkle with the chopped, toasted hazelnuts. Cut into eight strips about 2cm wide down the short side. Twist them three times and place them on the baking sheet. Cook until golden and crisp, around 15 minutes (but check after 10).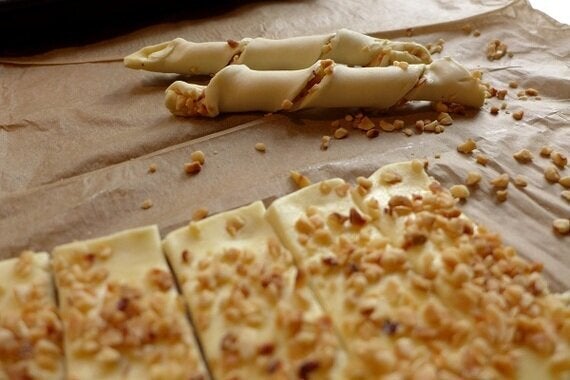 To finish the crème brûlée, sprinkle them with a thin, even layer of sugar and brown them with a blow torch or put them under a very hot grill. They should be golden brown but not burned. Leave to harden for a couple of minutes before serving. Dust the pastries with icing sugar and serve warm with the crème brûlée.