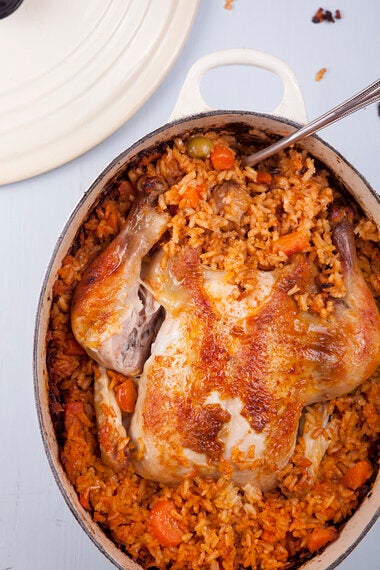 This has to be one of my favourite dishes that I ever created! A one-pot wonder, infused with Mediterranean flavours. Serve straight from oven to table.
500g brown rice, washed until the water is clear
4 carrots, cut in half lengthways then slice into small pieces
1 large white onion, finely chopped
12 green olives, pitted and sliced
350ml pasta sauce, classic marinara (I use the brand Gefen)
2 tsp. tamari sauce, gluten free
1 pint boiling water (you might need a little extra throughout the cooking)
1 chicken stock cube, gluten free, dissolved in the pint of boiling water.
sea salt and white pepper
Preparation time - 30 mins, cooking time - 2 hours
Pre-heat the oven to 425°F, gas mark 7, 220°C (200°C fan-assisted).
Rinse off the chicken under cold water and remove any hairs by scraping with a blade of a knife.
Place a large non-stick frying pan on the stove, together with a splash of olive oil. When the pan is hot, place the chicken in the pan and seal for approx. 2 minutes on each side then remove from the heat.
When the chicken has cooled down, season inside the cavity with a little sea salt, white pepper, paprika and garlic granules. Then season the outside with sea salt, white pepper, paprika and garlic granules and set aside.
Place a large oval casserole dish (29cm in diameter) over the stove. Add 2 tbsp. of olive oil and sauté the finely chopped onion on a medium/high heat until translucent. Turn the heat down and add the crushed garlic together with the rinsed brown rice, continuously stirring.
Add the carrots and olives together with the tomato marinara sauce, tamari sauce and honey.
With a wooden spoon, move the rice to the sides of the dish, pushing it about 3cm up the sides, keeping a base of rice on the bottom.
Then place the chicken, breast down in the center of the casserole dish, cover with chicken stock and return to the stove on a medium heat for a few minutes to get it warmed through and then place the casserole dish covered, in the pre-heated oven, turning the chicken over after 1 hour and continue to cook for a further 30 minutes then turn the oven temperature down 20 degrees less to 400°F, gas mark 6, 200°C (180°C fan-assisted) and cook for a further 30 minutes.
LISA'S TIP Start with the breast facing downwards, this will keep the breast meat more soft and succulent. Don't worry at first if you think there is too much liquid, if you have a large casserole dish the liquid should just cover the chicken and the rice will absorb the water whilst cooking. You can also make this the day before, remove the chicken from the carcass and heat in a non-stick wok and serve as a dry risotto.