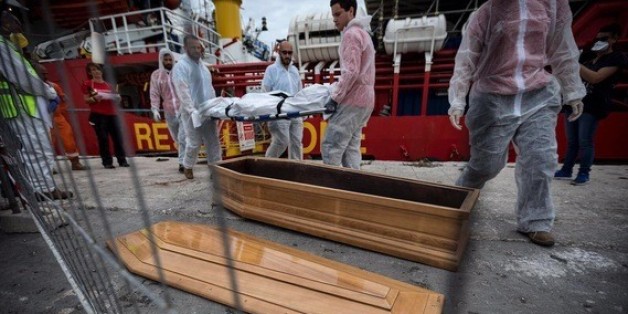 Save the Children/Louis Leeson
The moment we brought 15-month-old Blessing* on board, she started crying hysterically. When I spoke to the woman carrying her she told me she wasn't her mother.
'I think her mother is in the clinic,' the woman said. But she wasn't there.
After a frantic search, I learnt the worst. Blessing's mother had drowned before our teams could reach their rubber dinghy. It was almost as though the infant could sense what had happened and knew she was now alone. Her mother had risked everything to seek safety and a better future for her daughter, only to lose her life in the Mediterranean.
As horrifying as the situation was, it could have been so much worse. Had we been even a few hours later, many more would have not survived.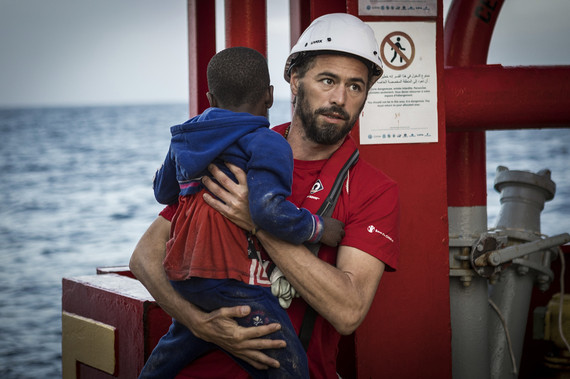 Save the Children/Louis Leeson
Earlier that day, Save the Children's search and rescue team had received a call from the Italian Coastguard telling us the position of a dinghy in distress. Ours was the only rescue vessel for many miles and it took us several hours to reach the location.
The team did everything they could to get ready, but no amount of training or planning could have prepared us for what we saw.
As soon as the boat got close, I knew something was very wrong. There was an intense stench of fuel that became overpowering as the first people boarded our vessel.
With barely any time to process what was happening, many women were pulled on board by our rescue workers and started collapsing. Some were heavily pregnant and several had arrived with extremely distressed babies.
While we were helping to carry the most severe cases to our on-board clinic, more and more people continued to arrive. All were in excruciating pain.
We discovered that the fuel was leaking into the flimsy boat, which had taken on water because it could not withstand the weight of the 120-plus people crammed into it. By the time we arrived, the toxic mixture had spread everywhere, causing the most horrific chemical burns. In many cases, people's skin had come off and they had raw red wounds. Among these casualties were two men and two women - including the baby's mother - who had already perished.
Those who had escaped chemical burns were not unscathed. Our rescue team, who have been operating in the Mediterranean on a ship called the Vos Hestia since last year, say they have never seen a boatload of people in worse shape.
Even before the group set out to sea, many were subjected to extreme beatings, torture, and rape along their journey and in particular in Libya. Some said they had been sold as slaves and treated like animals.
Their suffering was overwhelming. I will never forget the shock and panic on people's faces. I felt my own sense of shock that the world was allowing human beings to suffer like this.
As long as people experience war, violence and persecution at home, many will risk their lives to reach safety and far too many will die doing so.
This is why I now feel, more than ever, that Save the Children's work in the Mediterranean is crucial. We not only stop children and their families from drowning but we provide one of the few havens for people who are fleeing the unimaginable horrors they have experienced along their journey and in particular in Libya, where security has sunk to new lows.
Families come to Europe in search of safety but many of the people we rescue tell us that they had never intended to travel so far. They came to Libya in search of better opportunities but found the situation so unbearable that they were forced to leave in any way they could.
For the many men, women and children staying in Libya the situation is only going to get worse. When EU leaders met this month, they agreed to speed up deployment of support for Libya's coast guards, which means people trying to escape the country will now be intercepted and returned. They also decided to close more stretches of Libya's southern border. Both policies will end up trapping more refugees and migrants in conditions which are being described as living hell.
Many speak of having become 'trapped' and say there was simply no way to make the journey back past the armed groups and smugglers in the desert. A man from the Gambia recently told me that when he tried to return to the Libyan border he was shot three times in the upper chest by groups patrolling the route.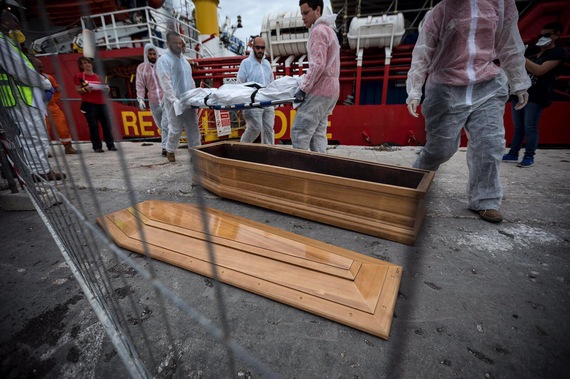 Save the Children/Louis Leeson
The EU's continuing insistence on prioritising border control over saving lives has helped to fuel this barbarity and suffering. If we want to see these horrors stop, we must offer hope in the form of safe and regular routes into Europe, with humanitarian visas, resettlement and a more flexible system for reuniting children with their families when they become separated.
Save the Children and other NGOs have called on the EU to change their policies and think long-term. Many of the people we rescue come from countries in the grip of severe drought, hunger or war. Elsewhere, extreme poverty, inequality or lack of access to education drive people from their homes. If some of these long-term issues were addressed, perhaps babies like Blessing* and her family would never have undertaken this perilous journey.
When Blessing* was rescued she was immediately placed in the care of our child protection team on board, who were working in coordination with experts on shore to ensure that all her needs would be met when she arrived on land. I have since seen a video of Blessing* laughing and smiling as case workers played with her and rocked her on a swing. It gave me such relief to hear that the baby had been received the best possible care in Italy thanks to the hard work of our team and the authorities on land.
But without her mother by her side, the world may not always be a kind place. Far too many other children will suffer the same fate if the EU doesn't re-assess its policies, and the international community does not act.
*Name changed to protect identity. Support Save the Children's search and rescue operations in the Mediterranean.