It's one year since Liberia was first declared free of the Ebola virus. In Dolo's Town, one of the first places to be severely hit by Ebola, the news crews have gone home and people are trying to get used to a new normal.
For many, it's a way of life that they were not ready for. Tina Yarjay, 18, is looking after 11 children.
'I am a mother unprepared, because I have 11 children who I am currently caring for including my brothers and sisters. My parents home was incomplete prior to their death and now, it is rainy season and the rooms leak whist it rains. After my parents died, my siblings and I were neglected. Sometimes when we needed to buy food or other things our money was rejected.'
She tells us that NGOs are helping, but that their support can never take the place of her parents.
Hundreds of people died in Dolo's Town, a relatively small community built in the largest rubber plantation in the world. When the disease first hit, the community thought it was just a bad spell of food poisoning. They never imagined that it was a vicious disease that would rip their town, and their country, apart.
Esther Brown, 49, contracted Ebola but survived it. Her husband and 42 members of her family were not so fortunate:
'I lost all of my people to one illness. I lost 42 persons in my family. Business is giving me a hard time. I'm suffering. Sometimes I have no food and I'm always unwell. My major problems are food, school, shelter. Sometimes I have no shoes, and I'm caring for fourteen children. Our house is falling down but I have no money to fix it.'
Liberia is currently in the midst of an economic downturn caused by Ebola, and many of the struggles are reflected in Dolo's Town. As the rubber price falls, Firestone has begun to lay off workers, many of whom are not from the county and are leaving the area, meaning fewer customers for those running businesses. The price of sugar has almost doubled in the last six years.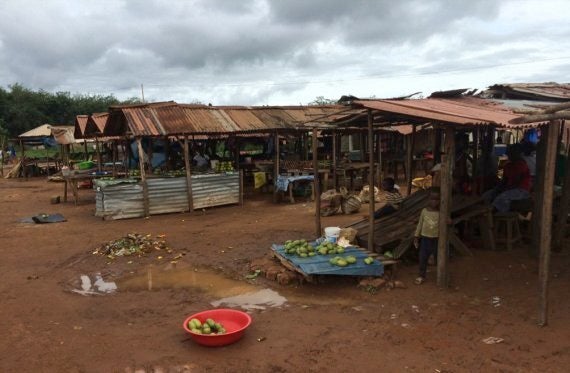 The scars of Ebola are everywhere. But there is hope amongst the hardship.
The stigmatisation of anyone associated with the disease is now on the wane. People are starting to rebuild fractured lives, and the community is coming together once more.
Salomie Reeves, who lost her husband to the virus, says that time has played the most significant role in breaking down stigma:
"People mocked me. I cried, I was worried and stayed indoors. They said Ebola is in me too. People drove my children away. But time passes, they see my condition, I am not ill and they know Ebola is gone".
Naomi Wrehpue is an Ebola survivor. She contracted the virus after her husband spent time with his niece, who has the first victim in the town. 'The Ebola grabbed me. Since I came from the ETU [Ebola Treatment Unit], the pain has taken hold of my body. It gives me a hard time, but the community people take care of me. The only problem is I can't get well.'
Naomi used to run a frozen goods business, but ongoing illness forced her to stop. Since she received a business grant from UK NGO Street Child, Naomi's new red oil business had quadrupled in size.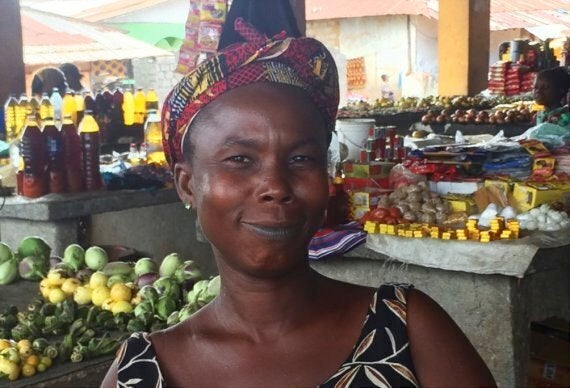 Image: Naomi at work in the market
Street Child has given 78 business grants in Dolo's Town and typically sees an 85 percent success rate in helping people to generate incomes large enough to support their families. This kind of support has been vital in helping people impacted by Ebola to build a future, especially for those who now find themselves caring for large numbers of children.
During Ebola, Cynthia Dorbor moved back to her mother's house to care for her when she was sick. Sadly her mother did not survive and Cynthia lost five close family members to Ebola in total.
Today, she is looking after her sister's three children - all orphaned by the disease.
With support from Street Child, Cynthia has taken over her mother's table at the market, selling wheat, rice and sugar. Since she received a grant in February 2016, the business has doubled in size. It was was bring-ing in $3 a day but is now making enough to ensure that she can save up to $35 a week.
Ultimately, Cynthia's dream is to go back to school, and train to be a nurse. The business will eventually allow her to do that, but for now it will ensure that her nieces and nephews receive a full education.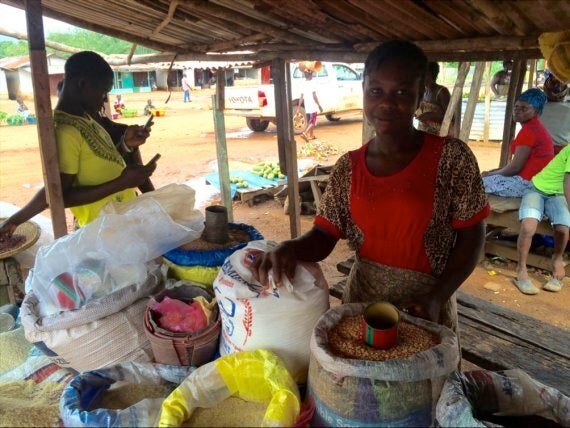 Image: Cynthia, with her business
For Street Child, and other local charities, the work that began during Ebola is as important today. Without support, people like Cynthia would struggle to provide enough food for the children they're supporting, or to pay school fees.
Too many children affected by Ebola are now struggling to survive, and it's girls that are most likely to suf-fer from abuse. Girls have been forced out of school and into child labour and prostitution.
Mothers like Cynthia need to earn a decent living to enable children, especially girls, to stay in school and away from the dangers of the streets. Educating Dolo's Town girls will give the mothers of the future a better chance, making the prospect of the community's long term recovery much better.
One year on from the end of Ebola, life in hot, dusty Dolo's Town is still fragile and hard. The legacy of this vicious disease will be felt for years to come. The pain and grief is still tangible, but there is a cautious optimism that, with the right investment and support, things are starting to look up.
Street Child's Girls Speak Out appeal aims to help 20,000 vulnerable girls in Liberia and Sierra Leone to ac-cess education this year. All funds donated before July 18th will be match funded by the UK government. www.street-child.co.uk