Over the past few months, like most in my party, I have become increasingly angry at the way the debate about asylum seekers and migrants have been used as collateral damage in the EU referendum debate. It's neither fair nor right that people who seek to escape war-torn countries and places where a conflict is at present unresolvable are treated to appalling abuse.
Of course, it would be preferable if we could sort out the problems at source and avoid the need for people to be refugees. Equally it might be better if, in the context of free market Britain and the EU, people found employment closer to home. But that is not the world in which we live. The UK needs flexible labour and suffers skill shortages, as we have historically at different times since the Second World War.
So what of the plight of refugees in Europe? The response of some politicians has been heroic. Angela Merkel - a politician of the right - has braved the challenge from extremists to provide hope and a haven for those fleeing Syria and elsewhere. In Britain however, most politicians have been less responsive - fearful, sadly, of the backlash. A few, including Yvette Cooper and my Lords colleague Alf Dubs have tried to take the arguments to those who fear migration. Alf in particular has led concern about the impact on young, unaccompanied children trying to make their way to somewhere safe.
With the government at best dithering on how to handle this issue, those in Britain who care and want to make a positive contribution to the wellbeing of the most vulnerable in the crossfire have been left frustrated. But many routes exist to finding a means to help and across the English Channel there are refugee camps at Calais. Not an ideal place of refuge but nevertheless one that is there and host to hundreds of young people, the fair majority unaccompanied.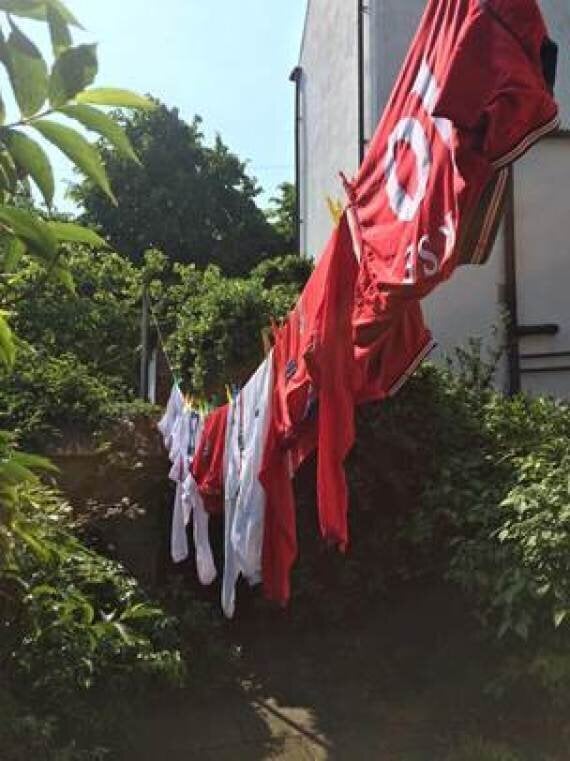 Later this week, and elsewhere in France, EURO 2016 will kick off. One thing we know for certain is that wherever you are from in the world, there is a fair chance you'll like football. With this in mind and to mark the start of the tournament, my wife Jill and I will dedicate our weekend to bringing some practical support and hopefully a bit of fun to those young refugees.
Our home city of Brighton already has community links with one of the Calais camps. So building on this, we have asked friends to donate money, football kit and other useful things that we can take with us as voluntary helpers. The response has been brilliant. Entire team kits from a small club in Littlehampton, a junior sized training kit from a Newcastle fanatic, the Premier League giving us kit from many of the top flight clubs.
One friend even ventured into his loft to find a set of old England tops from various failed football campaigns, as well as France and Italy tops, then gifted them all to us freshly laundered. Everyone it seems wants to play a part. And the multi-national aspect of that friend's offering has made me think that it would be nice to secure, albeit with only a few days to go before we head for Calais, kits from all of the other teams taking part in EURO 2016.
A knock-on effect has been to make Jill and I think that while Boris and Dave slug it out over Leave/Remain and those who should know better shout negatively about immigrants, we should quietly get on and help those caught up in conflict. It ends the frustration and helps build bridges - something we should all surely do. As always, when working together people can make a positive difference.
Lord Bassam is the Labour Party's chief whip in the House of Lords
Steve Bassam and Jill Whittaker will travel with footwear, football kits and food to Calais this coming weekend. Help Refugees distribute help and support to those in need www.helprefugees.org.uk - or contact Steve directly about his and Jill's upcoming visit at bassams@parliament.uk
Popular in the Community