No one doubts the immense contribution by the Italians to art and creativity and their influence until today. The Renaissance with artists such as: Michelangelo, Raphael, Botticelli, Leonardo, and Titian - to name a few. And movements such as Futurism and Arte Povera; filmmakers such as Fellini, Pasolini and Antonioni defined the modern era as we know it now. The House of Peroni, in Marylebone, celebrates the new wave of visionaries defining contemporary Italian culture with a full programme of events, workshops, talks and exhibitions taking place during the month of July.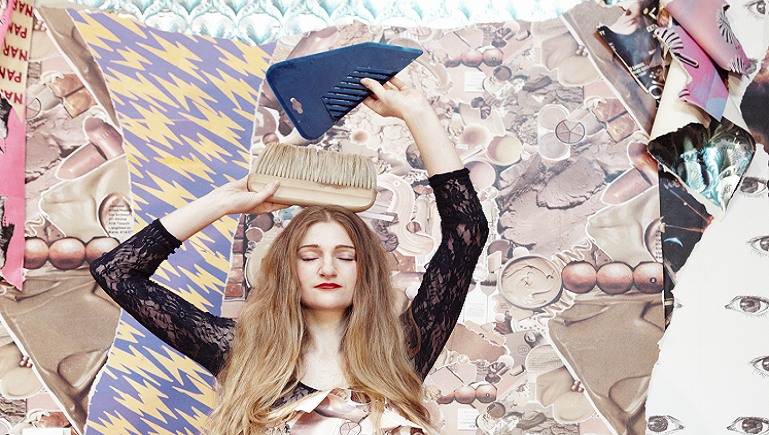 Installation by Ludovica Gioscia
To lead the project, it has been appointed a Creative Council from across the creative arts. They will contribute with new work or as part of the programme of experiences and workshops. The Council includes fashion designer Carlo Brandelli, Michelin star chefs Manuel & Christian Costardi, drinks innovator and mixologist Gerry Calebrese, product designer and member of the Alessi family, Giovanni Alessi Anghini, architect Andrea Morgante, who is credited with designing the Ferrari museum and the critically acclaimed design duo Forma Fantasma. As well as making their own contribution, the Council have identified young Italians that represent the new wave of Italian creativity whose work will be featured. These include thread sculpturist Giacomo Lion and installation artist Ludovica Gioscia. Sisters from another Mister in collaboration with Bruno Zamborlin allows you to create your own work mixing performance, vibrations from sounds and pigments, which you can take home. Historic.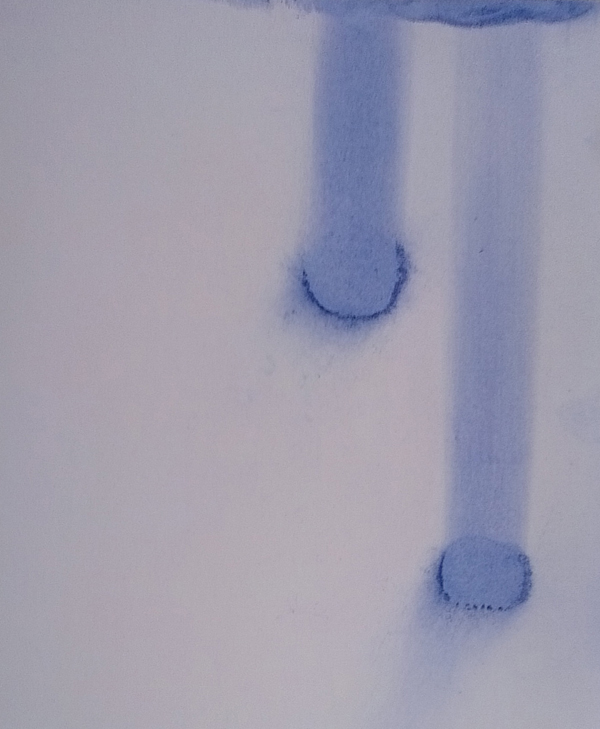 Artwork created in collaboration with Sisters from another Mister and Bruno Zamborlin
When I asked Sisters from another Mister about the reactions to the performance they gave, they said:
"The reactions to the work were very positive. Participants were very engaged with using the architecture of the room to create both a sound scape for the room and their own visual artwork. Whilst the audience members were more curious and focused on the relationship between the vibrating and shifting pigment patters of the paintings and the gestures of the participants that they performed in order to create the sound".
They added:
"We have an interdisciplinary practice that blurs the distinction between sculpture, performance and installation. Our practice is represented in gallery context and public space, through documentation including propositional objects, sculpture, film and photography. We had a similar approach to creating this work as in previous projects, with material at the centre of our practice. However, this was the first time we have worked with technology, using Bruno Zamborlin's Mogees as our 'material'. We usually work with more basic materials such as; water [The Grass is Greener on the Other Side], dough [Warped Ingredient] , clay [Rodin Reflections]. Within our practice we use performance or performative acts for the creation of the work and respond to context."
I asked Richard Ingram, Director, about the aim of housing the new creativity from Italy under the same roof came, he commented:
"We want to inspire others by bringing together visionaries from Italian design, art, fashion, photography, film, music and food and drink to create new expressions of Italian style including design concepts, interactive workshops and dining experiences".
I also wanted to know about what he thinks are the major contributions by Italian creators to London, he said:
"Italians have long had a strong influence over London most specifically through food, fashion and architecture. London's skyline is dotted with Italian influenced architecture, historic buildings such as St Paul's Cathedral have been directly influenced by Italy and even modern day buildings like The Shard, the tallest building in Europe, have been created by Italian architects. Italian fashion designers still dominate London fashion week and their shops fill the affluent streets of London. Italian cuisine has long been at the heart of British culinary culture, and we are experiencing a real resurgence of their cuisine through fine dining and truly authentic restaurants across the capital at the moment".
If you want to experience a bit of Italy now, make sure you do not miss this golden opportunity.