A new production, The Silver Tassie, written by Sean O'Casey in 1928 about the Irish involvement in the First World War and the abrupt interruption that caused in the local communities opens at the National Theatre. It is one of those gems that still drags on an initial dispute caused by envy and rarely shown on theatres. A pity and a well-deserved revival. It is a powerful script with a strong German Expressionism influence with its dream-like interpretations of reality which makes it rather experimental. A merciless and poignant view of the War and its consequences.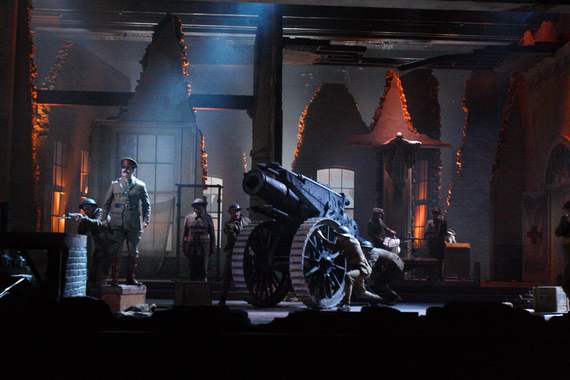 A scene from The Silver Tassie. Courtesy National Theatre and the photographer, Catherine Ashmore
In the mid 1920s, Sean O'Casey made his name by writing a trio of plays that are all set in Dublin's tenements at different points during the Irish revolution of 1916-23. The play deals with the First World War and would begin in the domestic apartments of Dublin. By the time O'Casey wrote it for the Abbey Theatre, the hub in Dublin for Irish nationalism, he was established and his previous plays had been a financial success. Rejection was not on the cards. However, the theatre's founding director WB Yeats said no and wrote a high-handed letter to O'Casey declaring:
"You are not interested in the Great War; you never stood on its battlefields or walked its hospitals, and so write out of your opinions. You illustrate those opinions by a series of almost unrelated scenes as you might in a leading article".
A feeble excuse. Or as its director Howard Davies points out:
"it's like saying you can't play Macbeth because you haven't murdered anybody. Complete nonsense."
It became the first O'Casey play to be premiered outside Dublin at London's Apollo Theatre in 1929.
With its crazy shifts of time and tone, refusal of easy religious consolations, and contrasts between the sacrifice of the front and the comforts of the civilian, O'Casey's plays anticipates the celebrated theatrical style of the Theatre Workshop's Oh What a Lovely War almost 40 years before. And it continued with Blackadder Goes Forth in 1989. A viewpoint that continues to provoke bewilderment and anger amongst British politicians and journalists these days.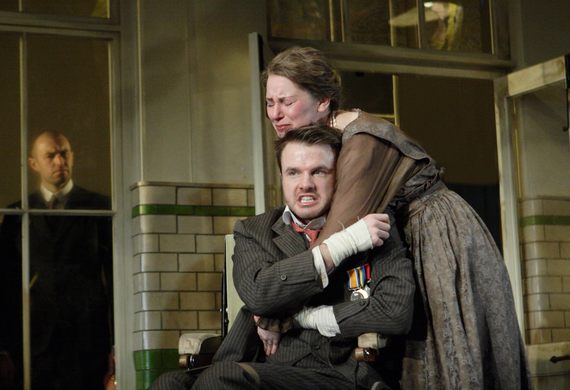 Ronan Raftery - (Harry Heegan) and Josie Walker - (Mrs Heegan). Courtesy National Theatre and the photographer, Catherine Ashmore
Dashing Harry Heegan leads his football team to victory, winning the Silver Tassie and arriving home in swaggering celebration before he grabs his kit and heads for the trenches. A nightmare world awaits. The men, reduced to cannon-fodder, speak in mangled incantations as the casualties stack up. Months later, Harry returns, a cripple at the football club party. Everyone but the shattered war veterans dances and forgets. The world has to move on. The play starts and ends with the Silver Tassie, albeit as damaged as its previous winners. Brilliant mise en scene strongly influenced by German Expressionism by its rapid changes of scene, sharp angles, distorted elements for emotional effect and surrealist ambience. A nightmarish world of jagged lines and incongruous patterns. It is mirrored by a magnetic exchange of words about life and the new realities we need to confront on a daily basis. A constant dripping of observations that will not leave you indifferent. A four act play: an apartment in Dublin, a battlefield, a ward in a hospital and a dance at the football club, spiral down into hell - worse than the trenches. The physical and the psychological consequences are more difficult to bear than the war itself.
A reflection on history and the madness of human power.