New director brings Nova, the controversial magazine of the 60's to the cinema.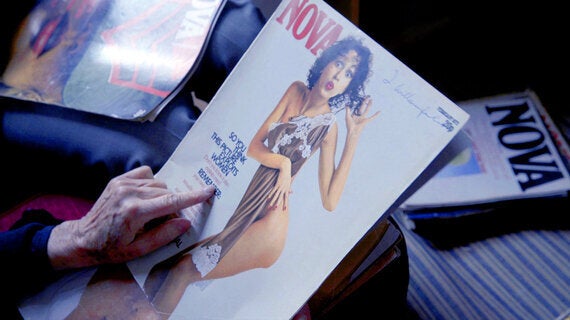 Credit Film Still © Kes Glozier & Nate Camponi
Kez Glozier. Creative polymath. Londoner.
Some say that our names can contribute to shaping who we are. Testament to that is Kez, named after Ken Loach's 1969 film, this photographer, illustrator, magazine editor has found his calling; as a film director.
Age 12, Kez's first published work was a written introduction for Jim Shelly's book 'Interference'. Just 4 years later he contributed to Dazed, L'Officiel and Another Magazine, and honed his illustrating skills designing the logo for Amy Winehouse's record label 'Lioness'. In 2012 he explored contemporary culture, alongside Art Director Neville Brody, with the launch of their magazine The New British. TNB hit digital media publishing with a cover story shot by iconic photographer Nick Knight, with an unambiguous offering of what to expect from the content - energetic, raw images, that told the story of what's really going on in underground culture in the UK. In 2013 he was commissioned to produce a collection of shorts for the V&A, where he collaborated with Chris Steele-Perkins (Magnum) and Seamus Murphy.
If his Instagram feed is anything to go by, the documentary is ripe with insights into THE magazine of the 60's and 70's. There will be in-depth interviews with Nova's contributor's, presented through Kez's compassionate eye to cinematographic detail.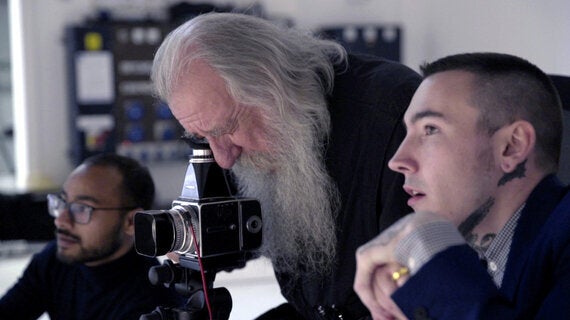 Credit Film Still Nova Art Director Harri Peccinotti with Director Kes Glozier © Kes Glozier & Nate Camponi
LM Tell me about your work, including your magazine The New British (TNB), and how that lead to film-making?
KG Well, The New British is a documentary magazine that takes an unflinching look at Britain today. Seems like the name has more relevance right now more than ever. But right now I'm shifting over my focus into film making. I first realised how powerful film was when I was commissioned by the V&A to produce a series of short documentaries - which led to directing my first short documentary on underground British dance subculture, entitled 'Release'. The film was selected and screened twice at Raindance Film Festival - from that point, I found my new direction.
LM How did you choose Nova as the right subject for now?
It was the first magazine to push women's rights. It was the first magazine to shoot and publish black models. In my eyes, it was simply - the first magazine. It's importance resonates to this day - and mirrors the political landscape right now.
KG It was one of my biggest inspirations - from the ethos, art direction, honest and politically-charged storytelling that was as much about the words as it was about the big powerful spreads.
The film follows my journey as I meet and work with the people behind the ground-breaking magazine that was around in the 60's through to the 70's. It was essentially a generational magazine, lasting 10 years and really pushing out forward-thinking ideas and a platform for many iconic artists.
LM Who is working with you on the film?
KG I'm directing the NOVA Documentary with Nate as Co-director and DP James Watson.
LM You have interviewed some of Nova's contributor's, from the Editor Caroline Baker, to Sir Peter Blake, Irma Kurtz, Molly Parkin and Art Dir. Harri Peccionotti. What have you taken from your time with them that has helped you in the process of creating the film?
KG They are all very lovely people and I've enjoyed the time I spend with them. One of the things I've realised is nothing really changes. All of the people I've met still have such power in what they do, still working hard and still teaching, their energy never ceases, so that's inspiring. I've worked on several cool new shoots with Harri Peccinotti and Caroline Baker which has been an honour.
LM There's a sense of inclusivity and authenticity that comes from your work on TNB, that's often lacking in modern publishing. A similar energy resonated from Nova, a feeling that they were united in communicating politically courageous features alongside radical design. I'm sure instinct and courage play an important role in who you approach to work with, but on a practical level, what's your criteria for choosing creative content?
I think you just feel it in your gut, whether it makes you laugh or cry; it has to make you feel something, that's good content.
LM What stage are you at with production and how easy have you found it securing funding and a distributor?
KG It's been very guerrilla style, like most of my films - it's been an act on urgency - we just had to jump on it and start filming before thinking about all of the fundamental things (that they teach you in film school, haha) perhaps a downfall, but it can't let you stop telling a story you feel like you gotta get out. However, if urgent film making didn't exist I think the world of film would be a very monotonous place.
We've filmed about 30%. Our next interview is with iconic illustrator Ralph Steadman which I'm personally really looking forward to as he was a childhood hero. We're looking into completion funding and distribution now, but at this point, its all about forging the film into a nice shape and then building upon that.
LM When can we see the film?