This week's fine specimen of a dog who deserves some praise is Barney. He is a six-year-old English bulldog who was originally named Tyson!
Barney is a second hand dog, in fact he is fifth hand as he had four homes plus the rehoming centre before he found his long term home. Barney was in the rehoming centre because his varying owners felt he was overly boisterous, too humpy, aggressive and had growled at one of their children. Please bear in mind that one of the children had been kicking him at the time. He has also been physically beaten by hand, we quickly worked this out with some exhibitions of behaviour.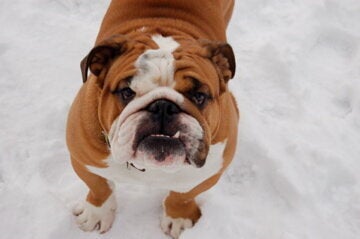 He is a classic case of owners taking on a dog that was wrong for their lifestyles. They all seemed to think that they were going to be taking on a dog that was lazy. In fact they had a dog that loved to play, run, be exercised and be entertained. He also was a dog that knew how to use his size to get attention. Which is where the humping behaviour came in, he wasn't doing it because of his hormones, it was merely a particularly effective way in gaining attention. Imagine a huge bulldog starts grabbing onto yours or your child's legs and humping! You aren't going to be able to ignore it.
His new owners have done a brilliant job of removing all of the unwanted behaviour and rewarding all of the brilliant things he does. He is truly the happiest, most enthusiastic dog you could ever wish to meet. Especially when you take into consideration what he has been through, he adores respectful children, loves squeaky tennis balls and will happily walk for a couple of hours each day.
Barney is my dog of the week because I'm so proud of how far he has come and he proves that his owners were right to take him out of the kennels. It illustrates perfectly what the wrong home and wrong people can do to a dog. It is all about choosing the right dog, the right breed and the right temperament for your situation. And if you have kids who are allowed to kick a dog, then you shouldn't have a dog in the first place.