Summer is nearly here, with the holiday I booked on a grim Monday in January fast approaching, we will soon be taking a baby and toddler hundreds of miles from home to a country where we don't speak the language, with a climate designed for camels, in a bid to have a relaxing time. But first there is the small matter of surviving the journey. Airports bring out the worst in people and in a few weeks Britain's airports will be overrun with fraught parents just like us. I am keen not to have a repeat of last summer's jaunt through Gatwick where I handed out painfully British sorrys like confetti which left me seething over what I should have said. Well, not this year people, and I know I am not alone in this airport rage.
So, in the interests of being community spirited, I have prepared five strongly worded letters to some of the usual suspects we are likely to encounter ahead of our Sleazyjet flight to Barcelona. You know who I am talking about, but if you don't then you are probably one of them so have a word with yourself.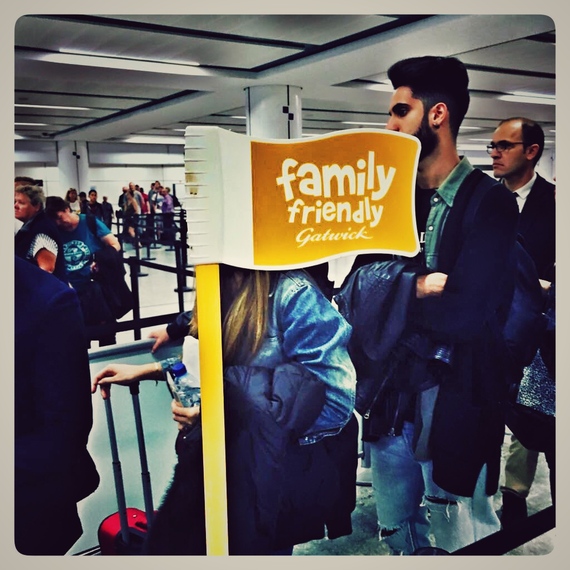 Image is author's own.
Dear Stuck Up Pensioner,
Please stop looking at us suspiciously. I have also purchased speedy boarding as I do not wish to stand with all the Thicky McThickfaces who are so desperate to find their seat, stuff their faces with overpriced Pringles and buy scratch cards that they have already started queuing before the inbound flight has arrived. I am not trying to take your winter savings allowance.
P.S. Thanks for voting for Brexit. We are probably going to have to have a staycation next year.
Dear Officious Air Steward,
I will make my bag fit your stupid cage so stop wasting your, and my, time by making me prove it. Sorry I can't fold my double buggy as I am now holding my toddler, baby and hand luggage preparing to descend a flight of stairs and traverse the plane runway to board a shuttle bus to take me the three metres to plane steps because the courtesy of being allowed to take the buggy to the gate does not extend to the most perilous part of the endeavour. However the buggy does fold like the millions of other Phil and Ted buggies that pass through Gatwick on a daily basis. Learning how they fold would be a great life skill given your chosen career path.
P.S. No amount of makeup can cover your disdain for my kids when they wipe their snotty hands on your skirt. Sorry.
Dear Glacial Pace Family,
Yes, you do have a laptop in your bag. No, you can't take that gallon of Coca Cola through.
Please wear slip on shoes next time, although not flip flops, which are never acceptable to travel in unless your chosen travel vehicle of choice is a donkey across the desert. Your sunglasses are still on your head and you have more coins than a Barnardo's box in your left pocket.
You might be amazed to discover that escalators do not cease to become stairs in airports and, equally amazingly, walkways are not magic carpets which you will fall off if you attempt to walk. They are also not highly subpar fairground rides. Who knew? You know how you always wonder why on earth you can't shift that excess weight? This. This is why.
Please don't walk in front of someone, pushing a heavy trolley with your piddly, little weekend wheelie bag while staring down at your iPhone. In addition, it is not acceptable to simply stop and stare into space at any random moment you choose, and in the most wonderfully inconvenient locations such as doorways, thoroughfares and shop entrances
P.S. Touching the luggage carousel will not bring out your bag any faster. It is not a competition to win a bag.
Dear Baz's Stag Party,
One thing we have in common is everyone else hopes you are not sat next to them on their flight and we both start drinking a bit too early in the day. Scotty does indeed seem to be a silly C word but please tell him later, we are still trying to persuade the toddler to say "Bucket" from the last time I tried to board a bus with a double buggy.
P.S. Does the best man know that Baz's dad is vomiting on his shoes?
Dear Airport Security,
Please don't make us use the family security area. Families traveling with young kids are the worst!
Feel free to print these out and distribute at your leisure. Have a great holiday.
So, who have I missed and what really grinds your gears? If you find yourself sat down for a minute or two and are in need of a laugh at someone else's parenting rants please visit my blog www.thetantrumtimes.com