The landscape of the city once known as the Paris of the Middle East is a continuous cause for concern for many of its residents.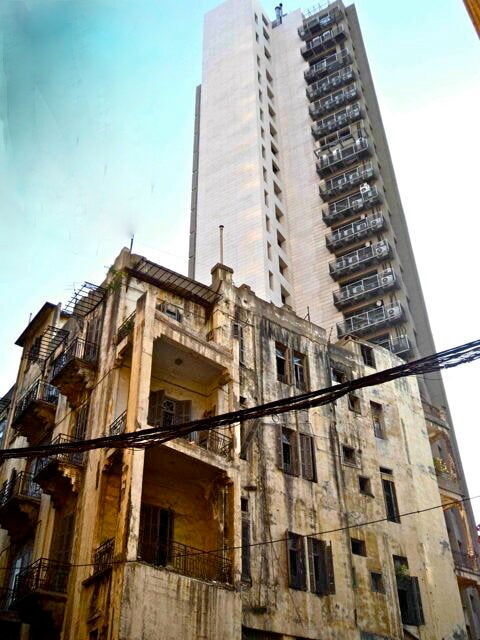 It's hard for people who have never been to Beirut to really imagine what it looks like when walking down the street. There are no camels, but yes, there are lots of bullet-riddled buildings. Travel articles will often focus on beautiful French and Ottoman styled architecture and the giant blue roofed mosque of the downtown, rather than the new skyscrapers void of any soul. And why wouldn't they, no one wants to look at another skyscraper, but for how much longer will images of the old buildings be around for travellers, and locals, to enjoy?
When the Lebanese complain about what is happening to their city, two things often top the bill: lack of green spaces and the erosion of the old Beirut. Nearly every week I pass another beautiful building, very pleasing to the romantic eye, coming down. One can't deny that it's depressing but it's also a sad reality of a city suffering from corruption and a lack of legal formality.
Probably the most blame should fall on the issue of 'old rent'. Post WWII rent control continued throughout the civil war and in the early 90s a property law was passed freezing all rental agreements signed before said law, which has left many tenants paying well below market value. No doubt a sigh of relief for residents whose wages probably couldn't compete with growing rents, but the worst possible thing for the beautiful old buildings people are now so feverishly trying to protect. The landlords make such tiny amounts of money from 'old rent' tenants that they cannot pay to keep the buildings in any decent condition - thus rendering them suitable for demolition when a wealthy real estate man comes knocking.
The Association for the Protection of Lebanese Heritage regularly lobbies for the protection of the city's 'heritage buildings', as well as the preservation of ancient ruins that are often discovered when groundwork is being made for yet another 15-storey building. Raja Noujaim of the group says that an average of two buildings are coming down each week, and worse still, that out of a list of 1,600 buildings, put together at the end of the civil war by the then Ministry of Culture, only 300 remain standing today. 'The list wasn't even a complete one in the first place,' says Noujaim, 'There was much more that should have been included.'
The apparent lack of support from the Ministry of Culture means that Beirut is continuously seeing old homes come down, only to be replaced by something with none of the style and three times the size. Another campaign group, Save Beirut Heritage, work tirelessly to ward bulldozers off but more often than not it's a thankless and fruitless task - as is often the case with any campaign, the numbers of supporters online grossly misrepresent those that then appear on the ground. That said, their new iPhone app highlights for the victories as well as the structures still in need of urgent attention.
So what is left now for the preservation of Beirut's aged and low-slung buildings, remainders of a romantic past? Sadly, Noujaim believes that it is a lost battle talking about the buildings that are coming down: 'We're moving towards the preservation of neighbourhoods, communities.' And it seems that would be the right course of action. Beirut Municipality has just announced plans for a heaving highway, set to course right through a beautiful district in East Beirut, leaving now not only beautiful buildings in its wake, but Beirutis also.
Popular in the Community