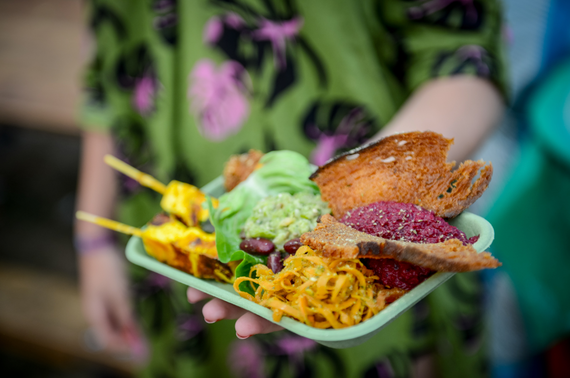 Feast Collective at Camp Bestival
As anyone who watched the whole world go off to Glastonbury whilst they sat at home crying because they couldn't get a ticket will know, tis the season! A few years ago this would have left me dry-eyed, but since my first festival foray last summer at Camp Bestival, I've seen the light.
And what led me to it? The mind-boggling number of excellent eating options available obvs. With this in mind, here's my festival wish list for the coming months, focusing solely on the most important thing. Food.
Set in the glorious grounds of Lulworth Castle, this family-friendly festival is so much more, particularly when it comes to the fuel part. It will again play host to The Feast Collective headed up this year by Ceviche's Martin Morales and River Cottage's Steven Lamb as ambassadors.
The list is long and tempting, but I'm most looking forward to face-planting at least ten of The Cake Shop Bakery's cheese toasties; getting my fusion on in the form of Korrito's Korean burritos and smothering myself in swine via The Couldron's West Country pig-based (and British Street Food Award-winning) sandwiches. For the other three days I might get some straight-taking wine tips from Knackered Mothers Wine Club, seasonal world veggie treats from Cardiff-based Milgi, fine cuts from The Thoroughly Wild Meat Co. and a few spice-tastic nibbles at Zoe's Ghana Kitchen's "Chop Bar".
Should you prefer a festival less geared towards family fun, CB's big sister Bestival (10th-13th September) features many of the same street food stars. There's also Seadog, Crabbieshack and Le Rac Shack to name but a few...
If there's one festival that has historically brings it food wise, it's Wilderness. Blithely ignoring the simplicity of street snacks in favour of full on feasts cooked by proper chefs. This year the line up is staggeringly good, featuring the likes of Nuno Mendes and Scott Hallsworth at The Chef's Table; Long Table Banquets from Angela Harnett and Raymond Blanc; a cookery school from Daylesford; festival feasts from Moro, Hix and Petersham Nurseries plus Patty & Bun and Raw Duck at The Dining Room.
Hartnett's Italian five-course banquet will include dishes such as fritto misto, sea bream ceviche, grilled sea bass & red mullet and cannoli, pistachio and ricotta. Blanc's four-course banquet will blend his French roots with his love of British ingredients, with dishes such as Assiette 'Maman Blanc', hay-smoked lamb shoulder, peas à la Française and his own take on strawberries and cream. Both will include wine from Berry Bros. & Rudd and set you back £95 and £85 per person for dinner respectively...
Various dates and locations
This pop up tour of food and beer kicked off in Edinburgh on 9th July but if you get in quick there are still events at London Space Studios in Hackney, London (15th-19th July) and Leeds Town Hall (30th July - 2nd August). Bigger names involved include Gelupo and The Arancini Bros but there will be 12 new stalls, which I've been assured will allow you to get your carb on in style. Pizza stock-piling aside, the best thing about this festival is the price. Pre-booked tickets for the London event are just ten British pounds and include two Birra Moretti, two dishes from any vendor on-site and a gelato. Anyone know the Italian for bargain?
Admittedly this one is a tad left-field, but everyone knows Scotland has the most incredible produce. AND it happens to be set in the grounds of the rather attractive Drumlanrig Castle. As well as what I assume to be the usual country pursuits (fishing demonstrations, lurcher and terrier show, Scurry Competition???) the Galloway Country Fair will showcase superlative ingredients aplenty as part of Scotland's Year of Food and Drink. Highlights include such traditional delights as tablet and oatcakes; Scottish craft beer and cider from Jar Brew and Thistly Cross Cider; and food demos from Cook School Scotland.
NB: Perhaps understanding that this delightful event is in the arse end of nowhere, the organisers have created a three day camping option this year which includes admission on both days to the fair.