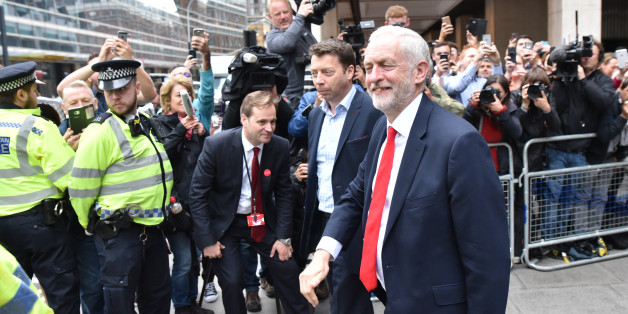 Barcroft Media via Getty Images
Last Thursday British voters delivered one of the most shocking results in recent British political history. First past the post, our antiquated voting system, produced a second hung Parliament in 7 years with no clear 'winner.'
Instead, Britain will now have a Conservative-minority government propped up by the extreme socially conservative Democratic Unionists (DUP), whose views on abortion, gay marriage and climate change are far removed from mainstream British opinion.
Progressive alliances and tactical voting played a huge part in the rewriting of this election. There was of course a huge wave of enthusiasm for Jeremy Corbyn's message but there was also a deep desire from many pockets of the British electorate to register a protest at the status quo.
Candidates standing down in support of another created a permission structure in a number of constituencies which allowed voters to herd together to back the candidate best placed to defeat the Conservatives. In Tim Farron's seat of Westmorland and Lonsdale, the Greens not standing this time probably meant that Farron relied on the 1,798 Green voters from 2015 to allow him to beat the Conservatives with a 777 vote majority.
However if party leaders, including Tim Farron and Jeremy Corbyn, embraced collaborative politics and progressive alliances, we may now be looking at a Labour-led government, supported by parties representing a broad spectrum of progressive opinion and backed by more than 17million voters.
In 62 seats, the combined progressive vote was enough to beat the newly elected Conservative MP.
Of the top four marginal constituencies where there was a progressive majority, only one of these is a Labour-Conservative battleground. Of the other three, one is an SNP-Conservative fight and the other two are Lib Dem-Conservative races.
In Southampton Itchen, where the Tories won by just 31 votes, the combined Liberal Democrat and Green vote was 2146.
Zac Goldsmith returned to Richmond Park with a slender 45 vote majority over the Lib Dems Sarah Olney, whilst Labour pocketed more than 5,773 votes. All of which were wasted. If only Labour had followed the Green lead, then Zac Goldsmith's political career would have been well and truly over having been defeated three times in two years.
St Ives remains the most marginal seat in the South West. Once again, the Greens stood down to allow the Lib Dem's Andrew George a shot at taking the seat but fell short of taking the seat from the Conservatives by 312 votes with the Labour candidate winning 7,298 votes.
Of the 62 seats where the Tories could have lost to progressives, Labour would have won an extra 40, the Liberal Democrats nine and the SNP 12, with an independent progressive - Claire Wright - winning East Devon.
Not every vote can be squeezed this way but if just eight of these 62 seats had changed hands, the Tories would not have been able to secure a working majority with the DUP and Corbyn would be in a position to put together a working Parliamentary majority and become Prime Minister.
Time and again the Conservatives get back into government because of first past the post. The Tories have not won a majority in five of the last six elections but have ended up forming the government in half of those contests. Progressive leaders will need to realise the benefits of cooperation to defeat the Conservatives or risk losing out to first past the post once again.