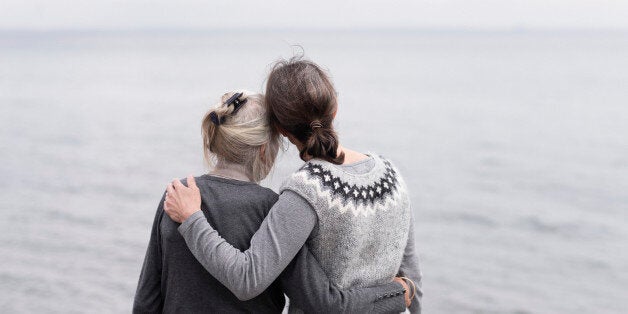 It can be tough being a parent sometimes, but when you're looking after your children while also caring for a parent who has been diagnosed with cancer it can be much harder. As Chief Executive of Macmillan Cancer Support, I often meet people in this situation: day in and day out, they do everything in their power to care for their loved one, often taking care of their bills, feeding, and washing them. As well as acting as a carer, many are often juggling a job and looking after children living at home, thus being pulled in every direction imaginable.
Research by Macmillan published this week shows that almost one in 10 cancer carers, around 110,000 people in the UK, are "sandwich carers". To put it into context, this is more than the number of people that would fill Wembley Stadium. As the number of those living with cancer continues to grow, so does the impact it has on their carers. Our analysis shows that the overall number of cancer carers has risen to almost 1.5 million in the last five years, placing more pressure on them than ever before.
Not only have the numbers of carers increased by a third in the past five years, but cancer carers are now putting in more hours of care, as well as carrying out more complex hands-on tasks, such as helping with intimate personal care.
Worryingly, more than half (55%) of carers are not getting any additional support - a figure that has not improved in the last five years. Often, many people don't even recognise themselves as carers so don't know what support is available. This means they can remain hidden from health or social care professionals who are unaware they are struggling. In turn, this is leading to devastating effects on their lives, as these carers can be gripped by anxiety and depression.
One story which showed me how hard it is to be a 'sandwich carer' is that of Nikki, a 41-year-old mum-of-two from Kent. In 2014, only a month after she discovered she was pregnant with her second child, she found out her mum's breast cancer had spread.
Before she knew it, she'd become her mum's carer, in charge of her medication and doctor's appointments, as well as washing, dressing and taking her to the bathroom. After Nikki's mum developed a bladder infection, Nikki would have sleepless nights trying to settle her, before having to wake up early to sort out her children for school, and then heading off to work herself. Unable to cope with these demands, Nikki reduced her working hours in her job as an administrator. Due to her mum's condition worsening, Nikki was then unable to go back to her regular hours, which also caused her money worries.
Nikki's mum is now in a nursing home and Nikki is campaigning for carers to get the help they need. This is an uphill battle and that's why at Macmillan we want to make it as easy as possible for them to get all the support they can. From the information we provide at our information centres across the country, to our free telephone helpline (0808 808 00 00)and our 24 hour online community, where people can talk to others going through the same situation, Macmillan is here for carers and anyone else affected by cancer that needs our help.