Deep down, we know that we should be safe in the sun. I certainly knew it, but my husband Graham thought he was 'indestructible' and so he didn't wear sun cream. It's only now, as a widow after Graham was cruelly snatched away by skin cancer when he was just 43 years old, that I can't believe I didn't act differently and make him protect himself.
I think Graham just thought 'it won't happen to me'. He always wanted to go on holiday to hot countries, and for years whenever the weather was warm at home he'd be out in the garden with his top off. He was fit and active, and would far rather have been running round with our kids, than dousing himself in sun tan lotion, and who was I to spoil their fun? So whilst I slathered myself and our children in sun cream, Graham would always just bat it away -"I'm fine - I don't need that" was his answer, and for years he was right and our happy life went on as normal.
Even when a small mole on his back started itching whilst we were on holiday, he said he was fine, and we thought nothing more of it. But when it grew to the size of a small marble, I begged him to get it checked out and it was removed in September 2008.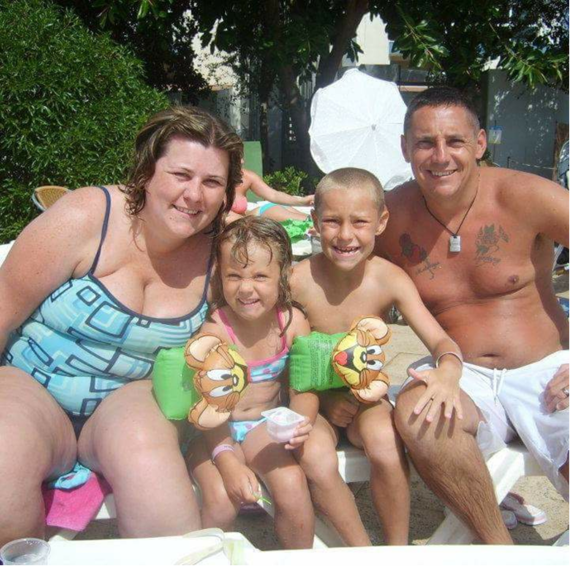 A photo from our family holiday, where we first found changes to Graham's mole
I remember vividly the day soon after when we were told it was skin cancer, both just staring at each other and me crying uncontrollably, because I knew what it really meant. In some ways, Graham's cancer came out of the blue. But in others, it crept up on him slowly, as a result of being silly in the sun. And when the following year newer, black moles suddenly developed on his legs and abdomen, we were told it was terminal and there was nothing more that could be done.
New research from Macmillan Cancer Support and Saint-Gobain shows that men are three times more likely than women to go without sun cream. I wish I was shocked by this, but the sad fact is that I'm not, because that's exactly how it was with us.
The research also shows that men are 50 per cent more likely to go to their GP if they are prompted to by a loved one. Certainly Graham only went to the doctor's when I insisted he should get his mole checked out. After he was diagnosed with skin cancer, I asked myself, should I have begged him to go earlier? Could I have done more? There's no easy answer to this, and it's something that stays with me now - five years after Graham's death.
Knowing Graham wouldn't get better was heart shattering - there are simply no words I can write here that will explain this fully to you or make you really understand what it is like to know that the love of your life won't always be with you. But, with two young children, I had no choice but to cope and hold our family together - one of the hardest things I have ever had to do.
If Graham could have lived on sheer fight alone, I know he would still be here now. But the disease was too strong. And a year and a half after being diagnosed, he passed away in a hospice in March 2010, aged 43.
That first year without Graham was a blur, but we made it through and on the first of Graham's birthdays after he'd died, the children and I decorated the garden with banners and balloons, and we lit Chinese lanterns and let them off with notes attached to them. Our daughter, Mackenzie, loved the idea that her messages were going up to her Daddy in heaven.
Five years on, life without Graham is no easier. Every single day I wish I had another chance to ask him, to tell him, to nag him, to just wear sun cream and be safe in the sun - if not for our sake, for the sake of those who loved him most.
It's too late for Graham now. But it's not too late for you. I hope that our story will help remind you that something as simple as sun damage can have fatal consequences. My message to other women is simple: ask the men in your life - your husband, your brother, friends or your father - to be safe in the sun. Don't let it take losing the person you love most in the world to make you aware of the dangers - act now, it's one request you'll never regret making.
You can find out more about skin cancer and sun safety at: www.macmillan.org.uk/sunaware or by calling the Macmillan Support Line free on 0808 808 0000.