2017 marks the 50th Anniversary of San Francisco's famous Summer of Love and is the perfect time to hit Santa Cruz's beaches and the Silicon Valley.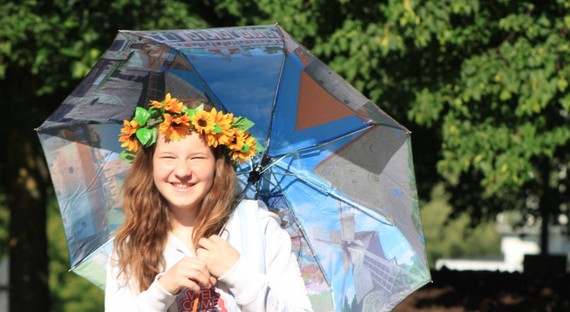 Flower Power
The summer of 1967 was when the hippie movement reached its zenith with its mantra of peace and love, rejection of traditional values and promotion of psychedelic drugs. Though Haight-Ashbury in San Francisco was the epicentre, Santa Cruz and San Jose, about 42km south, were both influenced by their bigger neighbour. 1967 was the year the University of Santa Cruz took in its first class of students and also when the seminal psychedelic group, the Grateful Dead, (from nearby Palo Alto in San Jose) jammed together in San Jose suburb of Menlo Hills.
Santa Cruz has a thriving art scene which was impacted by the literature, music and fashion coming out of San Francisco and the Bay Area. This iconic California beach town will be celebrating the 50-year anniversary with exhibitions and more.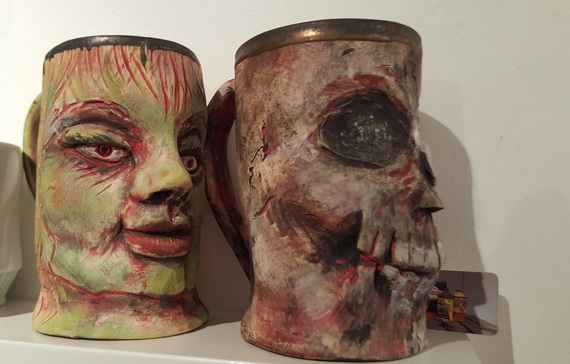 Art work at the Tannery Center
Santa Cruz is also known as the birthplace of surfing on the US mainland.  The first surfers were three Hawai'ian princes who hit the waves in 1885; and, on custom made redwood surfboards no less.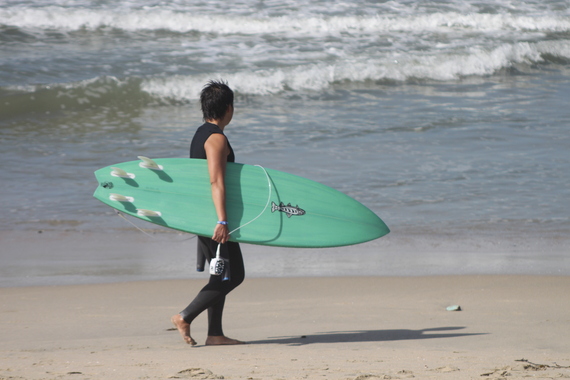 California Surfer
The popular Boardwalk theme park is a big attraction on Santa Cruz's beachfront. Every summer the shrieks of children enjoying the Giant Dipper wooden roller coaster (soon to celebrate its centenary in 2024) fill the air. The city's historic wharf, built in 1914 is open for business year-round with a multitude of shops, restaurants and a store selling fishing supplies for local anglers.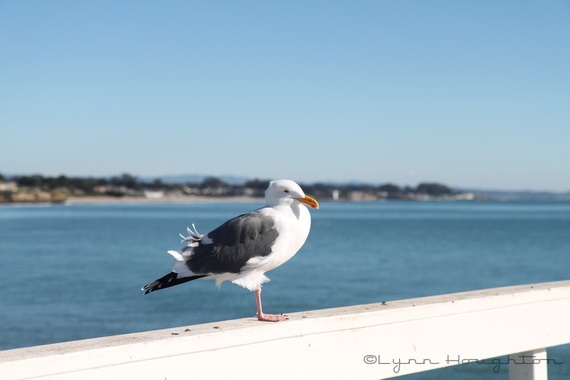 Seagull on Santa Cruz Wharf
There is hiking as well as mountain biking in the nearby Santa Cruz Mountains. Nestled in the mountains, on 300 acres, is the welcoming and serene Chaminade Resort and Spa, which has spectacular views of the ocean.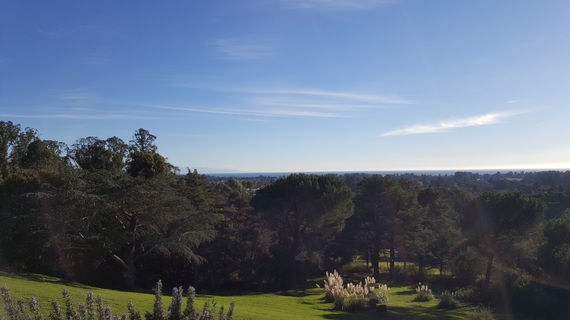 View from Chaminade Resort
Art lesson
Art, photography and crafts of every description continue to be a huge part of the artistic output here with imaginative and thought-provoking works displayed in shops, salons and eateries all around town. The Tannery, a popular space that displays artists' crafts and paintings, is a mere five-minute drive inland from the beach. Craftsmen and painters have set up studios in this old leather-making warehouse and artist's work/live spaces are on the same property.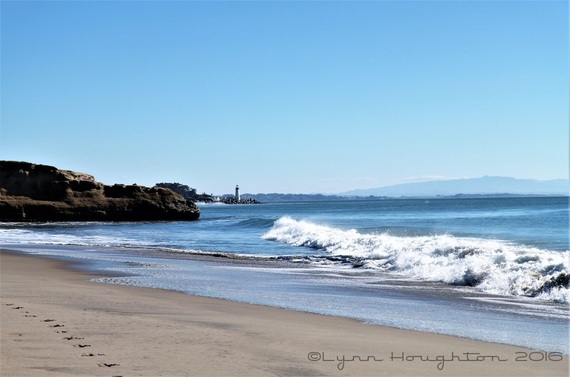 Santa Cruz Breakwater Lighthouse
Monterey Bay
Wildlife is a key feature of Santa Cruz and nearby Monterey Bay. In Monterey Bay, humpback whales feed on tonnes of tiny plankton while Sea otters float on their backs cracking open crabs and molluscs on flat stones balanced on their stomachs.
Across the street from Santa Cruz beach, the newly opened Monterey Bay National Marine Sanctuary Exploration Centre is free of charge and open 10:00am-5:00pm Wednesday to Sunday. Here kids can learn all about the wildlife which inhabit these waters. The current movie, One Breath, is riveting as it tells the local story of exploitation and conservation in tandem.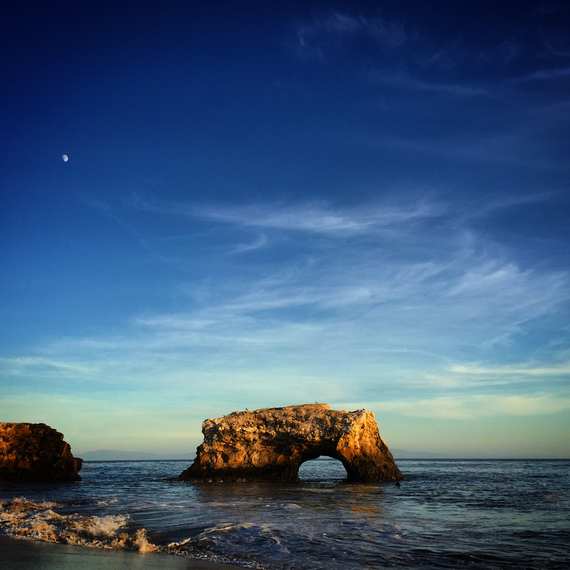 Natural Bridges State Park. image-sanjose.org
Natural Bridges State Park and Capitola Village
Three miles from Santa Cruz Wharf is Natural Bridges State Park. For those that are sporty, a walking/running trail traces this coastal path along the beach and up to West Cliff Drive, known for its sea views. This park is famous for the thousands of monarch butterflies that come to roost every autumn and stay until January.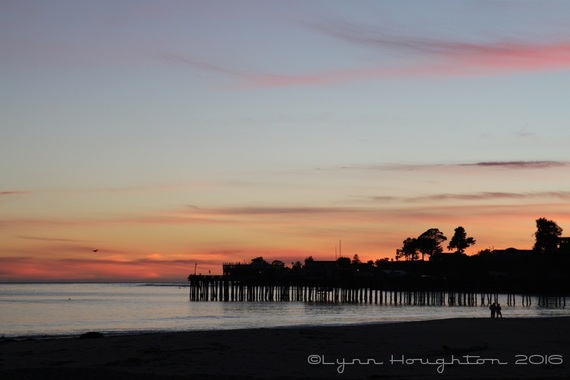 Capitola Wharf at Sunset
Capitola Village is an off the beaten track community just south of Santa Cruz. Famous for the Venetians, pastel coloured bungalows on the shorefront built at the turn of the century, it is a wonderful place for spending a day on the sand, then wandering into the village to enjoy a meal. The Shadowbrook Restaurant (shadowbrook-capitola.com) is nestled next to Soquel Creek and accessed from the hill-top above via a cable car.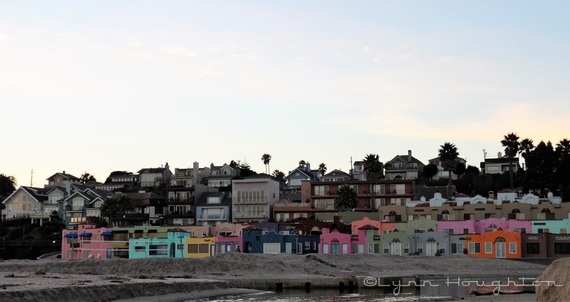 The Venetians, Capitola Village
The Silicon Valley
San Jose used to be known for its fruit orchards but, since the invention of the integrated circuit - aka microchip - in the 1960s, the fortunes of the area changed forever.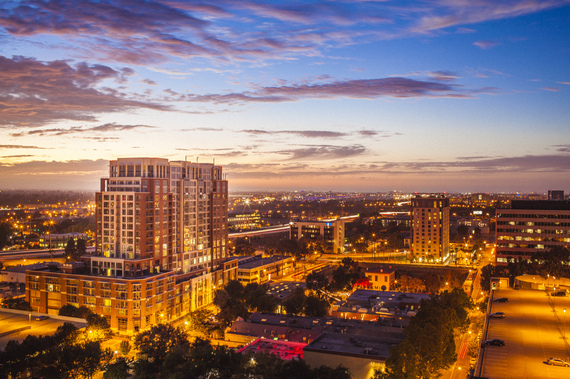 Downtown San Jose at Night. image-sanjose.org
Come April 2017, the new Apple offices (Apple Campus 2) in Cupertino will be complete. The enormous circular shaped building, nicknamed 'the Spaceship', will house Apple's corporate offices and feature a 10,000+ square foot visitor's centre. Tourists will still be able to visit the visitor's centre at the Apple 1 Campus, located on One the Infinite Loop. It is worth seeing San Jose's Tech Museum as well as the garage where Hewlett and Packard started their business which is now a private museum (367 Addison Avenue, Palo Alto). The old neighbourhoods downtown, such as San Pedro Square Market, are being re-developed and a great location from which to explore them is the Hotel de Anza, a registered historic landmark.
For more info visit www.santacruz.org and www.sanjose.org.
All images © Lynn Houghton unless indicated
"Hippie Modernism: The Struggle for Utopia": An exhibit focusing on the art, design and architecture produced by counterculture artists during the '60s and early '70s. February 8-May 21, 2017. University of California, Berkeley Art Museum and Pacific Film Archive.
"On the Road to the Summer of Love": Guest-curated by Grateful Dead historian Dennis McNally, this exhibit showcases images produced by photographers who captured the look of a generation. May 12-Sept. 10, 2017. California Historical Society.