Last week a charming young woman with a name tailor-made for comedy nuances picked up her guitar and sung her way to victory in the stage category of our 14th Funny Women Awards.
25-year-old art historian, Harriet Braine, won through the comic odds singing a couple of songs about artists. Given this narrow shtick and the fact that I and some of my fellow industry judges are not the biggest fans of musical comedy, the odds should have been stacked against Harriet. However, we acknowledged musical comedy can have universal appeal; it certainly has a rich heritage - from the late great Victoria Wood to Tim Minchin - and we know that there is comedy gold in those musical hills.
The other significant observation about Harriet's act is that there was not an offensive swear word, or any references to bodily functions or sex in Harriet's six-minute set; it is the kind of comedy that my 83-year-old mother would like, as long as she knows her Picasso from her Matisse. Instead, Harriet channels a surrealist world of dead, and largely male, artists with funny songs against a backdrop of modern and familiar chart-busting hits. Natalie Imbruglia and Steve Miller have never been so intellectually challenging!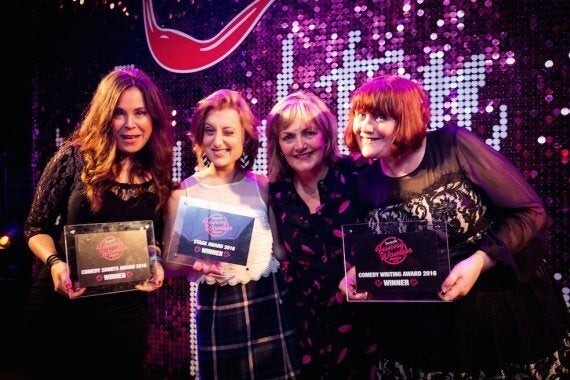 The demographic is quite niche, but then comedy is very subjective in general. I still have friends who, 14 years after I set up Funny Women, make a point of telling me that they don't like comedy but will still settle down happily in front of vintage Dad's Army or Porridge on a regular basis.
Is the choice of somebody as seemingly gentle as Harriet an indication of some kind of sea change in comic tastes? Or is it, as I strongly believe, that nothing much changes and a silly song or two has always had broad appeal?
Having picked up her Award, Harriet took to the stage for us the very next night at a corporate event celebrating diversity in the City, organised by insurance giants Lloyds of London as part of their Dive In festival. Hosted by their partners at Aon, Harriet was on an all-star bill headlined by Doc Brown and hosted by Zoe Lyons who also won the Funny Women Awards in 2004 and acted as a celebrity mentor in this year's competition. The musical comedy was not out of place in this environment and people were still trilling along with Bauhaus, to the tune of Love Cats by The Cure, hours after the show had finished.
Comedy is all about familiarity and a 'shared' experience. It largely depends on your audience liking you, although there are exceptions to this rule, and a sense that you are in on whatever the joke may be. Much as I personally loved the scatological and edgy material purveyed by some of the other five finalists, there was nothing really to offend in Harriet's offering. The broadcasters won't have to censor anything and apart from the odd militant art academic who may take offence to the fictitious caricatures conjured up by Harriet in song - she is television and radio ready.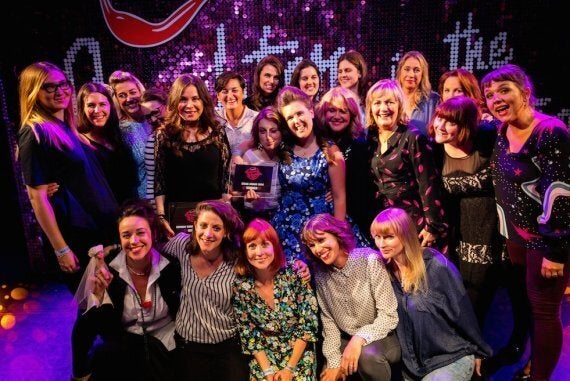 Our very first Funny Women Awards in 2003 was won by parody act Jade the Folk Singer, aka Sarah Adams, whose saucily smutty ditties about coming out and dolphins had us all in stitches. Apart from the guitar there is nothing that she and Harriet have in common other than being extremely funny - which is all that matters in a comedy competition - and I am amazed at how diverse and inspirational the world of female comedy has become.
This year's final was particularly strong, largely down to an overwhelmingly large entry of 400 plus acts and the increased stakes in terms of prizes and mentorship. Each of our six finalists got to work with an array of established comedians including Sara Pascoe, Tiff Stevenson, Shazia Mirza and Jan Ravens to hone their performance ahead of the final.
Rosie Jones made me laugh and weep with pride in equal measure as she negotiated the tricky tightrope of her disability. Rivka Uttley had me doubled up with her story about calling her cat a sensible man's name to deflect from being pigeon-holed as spinsterly. Catherine Bohart, as one critic said afterwards, is already the 'complete package' and could knock a few corners off any of the boys on a panel show. Rose Robinson won me over in a character so reminiscent of one of my personal comedy heroines, Joyce Grenfell. Then Micky Overman tackled some taboos so inventively, like a young Sarah Silverman, and I got goose bumps of excitement.
Harriet had clearly taken on board comments dished out by critics after her previous performances in the final of So You Think You're Funny and the Musical Comedy Awards to improve her 'banter' between songs. The influence of her mentor Ellie Taylor's effortlessly chatty style has rubbed off and we were able to see the real Harriet alongside her 'archivist' persona.
Harriet's gentle non-threatening comedy is a breath of fresh air in a world that still likes a 'knob' joke, and given the reception the other night at KOKO there were 700 or more other people who were happy with this result too.
The 2016 Funny Women Awards charity final took place at KOKO in Camden, London on Wednesday 28th September in partnership with Benefit Cosmetics. Over £10,000 has been raised for Refuge , supporting women and children against domestic violence, from collections and donations throughout this year's competition. For more information about the winners and finalists please visit www.funnywomen.com.
Popular in the Community