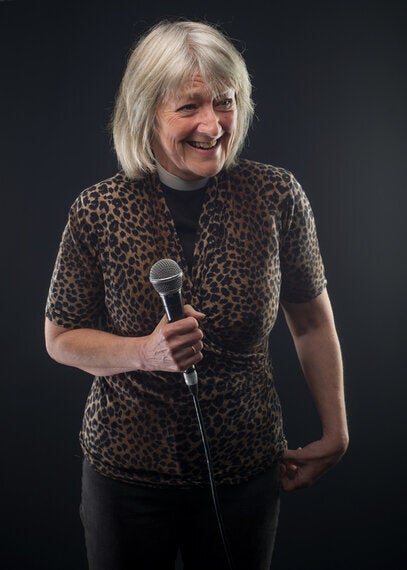 All 'proper' comedians go to Edinburgh in August. It's a rite of passage that hones your talent, confirms your commitment, challenges your stamina -- gives you a completely new understanding of the subversive nature of socks.
I'm not going this year as I'm presenting the Sunday Breakfast Show on BBC Radio Devon and I'm pining a little as I read all the excited posts on Facebook from first-time Edinburgh Free Fringe performers and the enthusiastic but more realistic ones from Edinburgh regulars.
When it's your first time at the Fringe you truly believe you'll be discovered. And maybe you will be. But even if you aren't, even if you end up exhausted, un-reviewed, soaked and sockless, performing at Edinburgh will probably be one of the landmark events of your life.
Forgive my emphasis on socks. It's just that Edinburgh eats socks. When I first went to perform at the Free Fringe I took some nice new ones with coloured toes and heels. The last I saw of three of them, they were full of holes and carousing drunkenly in a gutter in Cowgate. Four others vanished into the gaping hole of an Airbnb washing machine. And of course, none of those remaining, matched.
But sockless or not, taking part in the Edinburgh Fringe is a fabulous experience - if you are with friends or colleagues, you have a great venue and if you're at the top of your game. If not, it can be miserable, knackering and depressing and, we comedians being what we are, we then have to waste precious time and energy pretending that it isn't.
There's no problem if you're just up for a week - but most of us up-and-coming comedians are there for at least three weeks. And the Fringe doesn't take prisoners.
1. Eat well. Yes, I know I sound like your mother but you honestly can't have the stamina for three weeks' hard comedy graft on a daily handful of granola and chips. For me, the best street food is from Tupiniquim, in the green police box in Lauriston Place. Their crêpes are gluten-free so you can feel totally hip and healthy. Even better, unlike most GF takeaway stuff, they are totally delicious. You can have the white chocolate, cream cheese, fresh raspberry and honey crêpe if you really don't want to hit the health kick ... or all sorts of yummy savoury ones if you do.
2. It will rain. Deal with it. Edinburgh 'does rain' in August. It 'does rain' very successfully and damply and often without warning. Take a mac or an umbrella and some sensible shoes. Or get wet. Your call.
3. You have to spend time handing out flyers on the Royal Mile just for the experience. You're not a real comedian if you haven't stood in the rain trying to persuade total strangers who already have more flyers than they can hold that your show is the one. But also put flyers in all the hotels and hostels that would take them (and quite a lot will). Just walk in, confidently, wearing your Fringe Official Participant Pass, you'll look like an organiser and they'll take your flyers.
4. If you're with PBH or Laughing Horse understand that the furore of hatred over Brexit is a pile of fluffy pink kittens in comparison with the ongoing quarrel by these two Free Fringe organisers. On no account speak to anyone from a rival show production, don't visit a competitive show and if you must sleep with the enemy, claim you were drugged.
5. If you're going to the press day at your Free Fringe office, hoping to get coverage for your show, don't dress like a chicken. Or a Goth. Or David Bowie. Trust me, they've seen it all before and they're not impressed. What they want is someone who can talk clearly and succinctly about what they do in less than two minutes. And you will have to start queuing 12 hours before the doors open if you want to stand any chance at all of actually talking to a hack. If you turn up only three hours beforehand, all that will happen is that you'll stand in a queue outside for four hours. In the rain.
6. You will get depressed. It usually happens at the end of the second week even if you're being mega successful. Some of the Fringe offices actually have Samaritans around because half-way depression is a well-known phenomenon. So it's not just you being a dismal failure; it's all of us. And then it will rain.
You may get bored with your material too ... update bits of it to freshen it rather than throwing most of it out. After all, it should be a time for your very best comedy not a new material night.
7. Expect the unexpected. Some days/nights you may have 50 people in the audience ... other nights you'll have one. Do the show nonetheless. I did my one-hour show for one person twice. One of them came back and brought a crowd later in the run. The other was a reviewer who praised my determination as well as the show.
8. You must try a deep-fried Mars Bar (or a deep-fried Curly Wurly or a deep fried pizza). It is an obligatory Rite of Edinburgh Passage. But do it sober. Then your stomach has a vague chance of dealing with it.
9. Get out a bit in the daytime. The Museum of Scotland is amazing. St. Giles' Cathedral on the Royal Mile has lunchtime concerts--and offers Gaelic lessons. The castle is fun. Getting a tad cultural will freshen your comedy juices and give you a chance to throw a couple of topical curve-balls into your act.
10. Remember that you are amazing. As you stand on the stage, sockless, unreviewed and soaked, remember that you are a talented and brave person; the envy of most of your friends who wouldn't dare even try this ridiculous career -- and that unlike many other first times you will remember this fondly forever.