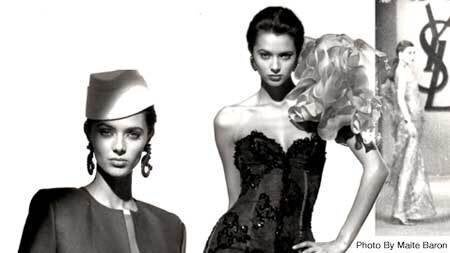 It was Saturday, cold for the time of year, so at the last minute I changed my mind about going to Borough Market and decided to go to the pictures instead
I love the cinema, I always have. After years living in Paris, one of the things I miss most is the choice of films you can see there - few other cities can compete.
By now you may know that in my first life I worked in fashion - first as an assistant and then as a freelance designer, before launching my own company and collection.
So I decided that a newly released film about Yves Saint Laurent was just the thing. It was well produced and acted, but I didn't feel it showed the real legacy of YSL and what he brought to women and the fashion world.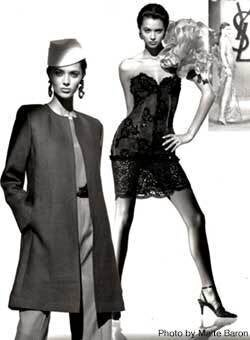 I have grown up admiring him - there was a YSL boutique next to my house, so I passed it every day. And I was privileged enough to see several YSL high couture fashion shows in Paris, even meeting him briefly backstage. That was around the late 80s or early 90s, and a dream for me as a young fashion designer. But by then Yves Saint Laurent was already unwell and he appeared anxious, erratic and pale. So meeting him wasn't quite the high I had imagined, but once the show started nothing else mattered. His genius and exuberant elegance filled the room, our hearts and our minds.
Yves Saint Laurent is one of three couturiers, together with Coco Chanel and Christian Dior, whose legacies continue to stand the test of time well into the 21st Century.
What set him apart was his acute intuition on how best to capture the sex appeal of the female form. It allowed him to make women look and feel sexy for over forty years, redefining the notion of feminine sophistication through groundbreaking designs and ideas that broke the previous fashion mould, exploring the limits of fashion, but still adhering to a fundamental code of elegance and taste.
In the fast-changing world of haute couture, Yves Saint Laurent is consistently hailed as one of the most influential and enduring designers of his time. From the first YSL tuxedo and his trim trouser suits, to see-through blouses, safari jackets and glamorous gowns, he created instant classics that remain stylish decades later.
With the launch of his Rive Gauche label in 1962 he effectively invented the concept of 'ready to wear', as his collections, inspired by travel, art, music and dance, turned 180 degrees from season to season.
In his heyday, Yves Saint Laurent spent his days at his studio and his nights wherever the beautiful people gathered: the restaurants, the discos and the gay cruising clubs.
He was the first to inject youth culture into high fashion, putting Beatnik-inspired alligator biker jackets and thigh-high boots on the runway decades before anyone else dared.
Yves Saint Laurent's greatest accomplishment however, is the number of lives he touched with his designs, including all the women he dressed, and the designers whose work he influenced with his ideas.
Yves Saint Laurent died in 2008 of brain cancer.
His empire and legacy is considerable, from his haute couture collections, to menswear, jewellery, furs, fragrances and accessories. Just the mention of his name conjures an image of pure, sensual sophistication.
7 Business Lessons we can learn from this iconic couturier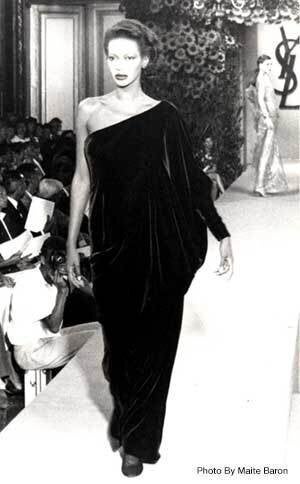 Yves Saint Laurent first emerged as a promising designer at the age of 17, winning first prize for a cocktail dress design in a competition run by the International Wool Secretariat.
A year later, in 1954, he enrolled at the Chambre Syndicale school of haute couture. But for Yves Saint Laurent, student life lasted just three months when, after being introduced to Christian Dior, he was hired on the spot.
So began his career as Christian Dior's 'right hand', elevated to the role of head designer at the age of just 21, after the couturier's death in 1958.
His first solo collection for Dior launched his stardom. The 'trapeze' line, with its narrow shoulders and wide, swinging skirt, was a hit, and a breath of fresh air after years of tight waists and structured clothing.
In 1960 Yves Saint Laurent was drafted into military service, but by the end of the year he had been discharged for nervous depression, admitted to hospital in Paris and replaced by Dior.
Yet, just two years later, Yves Saint Laurent had opened his own haute couture fashion house with Berger. Life Magazine hailed his first line under his own label as "the best collection of suits since Chanel", with the pair going on to start a chain of Rive Gauche ready-to-wear boutiques.
How do you measure your own success? According to whose standards or definition? Are you trying to achieve too much too soon and becoming exhausted and demoralised in the process? Are you prepared to put in the effort and sacrifice that may be required? Whose dream are you following? Does it make you happy?

2. Channel your experiences
Yves Saint Laurent brought everything he saw and experienced into his work, thriving while many of his contemporaries went bankrupt. Only he could sell haute couture to the young. He was the toast of Paris at a time when fashion embodied all that was glamorous and exciting about the city.
How are you bringing every aspect of 'you' into your life, your relationships, your work or your business?
While Yves Saint Laurent concentrated on the creative side of the business, Berger was the strategist.
Instead of hiding his partner's weaknesses, he made them part of the brand, talking openly about Yves Saint Laurent's clinical depression, drug abuse and poor health as early as the 1970s.
Berger painted Yves Saint Laurent as the quintessential "suffering genius," "a slave to feminine beauty who could not rest until an armhole was cut perfectly."
The public perception of Saint Laurent as a truly great artist was vital to both the designer's and Berger's legacies.
What aspects of your personality can you use to you strengthen your brand and the way in which others perceive your value - at work, in the market place or in your relationships?
His 'smoking jacket' or tuxedo of 1966 remade the tux as a high fashion statement for both sexes, and it remained the designer's trademark item, updated yearly until he retired.
Out of the 60s also came Beatnik chic - a black leather jacket and knitted turtleneck with high boots - and sleek trouser suits, underlining Yves Saint Laurent's statement on equality of the sexes.
He showed that women could wear 'men's clothes' which, when tailored to the female form, became an emblem of elegant femininity.
Berger said that Chanel liberated women, but Yves Saint Laurent empowered them.
Some of his revolutionary style did meet with resistance. There are famous stories of women wearing Saint Laurent trouser suits being turned away from hotels and restaurants in London and New York.
One scandal centred on the designer himself who, to promote his fragrance, posed nude and floppy-haired for a photographer in 1971, wearing only his trademark thick black-rimmed glasses.
How are you breaking the rules, in your personal life and at work? How are you standing out from the competition at work or in your business?
5. Have both a short-term plan and a long-term vision
From the very beginning, Berger set out to make Yves Saint Laurent a legend, pushing the Metropolitan Museum of Art to do a retrospective of his career in 1983 - the first living designer to be honoured in this way.
Berger called his partner "a true creator and libertarian, an anarchist (who) threw bombs at the legs of society. That's how he transformed society and that's how he transformed women."
Subsequent shows in Russia and in Beijing made him a French national treasure. In 1985 he was awarded the Legion d'Honneur by François Mitterand.
Do you have a plan for creating the life you want? How do you envisage your career, business and relationships in 3, 5 or 10 years' time?
6. Work on your legacy during your lifetime
Berger organised the valedictory fashion show that marked Yves Saint Laurent's retirement in 2002. He had spent a decade in increasing isolation, reworking and perfecting his favourite pieces, and was out of favour with the fashion press, but not with the generation of designers who grew up idolising him.
Four decades of fashion were displayed in a 300-piece retrospective that had much of the audience in tears. It was a stunning tribute to the endurance of Yves Saint Laurent's style.
Giorgio Armani called him "the foremost and truest designer of our time", while Ralph Lauren, Dolce & Gabbana Calvin Klein and Marc Jacobs and have all referenced Saint Laurent's archives in their collections.
After the show, Berger set up the Pierre Berger - Yves Saint Laurent Foundation to house the designer's archives and forever seal his own name into fashion history alongside that of his partner.
What legacy do you want to leave behind, both personally and in your work? How do you want to be remembered? What are you doing that impacts positively on others?
In 2002 Yves Saint Laurent said, "I've known fear and terrible solitude, tranquilizers and drugs, those phony friends. The prison of depression and hospitals. I've emerged from all this, dazzled but sober."
He came into the world of fashion, he re-energised it, and he conquered it. When he was done, he retreated into his private world.
How would you sum up who you are and your life-journey so far? Do you know what you're truly capable of, when to press on and when to step back?
Now, I would love to hear from you.
What aspect of Yves Saint Laurent trajectory has inspired you most and what action are you going to take as a result?
Leave a comment, your experiences inspire others and make us all feel better and closer.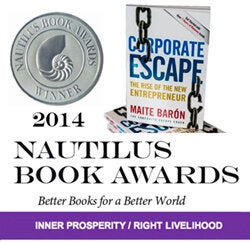 Looking for more inspiration from the Award winning author, speaker and coach Maite Baron, then download 2 free chapters from her Nautilus 2014 Award winning book Corporate Escape The Rise of the New Entrepreneur. With the bonus that you will receive her weekly thought provoking updates. Get your download here.