Malaka is my name. I am of the generation of children born during the first Intifada. My grandparents are from the city of Yaffa, now a part of present day Israel. I have a sharp recollection of the stories my grandmother used to tell me about our homeland: the scent of the orange trees blowing in the wind. There was nothing quite as provoking as the image of the trees standing tall, free. Growing up as a refugee in Gaza, I burnt these images into my mind, always telling my grandmother that I wanted to see our land. She, like the resilience of the trees, reminded me to be strong, tenacious, and never submit to powerlessness, especially in the face of injustice.
My grandma died. God bless her soul. Yet she is still alive within us, within her children and grandchildren. Throughout my childhood I have witnessed destruction, ruins, and the desecration of human rights. I watched my family and friends suffer from phosphorous bombs that were thrown on our region. What I experienced is indescribable. Sometimes I have sleepless nights. Others, I lost concentration and could not study.
I grew up in Shijaia, eastern Gaza, the closest area to the Israeli borders. My area would be the first to be hit in any Israeli escalation. Like the rest of Gaza, we suffer from daily power cuts and shortages of clean water. My upbringing in Gaza, whilst wholesome and spiritual, was full of uncertainty. There is nothing one can take for granted beside corruption, cruelty and, potentially, a life of lost opportunities. These fears are never more than two steps from one's own shadow. Nothing is certain, and a lifetime of aiming for greatness can be shot down in the blink of an eye.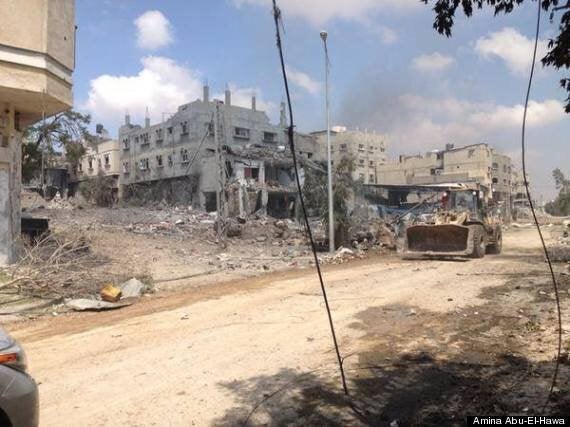 Malaka's former hometown after last week's bombing
Last September, I got a fee waiver to study global politics and law in Sheffield University. The odds of obtaining an international scholarship are slim enough, never mind other circumstances that are well out of our control - obtaining a visa and finances within a short deadline, the journey through the infamous Rafah crossing, the political instability in Egypt, the blanket of curfews in the Sinai desert, the perpetual threats to a young woman's safety, the cruelty and discrimination of the military and, finally, the flight out.
My life in Sheffield among my friends is unique enough to consider is as my second home. Last February, I was elected by university students with the highest number of votes since the establishment of Sheffield Students' Union for the position of education officer. I was so excited to start, but my heart was elsewhere. Israel has launched another aggression on Gaza in the first week of my work. It has also cut off electricity, net connection, and water on my area, Shijaia. However, I would never think that my family has to evacuate their home.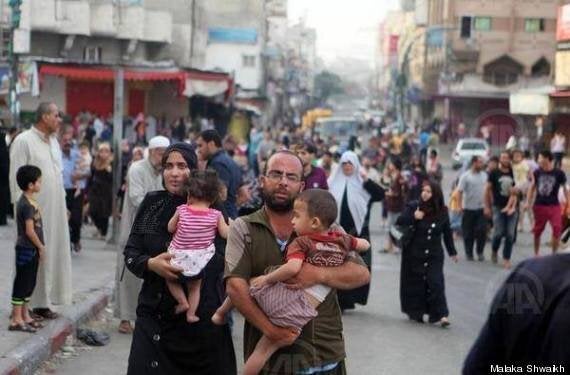 Malaka's aunt and uncle flee with their children
On Sunday, I was in London preparing myself to go to Sheffield. I checked the news and the first photo I noticed is of my aunt and cousin along with their children. They were crying. This was scary enough for me to start unconsciously crying. Reading the news, I know that my family have no more homes or are dead. Given that there is neither net connection nor electricity where they live, I contacted a journalist to know if he knows who died: "we don't have names yet, Malaka. Corpses are strewn on sidewalks."
It was not for long till I phoned my father. He is alive. My family are alive, but what they came through was "indescribable", my father told me. My family cannot yet believe that they left their homes. My father wants to go back. My younger brothers and sisters are literally traumatised. I still need to cry, not of weakness, but of how much pain my younger siblings had to endure. Due to this massacre, I lost my best friend, 16 of my close neighbours, while many are still under the rubble since Sunday.