The growth in Palestinian activism in the last few months has been encouraging. Starting from September 2014, the Students' Unions at Essex University, Goldsmiths College, Birkbeck University, Kingston University, Swansea University, Brunel University, University of Arts London, University of Strathclyde, Exeter University, as well as the National Union of Students' (NUS) Executive Committee, NUS Women Conference, NUS Postgraduate Conference and School of Oriental and African Studies, University of London have all passed BDS-related motions.
Importantly, the various votes in support of BDS are not symbolic. They call on the institutions involved to take action on ending support for Israel through investments and/or academic cooperation.
The Israeli occupation has rapidly expanded in the Palestinian historical lands. Israeli policies of ethnic cleansing, colonisation, racial discrimination, and military occupation have been continuously condemned by human rights and international law organisations, yet Israel chooses to keep ignoring all these calls with full impunity. This continued failure to respect international law has been one of the major reasons behind the next move: the global movement for a campaign of boycott, divestment, and sanctions (BDS) against Israeli until it complies with international law and Palestinian rights is a tactic that Palestinian civil society initiated in 2005. It is an effective strategy that allows the people supporting justice all over the world to translate their support to tangible actions and to object to the Israeli settler colonial state's illegal policies against the Palestinian people and land. The call urges various types of boycott against Israel until it abides by its obligations under international law, as the BDS movement states: "Ending its occupation and colonization of all Arab lands occupied in June 1967 and dismantling the Wall; recognizing the fundamental rights of the Arab-Palestinian citizens of Israel to full equality; and respecting, protecting and promoting the rights of Palestinian refugees to return to their homes and properties as stipulated in UN Resolution 194."
The latest BDS victory in the UK was at the Sussex Students' Union on Friday the 27th of March. Sussex tried last year to pass an academic boycott motion that ended unsuccessfully with the majority of students voting against it. Sussex Friends of Palestine, which I have visited few days ago for a talk, is more like a family of activists of different backgrounds with one main goal - to support Palestine. I have found them to be strongly active and maybe the most active society I've come across so far. They started from scratch to become one of the most effective societies in their university. They did not give up after last year's attempt, and submitted another motion to fully boycott Israel. The motion entails a boycott of all Israeli commercial goods, Israeli cultural and academic institutions, and committing to lobbying Sussex University to drop all investments in and refuse to work with all companies that are complicit.
The results were released on Friday at 7:00 pm after 10 days of extensive campaigning, the last 5 days of which were for voting. A total of 1292 students voted: Yes - 806 - 68% and No - 373 - 32%. David Walmsley, a member of Sussex Friends of Palestine, expressed his happiness once the results were announced: "I'm just so relieved. The society was really active all year, so by the time of the referendum there were a lot of people who wanted to help out," "I think that other recent BDS successes like the passing of the academic boycott at SOAS, Sodastream having to close its factory in the settlements (especially relevantly as it had its main UK store in Brighton, which closed down a little while before they decided to move the factory after weekly protests) have cumulatively made BDS more intuitive to people as a tactic," Walmsley added.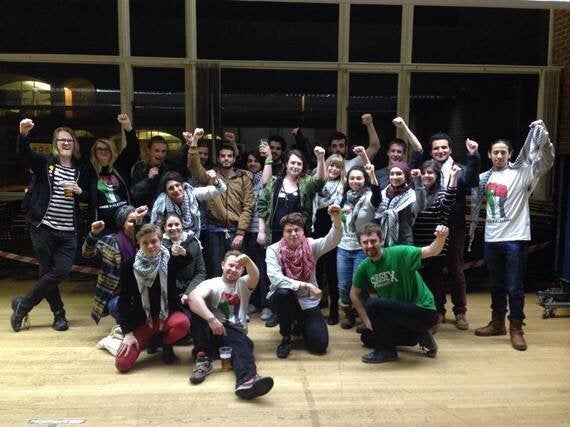 (Post-victory photo by William Owen)
Roua Naboulsi, also a member of Sussex Friends of Palestine, stated: "During our intensive week of campaigning, I came across so many people who were already aware of the referendum and who had already voted yes and this support we received on our campus is very telling of changing attitudes. I don't think we could've won this referendum with 68% a few years ago, but we are all so elated that we did and that all our efforts to raise awareness about Palestine have paid off." Salah Seoudi who is also part of the Sussex Palestine Society agreed with Naboulsi: "We had the support of so many people and different campaigns on campus, and Sussex is a very active campus and we have been trying our best to raise awareness about Palestine since the beginning of the year especially with what happened in Gaza during the summer," "With the last (campaigning) week for the referendum that was the last push and I'm glad Sussex students have stood on the right side of history and voted for a full boycott this time in support of long denied justice for the Palestinian people," Seoudi added.
The large number of votes in support of BDS at so many institutions and the feedback from the societies involved that there is a growing awareness of these issues indicates that - in academic circles at least - there is ongoing and increasing support for international action against Israeli infringements of international law and UN resolutions.