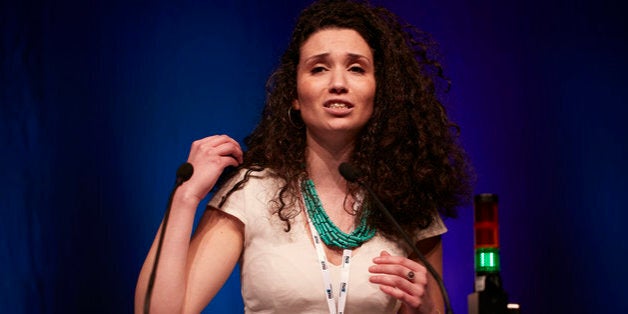 When I was elected as NUS National President a year ago, I pledged to make our national union one that would fight and stand up for all students. To build a movement that would not compromise on student interests, one that would put accessibility and the rights of oppressed groups at the heart of everything we do.
To have this opportunity has been an absolute privilege, and I would like to send my heartfelt thanks to all those student officers, volunteers and activists who have made all that we have achieved this year possible. A principled and united student movement has incredible potential - together we show that there is another way, to show society that we can build a better world.
Students have felt alienated from our national union for too long. For many, NUS represented an 'old boys club': a fast-track route to a third sector consultancy gig, or a safe parliamentary seat. This is an organisation that for years, refused to argue for a free and fair education, and instead chose to roll-over on crucial issues such as tuition fees. One where a former president could declare that student needs their lecturers fighting for their rights like a 'hole in the head'.
I believe that my election as National President signalled a change to that. Students showed that they were no longer content to see their leaders sit idly by as a hostile government runs rampant over their rights to access education, to affordable housing, to not experience state surveillance or the threat of sexual harassment.
I believe I was elected because students believed they deserved change. They believe that we need a fighting, campaigning union - one that won't stop standing up for students just because it's not always the easiest path or good for your career. One that recognises that we, as students, don't feel listened to by an arrogant elite. A union that, in the face of raging cuts to education and declining future prospects, can demand a transformative vision of what our education could be. A union that recognises that in order to win we need to be both negotiating with government and demonstrating our power. A union that is persistent and unrelenting in its conviction that things can better.
That is the kind of president I believe students deserved, and is the president that I have tried my best to be.
Through our united efforts, I am proud that we can celebrate some amazing achievements. During my time at NUS, we have fought for and elected our first ever Trans Students' Officer - the first of its kind in Europe. We have broken down barriers, and seen more and more black and international students elected to full-time officer positions. We have won crucial concessions from government including the publishing of data on attainment gaps according to ethnicity and the link between the Teaching Excellence Framework and fees being delayed. We have led campaigns to stop student deportations, demanding that the rights of migrants and our international students are protected. I called for a review of institutional racism within NUS, which found serious failings in the organisation's treatment of Black staff, officers and volunteers, and am taking action to address it. This includes creating a new department dedicated to anti-racism and faith and belief work. I developed a programme of work to tackle all forms of hate crime, including the most-wide ranging series of actions to deal with antisemitism in NUS' history.
Despite all of our achievements, I'm sad to say that it hasn't always been easy. Although I expected there to be resistance to my presidency, the level of abuse that I have received has felt unprecedented. The attacks in sections of the media, which began as soon as I challenged for presidency, have been sustained: smearing my name in the process and acting to silence the voice I sought to raise on so many important issues. The harassment, hatred and death threats I have received in the wake of this led me to conclude that, in the context of growing islamophobia, there are those that would not accept a progressive, Muslim woman of colour in a position of power. Instead of dialogue, it has felt like there have been those inside and out of the student movement who would stop at nothing to undermine my leadership.
There are lessons to be learnt for the future: about respect, dialogue and unity within our movement, and challenging those who would seek to divide us without. I have felt the pain of these principles being ignored and I expect I will carry it with me for the foreseeable future also.
I would like to give my sincerest congratulations to Shakira Martin - a single mother and a black woman from a further education background. The fact that, faced with all those institutional obstacles and barriers, she could achieve what she has, is of itself an incredible story. It is testament to how far our union has come, and what I wanted to achieve when I, when the Liberation campaigns in NUS, promised to break down barriers to participation, to put liberation at the heart of everything we do.
I was elected to transform the National Union of Students, to reshape its agenda and its fundamental values. I now look forward to leading our organisation into the General Election - setting out the future and demands of the student movement in the next Parliament and beyond. Our students deserve no less.
Malia Bouattia is the President of the National Union of Students (NUS)