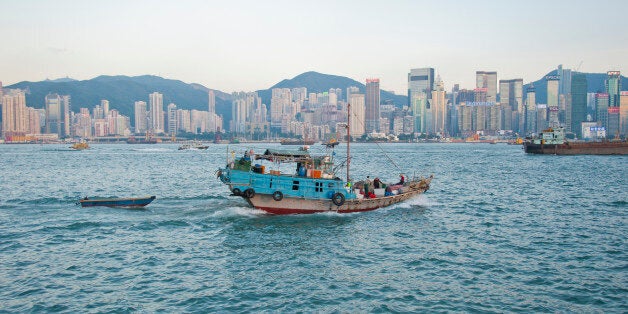 No one looks forward to a layover and there are some real howlers out there; think Tashkent and Kabul! However Hong Kong is one of the best cities in the world to spend a couple of days in-between flights ... It may not be a cheap city to overnight in, real estate is some of the priciest on the planet, but coupled with some of the best hotels in the world adorning it's streets, hordes of luxury shopping opportunities and with more restaurants per square mile than anywhere else on the planet you will never be bored. Hong Kong is the most cosmopolitan of cities, a little of east meets west in a furious collision of cultures, heritage and language.
Hong Kong is divided up into 2 easy areas, Hong Kong Island with its impressive dazzling city skyscraper scene and Kowloon with its neon and glitz and glam.
So where to stay; well for a little old school charm and elegance, it's either the Peninsula on Kowloon or the Mandarin Oriental on the island, both are refined and will take you back to a time when travel was all about luxury. These iconic hotels with their legendary service, both still retain their sense of grace and sophistication in a fast moving and ever changing city. The Mandarin Oriental is my choice in Hong Kong and never disappoints.
For those looking for a hotel with a cool more cutting edge feel to it, then the Landmark is as cool as it gets, smack bang right in the central business and fashion districts. The Landmark is the perfect urban chic retreat, stunning contemporary design, peaceful ambience and impeccable service and has been winning plaudits ever since it opened. The MO Bar is the place to be either for lunch or at night when it transforms into the coolest spot to grab a late night cocktail with world famous mixologists offering new potions to sample.
For French dining, Amber, voted as one of the best restaurants in the world with dishes to excite and enthuse even the most jaded palate in an eclectic dining room. The Spa is one of the best in Asia, offering two floors of sensory indulgence with a holistic approach to health,
As well as eating Hong Kong is famous for two things; money and shopping. There are an inordinate number of luxury shops; every street seems to have either a new gleaming mall or a stream of Gucci, Armani and LV shops. Small Boho boutiques line Central's streets and with no sales tax, shopping in Hong Kong is a shopaholic's dream. Hong Kong still has its mind boggling array of colourful markets, Temple Street being the most popular amongst the tourists, selling everything you can think of, and a lot you never knew existed.
Having a population that considers themselves to have the best palette's in Asia, Hong Kong is a top culinary capital, it really is a city that lives to eat. You can find everything from Cantonese, Vietnamese, Japanese or even Regional Chinese dishes served at a number of swanky Boho locations cooked by this weeks celebrity chef, to small hole-in-the-wall's serving noodles on small plastic tables and chairs.
Exploring Hong Kong's crowded streets can be a sensory overload, high buildings, glaring flashing neon, buzzing horns, crowds jostling for the smallest of spaces on the pavement. However, peace and serenity can be found on its outer islands, hiking along its empty beaches and its country parks. Somehow this mad mix stops everything from whirling into chaos. For me, that's pretty darn perfect.
For more information about the possibilities in Asia please see Asia Odyssey