Quite a week for Orwellian Dystopia fans. News Punch is SCARED! Jedward and the stars of TOWIE should be terrified as...
Theresa May to criminalise, 'being annoying'
@benjaminpmoore: ...selflessly risking life imprisonment
There is outrage on Facebook as it come to light that...
@HaveTogether: ...Errant punctuation will be the first to go before a judge.
The Home Secretary announces that anyone causing annoyance or nuisance will be prosecuted.
@Benjaminpmoore: ...with a meaningful glance at Michael Gove.
This threat to human rights has provoked...
@KitKant: ...Thousands of 'cool dudes' to plan an assault on the streets of London at the weekend, wearing their baseball caps sideways in protest.
In a bid to win over non-white non-middle class voters, David Cameron has agreed to appear in the X-Factor finale. Here he is in rehearsals: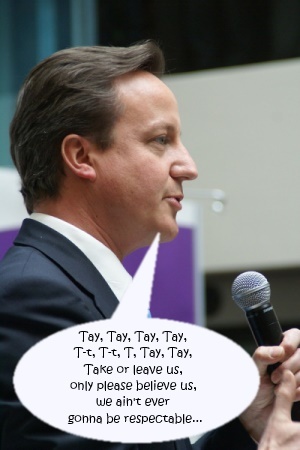 Photo credit: United Kingdom Home Office / Foter.com / CC BY
Caption by: @Adam_Leedham Lyrics by: AITKEN, MATTHEW JAMES / WATERMAN, PETE / STOCK, MICHAEL / SAITOU, INKO
The United States of Mind Control aka the American Government have outdone North Korea in the rubbish resources stake this week when it was revealed that...
President Obama has an anti-spy tent.
@CambridgeBlue10 says it's:
Because he ran out of ant powder.
So funny.
An aide was overheard on the telephone saying:
@JDAllen: "A $660bn defence budget and you came up with a tent? They're £29.99 in Argos!"
The President was taken on a tour of the canvass windbreak where he was given another innovative espionage device, worthy of James Bond's dustbin.
@GarethHeskett: "Mr president if you'd just step this way. You'll be needing this tin foil hat. It's just a precaution sir."
Mr. Obama has several other portable accommodation centres...
@GI1970: which he uses for sleep-outs with friends on the White House lawn.
Art News now and it's been a record breaking week. The Pink Star diamond broke auction records as did a series of paintings by one of Britain's finest painters.
Francis Bacon triptych sells for £89m
@benjaminpmoore: after Chelsea blunder in transfer market.
The paintings were sold to an unnamed buyer, but News Punch has exclusively uncovered his identity. We asked him what drew him to the works of the artist?
@BadScentsHumour: Francis: I thought I was in the dining room accepting my breakfast.
News Punch says:
@Ooh_Matron: Art lover hungry for an expensive BLT - Bacon's Lucian Triptych.
The Teacher's strike seems to have had little impact on Michael Gove.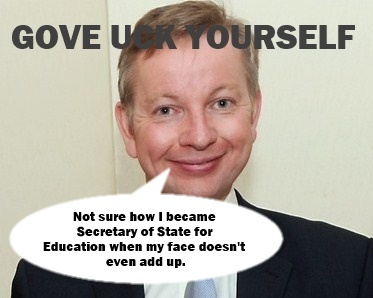 Photo credit: quisnovus / Foter.com / CC BY-NC
Captions by @QuintinForbes and @JayTuvz
He's probably just feeling relieved that his party has erased all of its history from the internet.
Tories delete their web history
@Donna_Gallers: after concerns that their mums will stumble upon the cow porn sites they've recently "visited".
@GI1970: although they're struggling to remove some stubborn traces of Margaret Thatcher.
An 'internet guy' claimed the move to delete all trace of the party's online existence was due to:
@GlowyPanda: regrettable emissions.
News Punch says:
@DubiousGenius: If Tories delete their web history they are doomed to repeat it.
Entertainment news, and the delayed E.L. James adaptation finally has a valid excuse: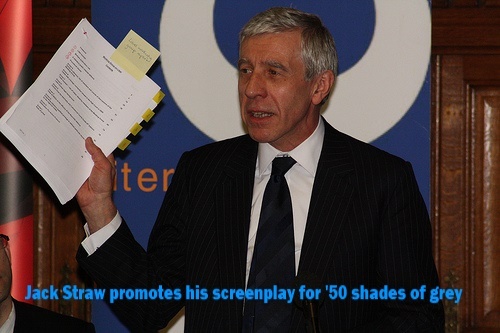 Photo credit: englishpen / Foter.com / CC BY-NC-SA
Caption by: @GI1970
Paul McCartney has put pen to paper for the Arctic 30, a group of Greenpeace protestors being held in Russia on charges of piracy and hooliganism - you can see where Theresa May gets her ideas from now. She's like the Oasis to Putin's Beatles.
Paul McCartney publishes Arctic 30 Putin plea
Here is an exerpt of the first draft:
Boody hell Vlad, I said put green PEAS in the GOULASH not green PEACE in the GULAG.
HELP! Baby you're a rich man. Lets Come together and do Something... Let it Be. A Norwegian Would.
Vlad, I know you're a big fan of Lenin & McCartney so please let those poor guys go yeah? They wanna be Back in the UKKK.
Written by: @GarethHeskett, @KitKant and @Matt_Seccull
Macca originally wrote to the Russian President...
@dognabbit: asking him to release the Arctic 30 album, after mistaking him for Alex Turner.
@squellwalsh: The first letter fell on deaf ears so he wrote Letter B.
And finally. Happy birthday to HRH Prince Charles. Here's some messages:
@RayUserNameMond: The Heir Apparent has less Hair Apparent at 65 - just a Growing Crowned Egg in the nest that mocks his eternal Prince status.
@DubiousGenius: As he celebrates his 65th birthday, Charles bemoans the UK's lack of social mobility.
Many happy returns, Charlie.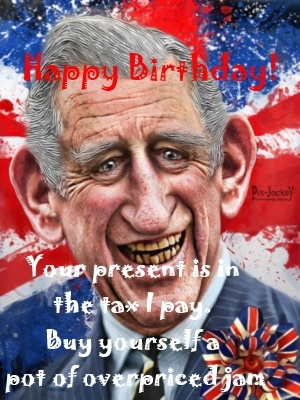 Photo credit: The PIX-JOCKEY (no comments, no groups!) / Foter.com / CC BY-NC
Caption by @TheWriterType
More News Punch next week.
*Some tweets have been edited. To view the original tweets, click on the @ names.