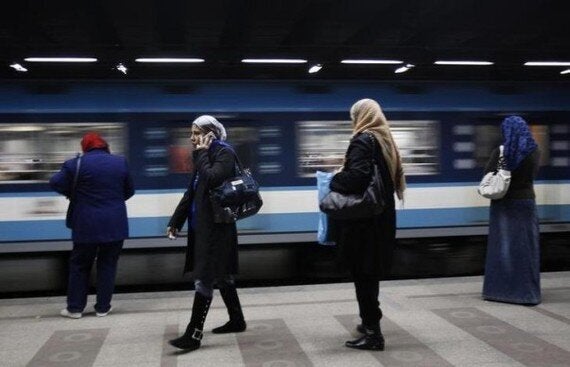 A woman speaks on the phone at a metro station in Cairo February 14, 2011. REUTERS/Asmaa Waguih
LONDON (Thomson Reuters Foundation) - A special task force of policewomen is patrolling Cairo's metro system to ensure female passengers are not harassed, according to the Egyptian website Ahram Online.
The 10-member female force patrols the two carriages in every train that are reserved for women, the website said. Sexual harassment is endemic in Egypt's capital and passengers in female-only carriages often complain about men riding in them, especially late at night.
"We work with policemen in order to secure and protect the metro - trains and stations," said Colonel Roqayah El-Seify, 57 and a mother of two. "We secure these carriages by moving patrols through them, raising awareness of pickpockets, beggars and harassers."
More than 99 percent of the hundreds of women surveyed in seven of the country's 27 governorates reported some form of sexual harassment, ranging from minor harassment to rape, according to a joint report issued in April by the United Nations, Egypt's Demographic Centre and the National Planning Institute.
During one patrol El-Seify - accompanied by a male officer - entered a carriage and approached a group of women, asking if they were experiencing any problems. One woman asked her to come closer so she could tell her what a man had told her earlier when she had asked him to leave the carriage.
El-Seify urged female passengers to report incidents to the nearest police officer and to have less contact with male passengers.
Reactions to the initiative have been mixed, the report said.
One woman said she supported it on the ground that it was especially helpful with issues women might be too embarrassed to address with male officers, but another said it was just "a show by the Interior Ministry" - where most of the female officers come from.
"They will disappear in no time," she said, adding that women "should not assume such roles because they cannot exert control like men."
Women's rights are at the heart of the agenda at the Trust Women conference, to take place in London 3-4 December. Organised by the Thomson Reuters Foundation and the International New York Times, Trust women will tackle issues such as slavery in the supply chain and the impact of the Arab Spring on women's rights. Don't miss a chance to be a part of this incredible conversation - register now at www.trustwomenconf.com