To call Pedro Almodóvar an icon might be something of an understatement. When he visits the cinema in his native Madrid - the city where he has been based for since 1967 and which features as a protagonist of so many of his early films - he is mobbed by fellow cinema-goers in search of a selfie or keen to tell him how much they admire his work. In London and New York also, where he has recently enjoyed retrospectives of his work at the BFI and MoMA respectively, he is similarly surrounded by fans, keen to let him know what his films mean to them.
Almodóvar is a recognisable figure with his shock of spiky grey hair and signature sunglasses that he wears to protect him from the light - he suffers from photophobia. An entertaining and passionate speaker, his masterclasses and interviews are engaging events, filled with rich anecdotes about growing up surrounded by his mother and the generation of women who survived Spain's difficult post-Civil War years, life in the euphoric early years of post-Franco democracy, and the actresses who are so often the emotional heartbeat of his cinema. For many of us there is a pre- and post-Almodóvar Spain - he put Spanish cinema back on the international map with a mise en scène of bright colours, extraordinary performances and dialogue that effortlessly merges the colloquial and the poetic.
His importance is multifold. There is his own rich body of work of course, twenty films that have juggled melodrama, noir, thriller, screwball comedy and horror, fusing different genres to produce humane character driven-dramas with wild and wacky plot lines that would not seem out of place in the most outlandish of farces. Almodóvar's cinema celebrates the theatricality of the everyday and the art of the possible. Just think of the spiked gazpacho that transports all who consume it into a nirvana. Shortly after the release of Women on the Verge of a Nervous Breakdown, gazpacho could be found on the menu of a conspicuous number of UK and US culinary establishments keen to capitalize on the buzz around the film.
There is also Almodóvar the producer. El Deseo, the production company founded with his younger brother Agustín in 1985, is not merely the vehicle for generating and realizing his own features but has also backed some of the Spanish-speaking world's most exciting filmmakers from Alex de la Iglesia to Lucrecia Martel. Indeed, two of the most conspicuous global art-house successes of recent years - and the biggest domestic hits in Argentine cinema history --Wild Tales (Damián Szifron, 2014) and The Clan (Pablo Trapero 2015) -- have been coproduced by El Deseo. The company is about keeping control over his own work but also about investing in work by other filmmakers he believes in.
The BFI retrospective included 14 films that had inspired him, classics by Juan Antonio Bardem, Luis Berlanga and Carlos Saura that span the difficult years of the Franco era, forgotten works by Fernando Fernán-Gómez and Ladislao Vajda and contemporary classics like Pablo Berger's Blancanieves (2012) and Carlos Vermut's Magical Girl (2014). In an era where English functions may see itself as the global language, with 350 native speakers and over 430 million speaking it as a second language, the reach of Almodóvar's cinema is a powerful reminder that Spanish is hot on its heels with 400 million native speakers and a further 60 million speaking it as a second language. Over the years I have lost count of the number of people who have told me that their passion for Spanish is directly linked to an Almodóvar film fell in love with.
Almodóvar is up there with Cervantes and Lorca as a recognizable global icon. As a public intellectual and persuasive cultural commentator, his opinion matters and is sought on key happenings from Brexit to Spain's recent indecisive elections. There's a cultural weight to having Almodóvar back your corner and his support for citizen platforms like Ahora Madrid (Now Madrid) and criticism of the government's erosion of key social rights has been reported both within Spain and beyond. His twentieth film, Julieta, may have found him in subdued mood, crafting a contemporary tragedy as stark and devastating as the bleakest of Greek tragedies, but it's a film that has spoken to the temper of the times - much like his 1980s films depict the euphoria of the early years of Spain's democracy. Reality, Almodóvar acknowledges, 'seeps in through the cracks of all my films' and Julieta captures something of the melancholia that has swept through recession-hit Spain over the past eight years, the aimlessness of the Left which played such a key part in creating the progressive atmosphere of 1980s Spain, and the introspection and isolation that he increasingly identifies as part of his own life.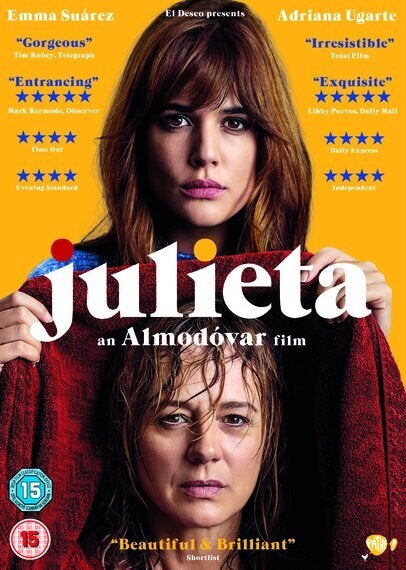 Julieta (which is out now on Digital HD, Blu-ray and DVD) may be his most subdued film to date, closer to the introspective heartbreak of The Flower of My Secret than the fizz and farce of I'm So Excited! but its buoyant international performance - taking $1,411,670 in its opening weekend in France alone and performing as the UK's highest grossing non-Bollywood foreign-language film of 2016 testifies to how its motifs of memory and loss have resonated through the uncertain era that the West is currently living through. With several screenplays on the go and Lucrecia Martel's Zama due for release in 2017, Pedro Almodóvar shows no sign of slowing down.
Maria Delgado (twitter MMDelgado1), critic, academic, curator
Related