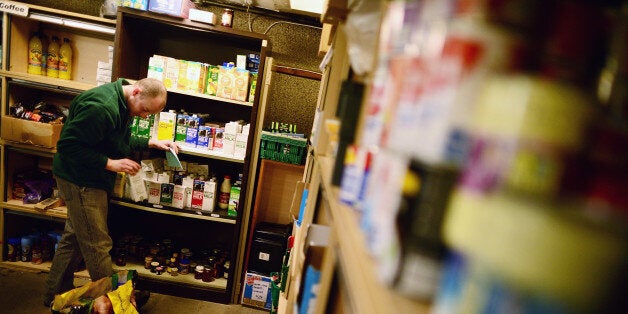 The rise of food banks in 21st Century Britain is nothing short of a disgrace. Today's figures from the Trussell Trust confirm that in David Cameron's Britain more than a million people have to rely on food banks each year. This is the Tory plan that David Cameron says is working.
The Tories' attitude to the relentless rise in hunger in Britain speaks volumes about who they stand up for. They refuse to accept any responsibility for it, despite the fact their policies are making it worse.
Iain Duncan Smith has even said that he is happy for people to visit food banks' and under David Cameron there has been no strategy to tackle rising food bank dependency.
Because the reality is that the rise in food banks is a result of a Tory government which has made life harder for working people, and failed to protect the most vulnerable.
Too many people are working hard to pay the bills but still can't put food on the table - with 1.5million more people paid less than a living wage under David Cameron, and 1.8million zero hours contracts in our economy.
And too many people are being let down by our social security system.
The bedroom tax has hit half a million people, two thirds of them disabled, forcing many in to debt and through the doors of food banks.
Chaos and mismanagement at the DWP has left thousands of people facing delays with their benefit payments - weeks and sometimes months spent struggling to survive without the support they're entitled to.
And by setting targets for benefits sanctions, the Tories have overseen a rise in cases where vulnerable people have had their benefits stopped and are left with nowhere left to turn.
Last week, my colleague Rachel Reeves wrote to David Cameron and Nick Clegg asking them to join Labour in pledging to reduce food bank use in the next Parliament. Their silence speaks volumes. Labour is the only party who will end the scandal of one million families who need food banks to put food in the fridge.
We'll ensure there is a co-ordinated and effective approach to food policy in Government. We'll end the chaos that we see today where no minister has responsibility for tackling food bank dependency.
We'll tackle low pay, so that families can afford to feed themselves, by raising the minimum wage to £8 an hour by 2019 and banning exploitative zero-hours contracts.
We'll get a grip on benefit payment delays, and we'll set a target to reduce the number of people who cite delays or mistakes with their benefits as their reason for using a food bank by the end of our first year in office.
We'll abolish Job Centre benefit sanction targets and make sure the system is fair by reducing waiting times for hardship payments and protecting the most vulnerable including those with mental health issues, carers, pregnant women and people at risk of domestic violence.
And we'll scrap the cruel and unfair Bedroom Tax.
Only Labour will act to make sure food banks never become a permanent feature of our society.
Maria Eagle is Labour's Shadow Environment, Food and Rural Affairs Secretary