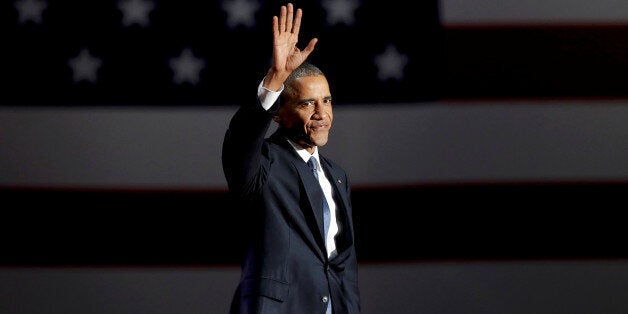 Barack Obama serves his last hours as the US President. Some people have expressed their will Obama to have been able to remain for more years in the position, but this isn't possible according to the law, which says that a president can't be elected more than twice. However, Obama must continue to be 'President.'
What I mean is that Obama should keep on influencing society with his ideas. He is a rational individual who fights for the fair of the world. He is a humanitarian who acts with values that all the nations endorse. Obama respects everyone regardless from beliefs or origin. He promotes fairness and equality. His morals guide him through his target to make earth a better place and bring prosperity for every single citizen in this planet. His deeds are purposed for the defense of peace. It is not accidental that he was awarded the Nobel Prize for Peace in 2009. Humanity needs what he represents. For this reason, he has to provide his views as often as he can, even though he won't be President anymore.
The fact that many people have revealed their wish his wife Michelle to be a candidate for the US Presidency in the upcoming years is an indication that Barack Obama, through his attitude to life, has left an indelible mark. Citizens around the globe recognise that Obama deserves praise for his work and wanting Michelle Obama as President is a demonstration of gratitude for him. He has created a family that will inevitably follow his paths, in any field of life they choose to be engaged in, as far as their behaviour towards others is concerned. Obama has built such strong bonds with world's moralities that influences and inspires greatly everyone that surrounds him and anyone that observes his occupations.
His merit is not only reflected in his actions. His presence speaks for itself too. He smiles, and at the same time he spreads positive vibes with his pleasant aura. He talks with confidence and determination. He thinks reasonably before he acts. He is able to accurately predict what might be wrong and what might be right. This shows a well-educated man with unique insight for the future. All these render him as the perfect role-model and idol for the children that are growing up. These children should listen to his speeches and adopt his words. They should have the will to be like him. Actually, they must have the need to become humans with Obama's characteristics. This have to be their main dream, so as to be able to make their other dreams and all people's dreams come true.
I don't know what Obama's plans for the future are, but my opinion is that he should stay in the limelight of politics. He is a person that has rare qualifications, from every aspect, and especially that of propelling the interests of humanity as a whole forward. People like him have inherently the responsibility of maintaining themselves in the public scene so as to benefit the world with their gifted mind. Obama owes it to current times to expand his vision beyond his Presidency period.