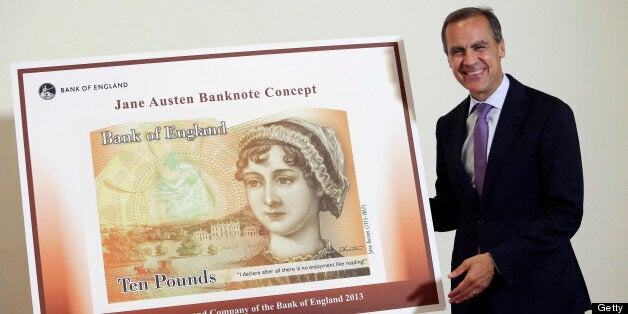 It's just a picture. Right? Just a picture on a piece of paper. Can you name all the public figures who've been enshrined on our banknotes? Does their selection really have a major impact on contemporary gender relations? No, how can it? It's just a picture.
Except it's not. What the Bank of England failed to grasp, during Caroline Criado-Perez's tireless, courageous, enormously frustrating dealings with them, is that the decision to remove the sole woman from our banknotes is a powerful symbol - the cliché that a picture is worth a thousand words is stunningly apt here. This one picture that tells young girls their aspiration and achievement will be encouraged and recognised, that women have the right to claim equal visibility with men, and that our opinion matters. The removal of that symbol is devastating.
As Zoe Williams points out in her brilliant Guardian piece, successful modern feminists understand the critical impact of semiotics. Lucy-Anne Holmes waging war on the casual exploitation of female nudity, everyday symbols in every newsagents, with No More Page Three; Criado-Perez's crusade to increase the visibility of female experts in the media, everyday symbols on TV, radio and in print, with The Women's Room; Katy Hill's #dontbuyok Twitter campaign protesting OK! magazine's Duchess of Cambridge post-pregnancy weight loss cover, one of many everyday symbols in print and online urging women to focus on cosmetic concerns rather than aiming for noteworthy, nay banknote-worthy achievements.
Such is the power of the everyday symbol that Laura Bates has inspired 25,000 women (so far) to Tweet her examples of everyday sexism. One remark, one picture, one article - can they really make a difference? Yes, when there are 25,000 of them. Those symbols crowd our landscape and gradually build up a dangerous blockade preventing real change, real progress, real equality.
I was hugely fortunate to have a childhood crowded with positive symbols: parents who both juggled brilliant careers with family; a mother who introduced me to Marilyn French, Betty Friedan and Mary Wollstonecraft; a remarkable school (St Paul's Girls' School in west London) teeming with female teachers, many of whom had doctorates and all of whom were committed to giving women back their place in history. When we studied Impressionism in Art History, we started with Mary Cassatt and Berthe Morisot - the female Impressionists.
The Finborough Theatre is currently showing a revival of Pam Gems' feminist classic Dusa, Fish, Stas and Vi, a play that reminds us how many issues remain glaringly unresolved. Its campaigners use placards and rallies; now, we must also embrace social media, online petitions and awareness of our opponents' need for a certain brand of positive PR, as Criado-Perez has done so brilliantly. The banknote decision came after she marshalled a groundswell of public support through Change, and from now on, that decision-making process will also be considerably more transparent, all because of our democratic intervention.
"I started this petition because I couldn't let another decision that airbrushed women out of history pass without challenge," says Criado-Perez today in an email to those of us who signed the Change petition. "I didn't want to live in a world where young girls grow up thinking that they can't achieve amazing things - and that even if they do they won't be acknowledged for it.
"Now, because 35,000 of us - including you - stood up to them, they've responded in the best possible way. Whenever you use a ten pound note and see Jane Austen's picture, you will know that you made that happen. Just thinking about it is giving me goose bumps."