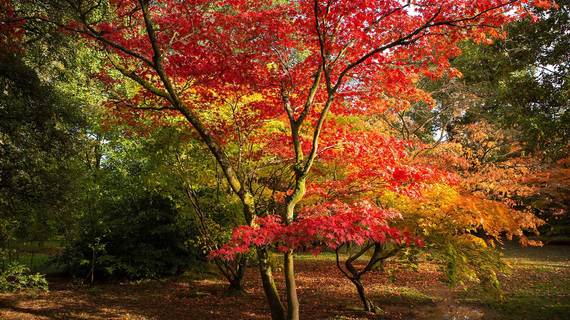 The autumn months are when the British countryside is at its most beautiful, and traditional pleasures - cosy pub lunches, woodland walks and lazy afternoons by a fire with the papers and a pint - are at their most, well, pleasing. Regions that teem with tourists in the summer months, such as Cornwall and the Cotswolds, become quieter and more tranquil, and prices for everything from cosy cottages to luxury hotel rooms become far more affordable.
Westonbirt Arboretum
If you want to see autumn foliage at its most spectacular, it's worth planning a weekend around a visit to either an arboretum or a garden; many have special autumn events. Westonbirt, near Bath, is the National Arboretum, with the biggest collection of trees and shrubs in the country. There are over 2,000 maple trees, which glow with sherbert-bright colours in autumn, and there are guided walks and photography workshops on offer. Stay at the beautiful Lucknam Park hotel, a 17th century Palladian mansion just a few miles drive from Westonbirt, that also offers the chance to discover the surrounding countryside by horseback.
Lake Windermere
One of the most visited places in England, Windermere quietens down in autumn, making it the perfect time for a relaxing weekend away, with perhaps a spot of walking and a peaceful afternoon's excursion onto the Lake. Visit the beautiful gardens at Brockhole, where the Visitor Centre is stacked with suggestions on what to see and do, or head to Grizedale Forest, where the autumn colours are spectacular. Stay at Gilpin Lodge, an elegant boutique hotel that is family-run, guaranteeing a really warm, personal welcome.
Shropshire
With Christmas on the horizon, escaping for a really tranquil weekend can be a great way to get yourself ready for the festive season. The quiet county of Shropshire is an ideal choice; the rolling hills are latticed with walking and riding trails, and the pace of life is pleasingly slow. There are some classic country estate gardens, that glow gold and auburn in the autumn months; choose from Preen Manor, Millhope Park, with its beautiful lakes and cascades, or Shoothill House, among others. Stay at Pen y Dyffryn, a wonderfully cosy country-house hotel, that specialises in service up local organic produce in the award-winning restaurant.
Essex
It may not be an obvious choice for a rural weekend away, but parts of the Essex countryside can rival anywhere in Britain for gentle, pastoral beauty. Made famous in the works of the painter, John Constable, the Dedham Valley is lushly beautiful in autumn, when the banks of the River Stour glow with colour, and walkers can follow in the footsteps of the region's most famous son with a network of waymarked trails around 'Constable Country'. Stay at Maison Talbooth, a sleek 12-bedroom boutique hotel in the heart of Dedham village, with a luxury spa.
The Cotswolds
The rolling hills, tranquil woodland and picture-perfect villages of the Cotswolds make the perfect autumn break - the only problem is there's so much to see and do, a weekend may not be long enough. Take in the gorgeous autumn colours at Batsford Arboretum, near Moreton-in-Marsh, or visit lovely Hidcote Manor Garden. Walkers should follow the Cotswold Way walking trail up to Painswick Beacon, for breathtaking views across the Malvern Hills. Stay at Whatley Manor, a classic Cotswold manor house that has been converted into a top-notch hotel and spa, perfect for an indulgent weekend away.
Cornish Coast
The Cornish coast can be a great choice for an autumn break; the sea is still warm enough for a spot of body-boarding and surfing and if you've got the kids in tow, there's plenty of space for sandcastle-building. The Atlantic coast is scattered with gorgeous, golden-sand beaches; when you want a break from the onshore breezes, head to Padstow, the culinary capital of Cornwall and the ideal place for a slap-up seafood lunch. Stay at Gwel an Mor, a clutch of Scandi-style wooden lodges that are part of a luxurious self-catering resort which is ideal for families.
Suffolk
Known as 'big sky country' for its wide vistas and tranquil seascapes, the Suffolk countryside glows with auburn-hued beauty in autumn. Visit Brandon Country Park to see the buttery-yellows and burnt-orange foliage on the swathes of copper beech and Norway maples that stretch across the countryside. Suffolk is also a great choice for birdwatching fans; as winter begins to creep in, the skies are filled with thousands of migrating birds, including swallows, housemartins and willow warblers. Stay at Wentworth House, an elegant country house hotel in the picturesque seaside resort of Aldeburgh.
The Forest Of Dean
The Forest of Dean is one of the least spoilt stretches of forest in the country, and in autumn the majestic oaks, beeches and larches turn golden-brown and vibrant yellow. Walk the sculpture trail, visit the Cyril Hart Arboretum and, if it's a family weekend, pay a visit to Puzzlewood - 14 acres of pathways, ravines and secret passageways in a former open-cast ironworks. Stay at Three Choirs Vineyard, a working vineyard that lies a short drive away from the Forest, with a clutch of cosy bedrooms and a restaurant specialising in local produce.
Also see my guide to the best foodie breaks in autumn and suggestions for short breaks in autumn, along with UK holiday ideas.
* Mark Hodson is Editor of 101 Holidays.
* Photograph: Forestry Commission / Paul Groom