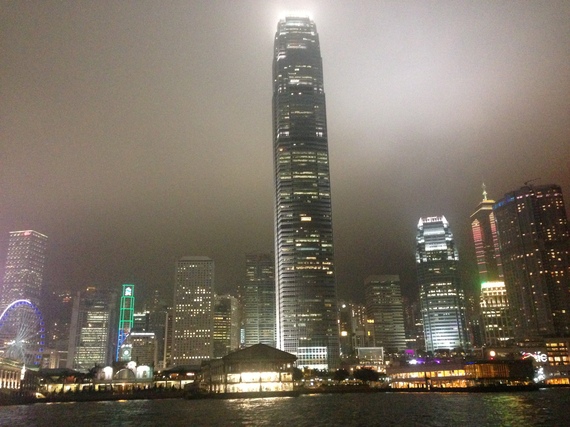 Photo: Mark Hodson
According to my own brief and entirely unscientific survey, every single person in Hong Kong carries a smartphone. But I've gone one better: I'm carrying two. One is my iPhone - with wallet-draining data roaming switched off - and the other is an Android with a portable wifi hotspot on loan from my hotel. By switching on Bluetooth and entering a password into my iPhone, I'm always connected wherever I go. Just like the locals.
I'm in Soho, a tangle of narrow streets, staircases and alleyways south of Hollywood Road, an area tightly packed with design studios, antique shops and fashion outlets. I'm looking for Hong Kong's hottest new shopping experience - called PMQ. Ordinarily I'd be hopelessly lost, but with a smartphone in each pocket I've rocked up, coolly pretending I knew where it was all along.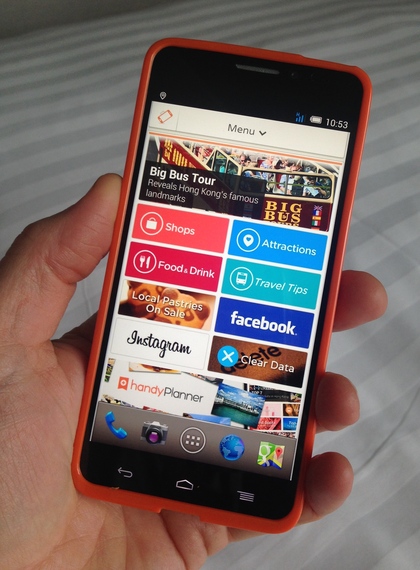 Photo: Mark Hodson
PMQ - formerly the Police Married Quarters - is a 1950s-era six-storey apartment block that was decommissioned by the government in 2000, valued at hundreds of millions of pounds, given a listed status for its functional period architecture and then left idle. This summer it finally reopened as a creative hub with more than 100 local designers and young entrepreneurs renting spaces at peppercorn rents.
It's an exciting buzzing hive of innovation packed with stylish new shops and pop-ups selling clothes, stationery, homeware, art, furniture and jewelry. There are cafes, bakeries and food stalls, a cookery school and spaces set aside for "creative happenings" including a darkened room where visitors can lie beneath giant lanterns that resemble floating jellyfish.
This is a refreshing diversion in a city that seems breathlessly devoted to making money and spending it. Oh, and eating. In Hong Kong Central you are never more than a few steps from somewhere to eat, with eye-wateringly expensive restaurants cheek by jowl with cheap street stalls where smartly-dressed young people queue to sit on tiny plastic chairs for a perfect bowl of noodles.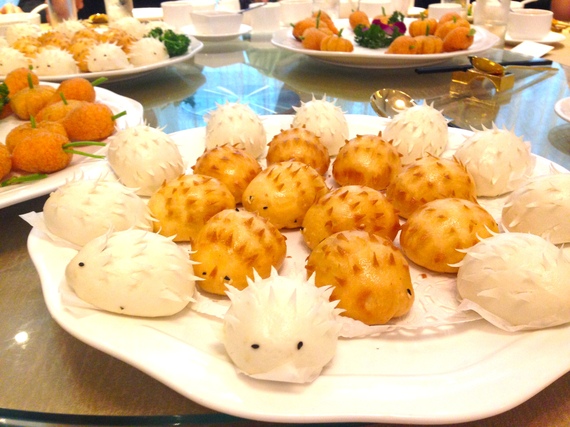 Photo: Mark Hodson
Shopping is an obsession and designer labels are everywhere. In four days I saw more branches of Cartier than of McDonald's (another totally unscientific survey). But it's not all high-end trinkets: most items are cheaper than in the UK and the sheer variety and availability - and opportunities for bargaining - are enough to melt the resolve of any shop-a-phobic.
Some of the best deals are away from the centre. I stayed in the district of Kwon Tong in East Kowloon, an industrial district that is going through a period of rapid transformation as garment manufacturers move their operations to mainland China, and yet another wave of entrepreneurs moves in, taking advantage of dirt-cheap rents to open independent restaurants, shops and bars.
This trend was spotted early by Dorsett Hotels, a burgeoning locally-owned four-star brand that is expanding fast across East Asia with global ambitions. Its hotel in Kwon Tong offers stylish rooms and high-level service at prices significantly lower than in the busier central districts (about £90 for a double). Not to mention some of Hong Kong's best dim sum (including pork buns shaped like hedgehogs) and the smartphone that comes with every room, which guests can also use to make free calls to five countries including the UK.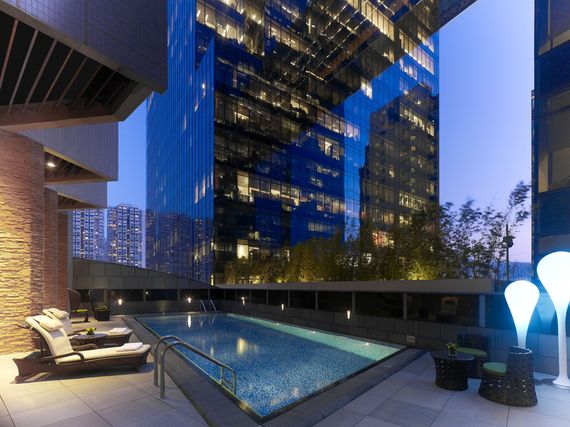 Photo: Dorsett Hotels
Kwon Tong has been compared to New York's Meatpacking District, but it's not quite there yet. There are a few interesting places to eat and shop, but they aren't always easy to find and this is an area for battle-hardened bargain hunters and urban adventurers, rather than regular tourists. That said, there is a MTR station within a few minutes walk of the hotel, so you can get into the centre in about 40 minutes. A taxi home at night cost me £12.
Between the hotel and the MTR is an alley packed with clothing factory outlets. There's an Adidas store, a Nike shop where I bought a pair of tennis shoes for £27 - about half the price at home - and another sports shop that was selling two pairs of classic Converse for a knockdown £25. Other outlets stock Timberland, Rockport and Triumph while discount shops hidden away on the upper floors of buildings post flyers on boards in the street.
One of Hong Kong's hottest Michelin-starred chefs, Alvin Leung, has also picked the area to open a new restaurant MIC Kitchen which serves modern comfort food incorporating elements of molecular cuisine - expect dishes such as wagyu beef with watermelon, bak-kut-teh and chocolate. The set lunch is a steal at £18.
Some of the restaurants that have opened in former factory buildings are squarely aimed at locals: there are no signs in English and no guarantee that any member of staff will venture to speak any English. Among the best is Factory 99 (99 How Ming Street near the junction with Tsun Yip Street), which serves American-style steaks and ribs in a retro-industrial-chic setting. For the less adventurous, APM is a shopping mall beside the MTR station with a few dozen local and international brand names and food outlets.
A short journey by MTR from Kwon Tong is Chi Lin Nunnery and the adjoining Nan Lian Gardens. The nunnery, which was renovated in 1990 in Tang Dynasty style, is a complex of temples constructed entirely of hard wood without the use of a single nail or screw. Giant gold Buddhas and lotus ponds complete the picture while the formal gardens - with fish ponds, rock garden and waterfall - provide a further haven of serenity amid the urban melee.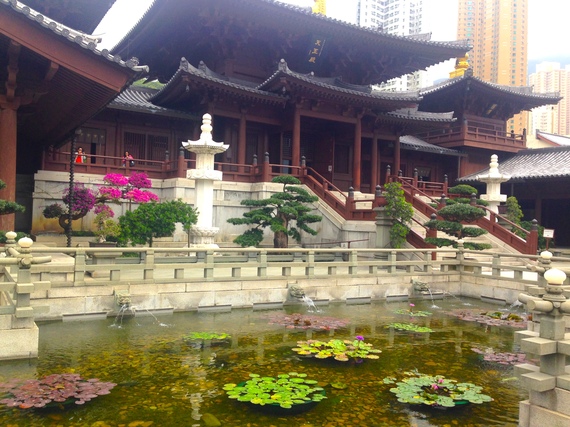 Photo: Mark Hodson
Just across the water from Kwon Tong is the Kai Tak Cruise Terminal, a newly-opened Norman Foster building on the site of Hong Kong's original airport runway (coming in to land as your aircraft descended perilously close to the high-rise apartment blocks of Kowloon was a heart-stopping and thrilling experience). Not only will the new terminal bring thousands more tourists into the city, it also provides one of the best platforms from which to view Victoria Harbour, surely one of the most beautiful manmade sights in the world. A monorail is planned to open in 2016, which will connect the cruise terminal with Kwon Tong.
Another great way to see the harbour is on the Star Ferry, which runs every few minutes between Kowloon on the mainland and Hong Kong Island. The fare is 20p, one of the world's greatest travel bargains. On the Kowloon side it's worth walking after dark up noisy neon-lit Nathan Road to Temple Street Night Market, where along with dozens of stalls selling T-shirts, souvenirs and cheap electronics you'll find fortune tellers and opera singers. Nearby is Knutsford Terrace, a smart strip of bars and restaurants where even at 2am the outdoor tables were busy with locals and a scattering of tourists and expats.
The island side is even more photogenic. Vintage trams compete for road space with vintage Rolls-Royces and beaten-up trucks, double-decker buses and red and white taxis, while an escalator operates up the hill to the Mid-Levels: in the morning it takes commuters down from their apartment blocks towards the waterfront, then at 10am it is reversed to run uphill. It's a fun way to explore the area and along the route you can jump off to visit any number of bars, restaurants and shops.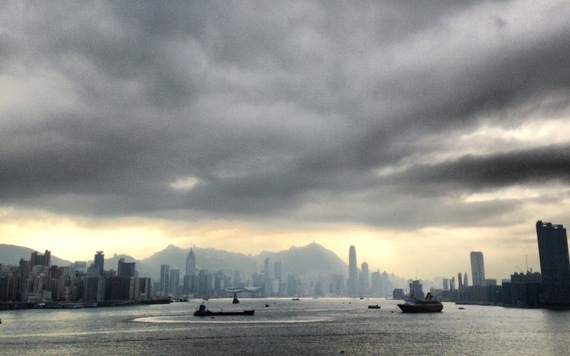 Photo: Mark Hodson
Even if you don't buy into Hong Kong's philosophy of "Work hard, spend hard", there's no denying the city's infectious energy. Walking its streets, watching the unending stream of human endeavour, gazing up at the gleaming skyscrapers disappearing into the low clouds makes the heart beat faster. It's a city where you want to stay up late, order one more drink.
When I was there in late November pro-democracy protestors were occupying a few streets with some disruption to traffic. Some passers-by stopped to take photos of the tents and placards, but the vast majority ignored them, rushing to the next shop or restaurant. Should you boycott the city as a result of Beijing's heavy-handed approach? That's your call, but if you do refuse to visit destinations where the authorities crack down on peaceful protest you'll have a long list of places you can't visit, from the Maldives to Missouri.
When your feet get tired - and they will - step into one of the hundreds of foot massage parlours that dot the city, some of which are open 24 hours a day. For around £15 you'll slump back in a soft leather chair as a therapist pounds, squeezes and pokes your legs and feet until you're ready to hit the streets again.
Photo: Mark Hodson
There's a lot more to Hong Kong than the teeming metropolis, with forested hills, white-sand beaches and quiet fishing villages. Most visitors take the antique tram to The Peak - the views are sensational - but it's also worth hopping on a public bus to Stanley, a resort on the other side of the island with a popular market and restaurants overlooking the bay.
Another way to escape the crowds is vertically. Hong Kong has a number of rooftop bars including Ozone on the 118th floor of the ICC Building, touted as the highest in the world. On my last night my smartphone took me to Sevva, a swanky 25th-floor bar with an outside terrace. The views were sensational and I felt I could almost reach out and touch Norman Foster's HSBC Building which, when it opened in 1985, was the world's most expensive building and among the tallest in Hong Kong. Today it is dwarfed by neighbouring towers.
It was a reminder of how quickly Hong Kong morphs and grows. It surely won't be long before the handsome industrial buildings in Kwon Tong are filled with art galleries and expensive restaurants. The tenants at PMQ have two-year contracts: after that perhaps the building will be colonised by big-spending international brands. One thing is certain: Hong Kong will keep changing.
How to get there:Cathay Pacific flies daily to Hong Kong from London Heathrow and airports around the world. Tour operators include Abercrombie & Kent, Austravel, Hayes & Jarvis, Trailfinders and Western & Oriental.
* Mark Hodson is Editor of 101 Holidays.